Indeed, you have browsed app like Quora to find answers. Did you find the answer?
The platform has catered for millions of answers and it has something for every person.
Many people use Quora (Question and Answer Platform) to find answers and which is why it has become habitual to many folks - right from professional readers to novice writers.
So, in case, looking to build a similar platform to Quora, you should read our blog.
In this blog, you'll learn:
What features to include in app development like quora?
How app development like quora could be profitable?
And, how to make your own site like quora?
Some Interesting Facts About Quora
One of the most edifying facts about app like Quora is that it has A-Z answers. Counted as the top social platform, it is a social question-and-answer website used by undergraduates, post graduates, working professionals, business communities, writers, novelists, and many others.
The name "Quora" comes from the word Quorum.
The platform has 300 million monthly active users.
Adults spend 2x much time on Quora than on Linkedin.
More than half of Quora's visits come from Google.
Business-to-business community leveraging Quora Ads.
The major user quantity is Americans accounting for 35 per cent.
There are endless facts about Quora, but that we can't discuss here.
Let's move further…!
Why Is Quora So Popular?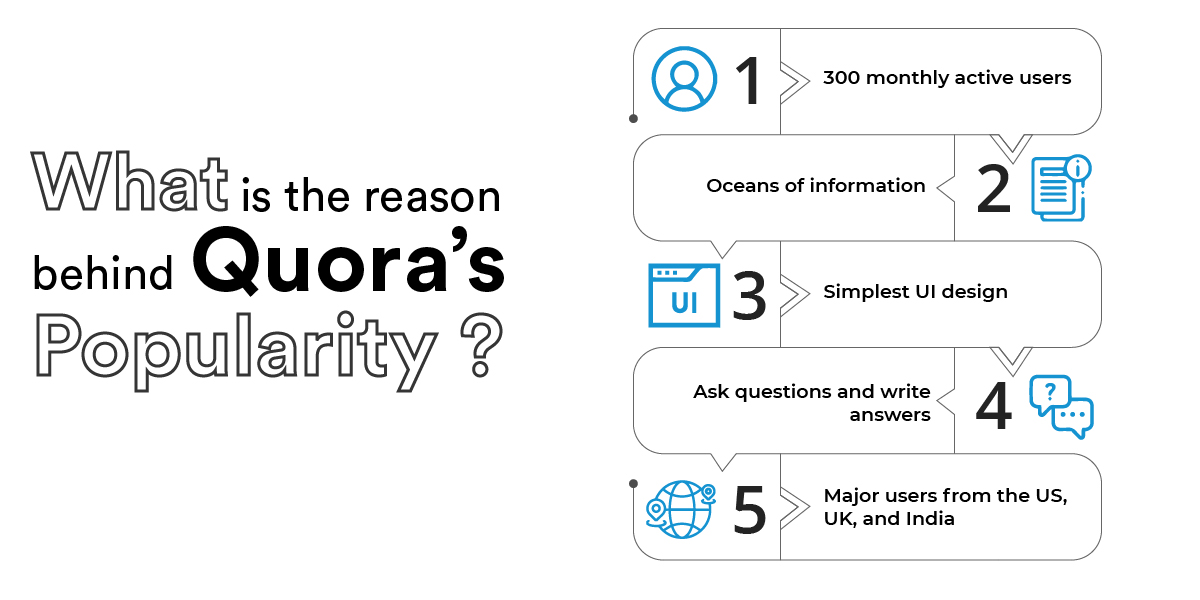 Even though it is a Q&A website where users can find answers to their questions, it's now more than this fact.
The platform is habitual to many users across different continents. And it has 300 million monthly active users - making it pretty popular in major countries like the United States, United Kingdom, India, Canada, and Australia.
Another reason which I consider being mammoth is its simplest UI design and intuitive interface.
Besides this fact, Quora is unique and offers distinctive features. The service gives you the ability to ask questions, request specific users to answer, upvote answers, and much more. However, the agenda is to provide relevant, accurate, and precise information to the readers.
Besides all of this, the moderator community of Quora is stern. It is because this principle helps keep the community clean and engaged.
How Does Question and Answer App Development Like Quora Works?
Quora is best known to find gradual answers of questions that you never pretend to get from anyone.
Asking questions and posting answers is as simple as searching something on Google.
Here's how a beginners can use quora:
Create account on Quora
Select some interest of topic
Introduce yourself (write about yourself in short)
Follow some community
Ask question or write answer
Upvote answers that you like
Keep answering to grow your profile
Once in a week, explore analytics
The most viewed topics on Quora are related to food, science, business, and psychology.
How To Design Website or App Like Quora?
Well, it's not a tedious task to design a website or an app similar to Quora. The reason is that it doesn't have complex features like a dating website.
However, you should be careful choosing the programming language, server, and database.
Programming language used by Quora is Python
Web server used by Quora is NGINX
Database used by Quora is MySQL
Let's know how you can build your own Q&A website, even better than Quora.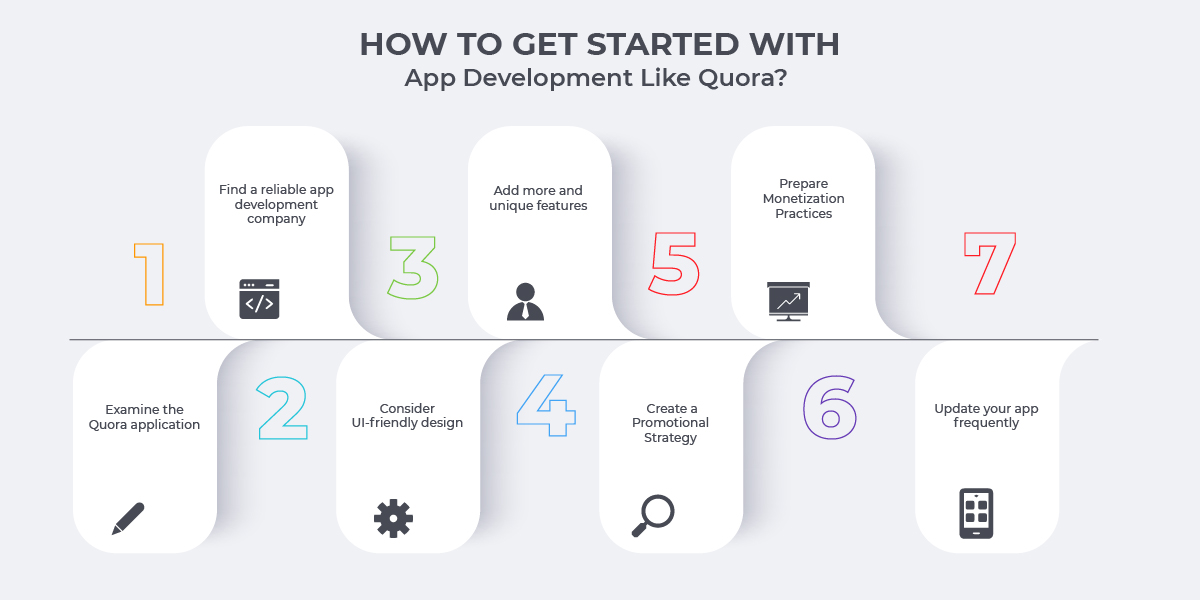 1) Examine the website Quora.com
Remember, you are competing with the best social Q&A website, so it's necessary to examine the website with deep accomplishment. Analyze features, services, design, the process of operation, management, and what else you think is important.
Write it down for easy memorization. The process could take weeks or months to analyze a website like quora completely.
2) Find a web development company to assist you
Quora first started as a social question-and-answer website available to the public across the globe. A few years later, the curators released an app for both Android and iOS users.
Since they released smartphones, a majority of traffic began from the mobile which significantly helped Quora gain perplexed popularity.
So, decide whether you want to build a website or an application. Accordingly, contact the partner that can assist you completely.
3) Design web and mobile-friendly interface
The next job is sharing your ideas with the web development team so they get a clear picture and design a better, more friendly, and robust interface for end users.
A web development company has resources on a spectrum, meaning they can execute challenges with expert minds and skills, and somewhere using technologies in between.
4) Provide more features than Quora currently offer
To build better apps like quora, it is critically important to offer more features than Quora provides as of now. This also gives an edge to market your brand distinctively.
It may seem difficult to figure out but everything has weaknesses. Find it and converge into success.
When it's done, you can proceed to the design and development phase.
5) Create a promotional strategy to engage users
Sit together with a project manager and digital marketer to draft a fail-proof promotional strategy. In this phase, you would generally discuss how to engage users, increase and sustain traffic, and what would be the revenue earning model.
Email marketing and digital ads are the best way to promote your Q&A website. You can also consider content marketing and blogging for more good results.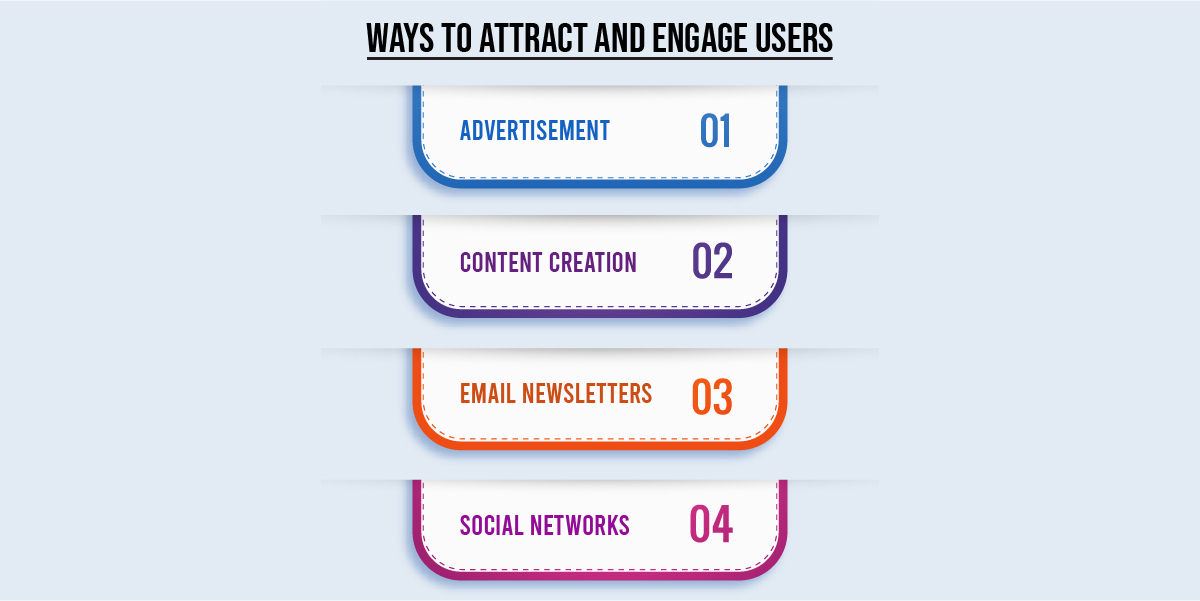 6) Draft monetization practices for your Q&A website
In this phase, figure out the methods to make your website like quora profitable. Think of a monetization module and approaches to implement for profit.
Some common monetization practices to implement for Q&A website is:
Digital advertisement
Offer premium services
Google Adsense
Accept charity from users
7) Update your website regularly
Bringing frequent changes in an app like quora will engage users. As time passes, you would also need a high-speed server and a large database to store content. So, think of that too.
Website Development Like Quora: Features To Be Considered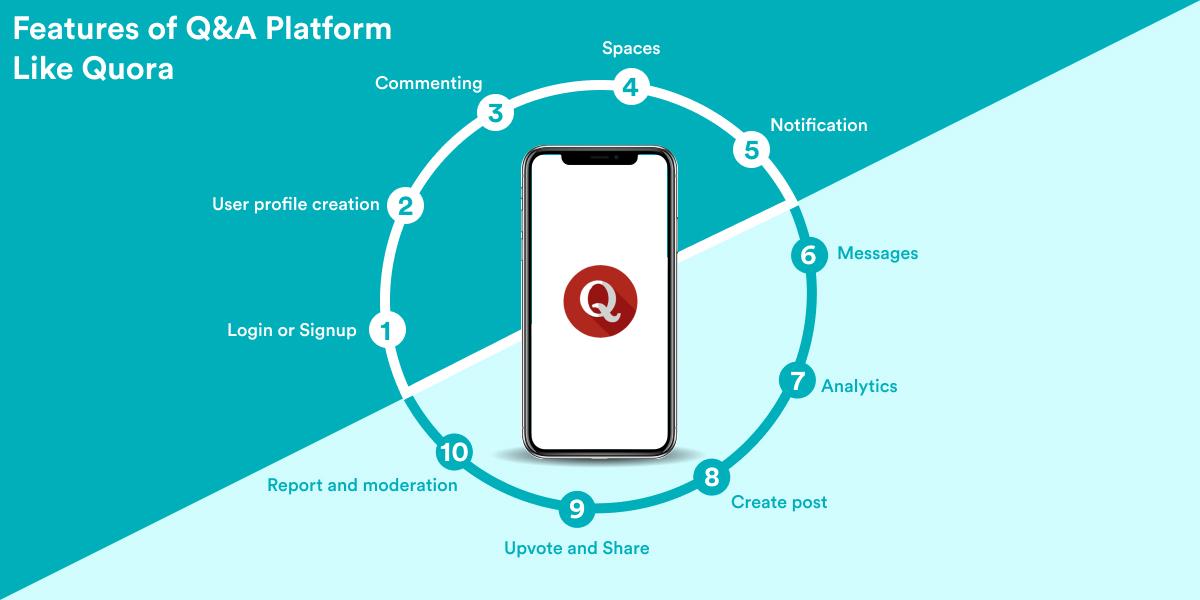 Now that we have discussed the process to build your website similar to quora, let's also understand the features you must consider for your question-and-answer website development.
Whether you're launching for web experience or mobile users, these features are critical to adding.
Let's take a look at the important features of Q&A platforms like quora:
Access content without login
If you have used quora, you may know this feature already. Without creating an account users can read answers, and see upvotes and shares which fuels the users to stay on the platform for a long duration. However, the window of this feature is limited. When developing apps like quora consider this feature in your application as an MVP.
User profile creation
Creating an account on quora gives you wonder. As you can create your profile with an image, title, and bio. Additionally, can invite users to answer specific questions, answer others' questions, see analytics, customize spaces and interests, etc.
User profile management
A quora profile owner can manage anything related to the profile, questions and answers. And with quoro+ (premium feature) you can enjoy most of the quora services. Provide this feature in your Q&A website like quora.
Commenting the answers
Commenting on quora's answers is fun and helpful. Commenting also gives extra knowledge to learn more about the opinion of the writers. Commenting on the answers requires login accessibility.
Sharing questions and answers
Sharing questions and answers is another great feature of Quora that lets users share interesting topics with their followers with an option to customize sharing settings. You can either share with everyone or a specific space that you follow.
Intuitive homepage
The homepage experience of the Quora platform is minimalist yet classic. There's no heavy design or attractive UI you will notice. Just a simple block each sets unique functions. On the homepage, you will find 95% features of the service, right from discovering spaces, profile settings, creating posts, and others.
Spaces
The aim of curating "spaces" is to increase engagement on their site and it's done in this way by connecting the same people interested in the same topic. And this feature gained the popular attention of millions of quora users.
Other features Quora offers are a search bar, notifications, creating ads, monetization, messages, bookmarks, drafts, and analytics.
How Long Does It Take To Build Q&A Website Like Quora?
Well, Quora is a professional question-and-answer website that is arguably used by millions of users.
So, if you're aiming to develop and deploy a professionally built website similar to Quora, it logically would take between four to five months.
In case you can't afford to wait that long, consider hiring a website development company that does this job on your behalf, in less period of time-taking, generally 40 to 60 days.
How Much Does App Development Like Quora Cost?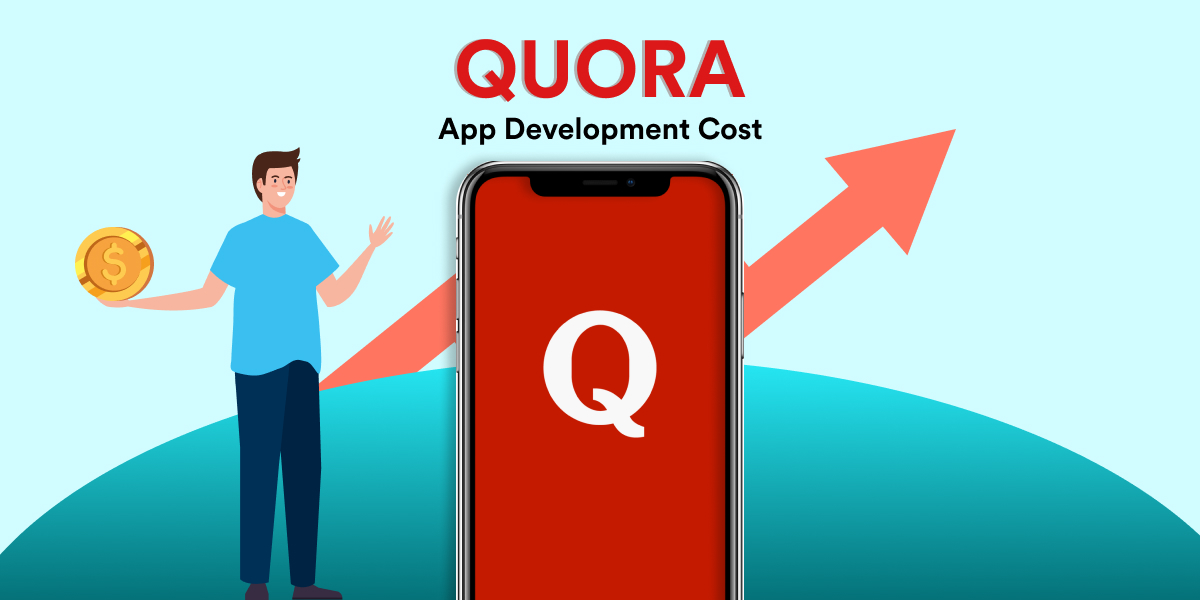 That you know the time for designing and developing apps similar to Quora… also learn about the budget.
Whether targeting to develop a web-based or app like Quora for iOS/Android, in general, it would cost $25,000 – $30,000.
Adding custom features, the developer would charge an additional cost for that.
To find out how much it costs as per your idea, connect with our expert.
Bonus: How To Grow Q&A Websites Like Quora?
Quora was founded nearly 13 years ago and today this platform has gained tremendous popularity across many countries.
So, if you wish to target to comprehend accolades like the Quora platform, here are some suggestions to try.
1) Google Adsense
AdSense is a very popular medium on the digital landscape to earn potential money by placing ads on the website. It works in this way, upon each interval, a user clicks on the ads, and your platform gets the money.
2) Offer Premium Services
Quora offers Quora+ which is the community premium service that lets users get most of the platform. You have two options to use this service via subscribing on a Monthly or Yearly basis. The feature will give you the ability to use Quora without ad-free, in-depth information, and endless answers to explore.
3) Advertisement
In April 2016, the curators rolled out advertising on the site. And now many B2B hubs use Quora ads for leads, engagement, and customers. You can consider this tactic to earn money and increase growth.
What's Next?
That's all in this app development like quora blog.
The information mentioned is entitled and purposed to help you get the best knowledge for app development like Quora.
In conclusion, Q&A website development like Quora is a good idea but you will have direct competition with its native one. Also, attracting users or high-potential traffic would also be a challenge.
Planning to develop a Q&A website like Quora?
Speak to our experts!
Get connected with us to learn how our experts can uniquely help you.