Due to the recent changes in Google's search algorithm, many of our customers are coming up with the questions like, how to create FAQ pages, how much does it cost to make an FAQ page, will we able to maintain it on our own once you've developed it, etc. This post is initially created to answer those questions.
First things first, you can add FAQ Page on your website store without paying anything. How?
You may check out this video for a quick tutorial, as prepared by plugin's team or read our blog to save some data ;)
https://www.youtube.com/watch?v=sFi_rPYOkP4
Before moving to the actual procedure, let us make other website owners aware of the importance of a well-built FAQ page / integrated FAQ sections in your web page. [If you already think FAQs are essential, you may want to skip this section]
Why is it important to have FAQs?
Having a website for any business has become a necessity and there are some elements without which even a high-tech website will be incomplete. One of them is an FAQ page. When your customers come to you asking same questions again and again to your Customer care executive and dropping them to your support email, it is high time that you need a thorough FAQ page on your website.
FAQs page not only takes off the burden from your customer support team but:
Contributes to an early response system to the customers in a hurry.
Adds SEO values to your website.
Redirect your customers to other valuable content.
Interactive platform for business and clients.
But who wants to shell out some more dollars to get an additional page, especially when it can be done for free?
If you wish to add an FAQ page for free to the website, WpWorx FAQ plugin for WordPress is nothing short of a premium plugin. At Zero cost you get access to an elegant and highly useful FAQ page.
Best Features of the WpWorx's FAQ Plugin
FAQ plugin offers the advantage of customization and allows a new FAQ page to blend with the existing website. As a free to use Plugin, it comes with shortcodes that can be inserted to the Website instantly to add an FAQ page.
The Wpworx plugin supports unlimited FAQs with "Read More" option.
It allows customization of the entire FAQ page right from the color, background, font size, Icon style, Icon color, Icon size, and position.
The font style and color of the questions and answers can be changed - independent of each other.
Wpworx plugin helps you develop a responsive page just like your website.
While you build the FAQs, you can maintain the SEO element of the page by customizing the HTML title tag, Meta description, Header tags from an easy to use dashboard.
The plugin can be used to build FAQs for custom posts
Display the FAQs as Accordion or JQuery toggle style
Build categories of the FAQs
You can add new FAQs or edit the existing ones very easily.
How to Create FAQ Pages using this WordPress Plugin?
The Journey begins with simply downloading FAQ plugin from the link below:
https://wordpress.org/plugins/wpworx-faq/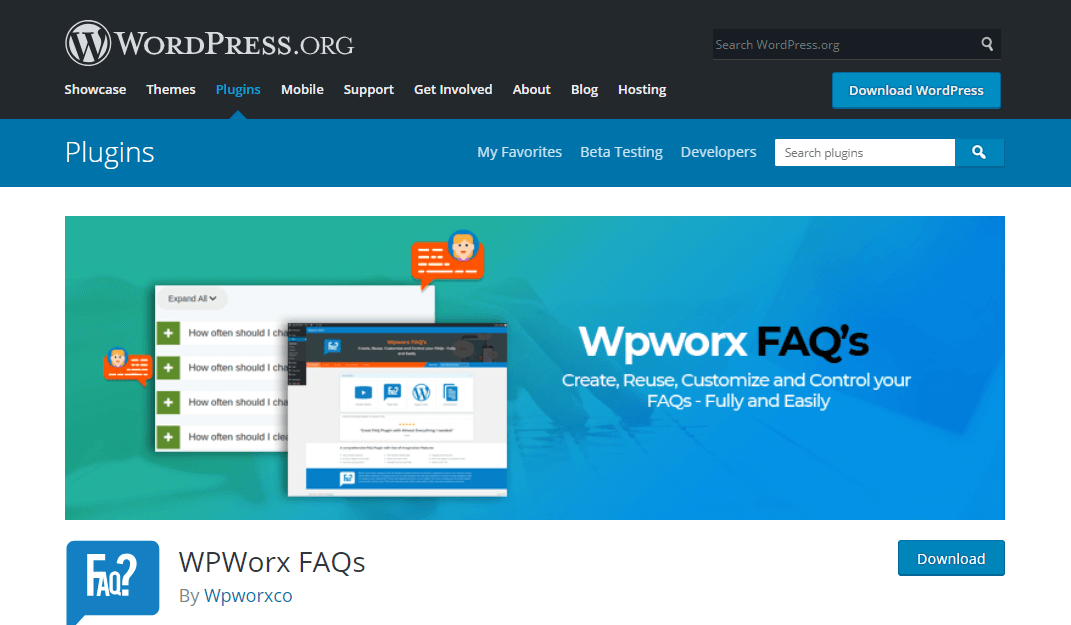 Manual installation
Login to your WordPress Admin Panel: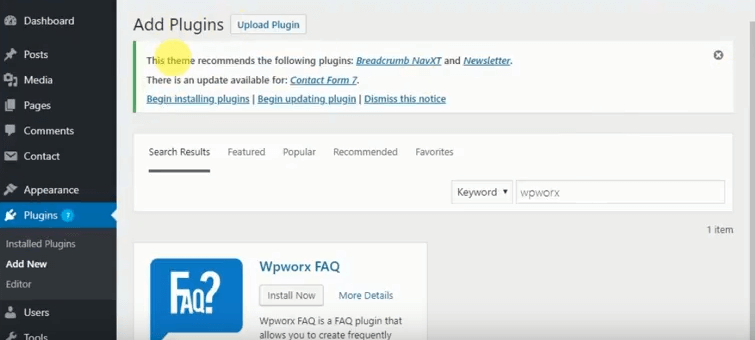 Under the options on the left side of the Admin Panel, you can need to Click "Plugin".
Upload the Zip file of the WpWorx plugin. For that, you need to "Choose File" and then click on install now. Once the Plugin Link is activated, you can start building your FAQ page and customize it as per your requirements.

Automated Install
Login to the Admin panel of your WordPress website
Click on the "Plugins". You can see Installed plugins and "Add New".

Click "Add New"
You will be prompted to Search the plugin you wish to upload.
Key in Wpworx and Click on "Install Now"

Once the plugin is installed that might take around less than a minute, you will be prompted to "Activate" the plugin.

Add FAQs and Render on Page
After an instant set up of the plugin comes the task of adding unlimited question and answers to your FAQ page. You can create categories and then add new FAQs to the same.
Create a Category for FAQs with the name and description and click "Apply".

Once the category is created, you can click "Add New", type in the question, answer, and category before you publish the question. Each question can come under multiple categories.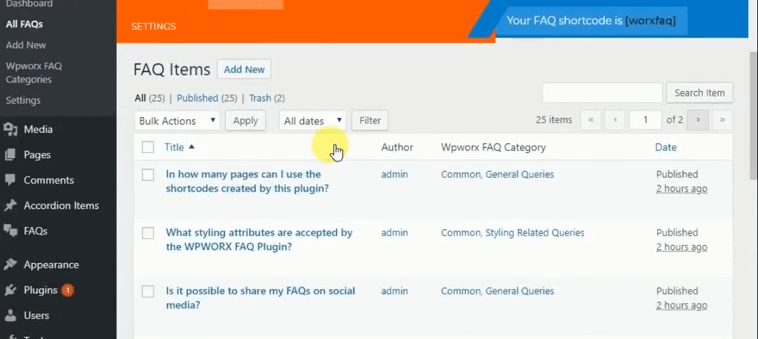 WpWorx plugin brings with it the power of customization and SEO.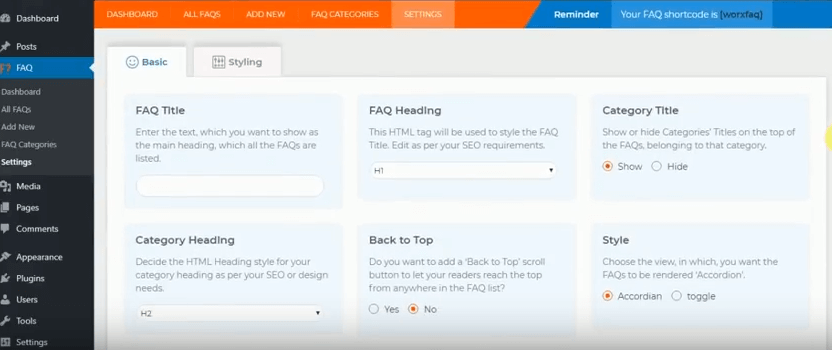 It allows you to add Title and Headings (H1 and H2) to each FAQ making it SEO rich. Right from this page, you can choose the Accordion or Toggle style of FAQ presentation. The Styling options are advanced customization option that allows you add custom CSS, select Icon colors, Icon Background color, Question color, Question background, Question hover color and similarly for Answers.
Wrapping it up!
A Plugin, which can be quickly set on the WordPress website and renders full scope of customization to the users, is surely very useful for your website or store. For each answer you can add a comment section so that the FAQ page becomes more interactive, you can add YouTube links to the more explanatory videos. With the ability to create an unlimited list of FAQs and customization utility, the Wpworx FAQ plugin augments your website with an FAQ page that can be built almost instantly.
FAQ becomes a part of your content strategy too and it becomes easy to drive more client traffic that can be directed to the existing and more valuable content.