With time, the progress of technology and the evolution of the web have affected human life in a profound way. It is not only the mass, but the businesses are also deploying technological solutions in various ways.
This is not exactly limited to any particular sector, as it is.
Along with brands hailing from entertainment, food, FMCG and healthcare sectors, the jewelry makers are also resorting to internet related tech to cater to shifting customer needs. However, it is not just enough to have a website for your jewellery store. You also need Jewelry Mobile Apps to stay competitive and fulfil the requirements of next-gen customers better.
Why need to get Jewelry Mobile Apps developed
Online shopping for jewelry has become quite commonplace and thousands of people place orders for ornaments online nowadays. However, with time, the way people access the web and take various online services is also changing.
In the last 5-6 years, the majority of web users have been switching to Smartphone and tablets from computers. These mobile devices have become their preferred means for accessing the internet, round the clock. So, these users are likely to make use of Jewelry shopping Mobile Apps over jewellery store websites for buying various ornaments.
Without having a dedicated app for your jeweller store/brand, you face the risk of losing out a major chunk of target customers! Of course, you have to find a suitable Mobile app Development Company for this.
How Jewellery shopping mobile app development can help your brand
There are a number of ways using a mobile app can benefit your jewellery brand -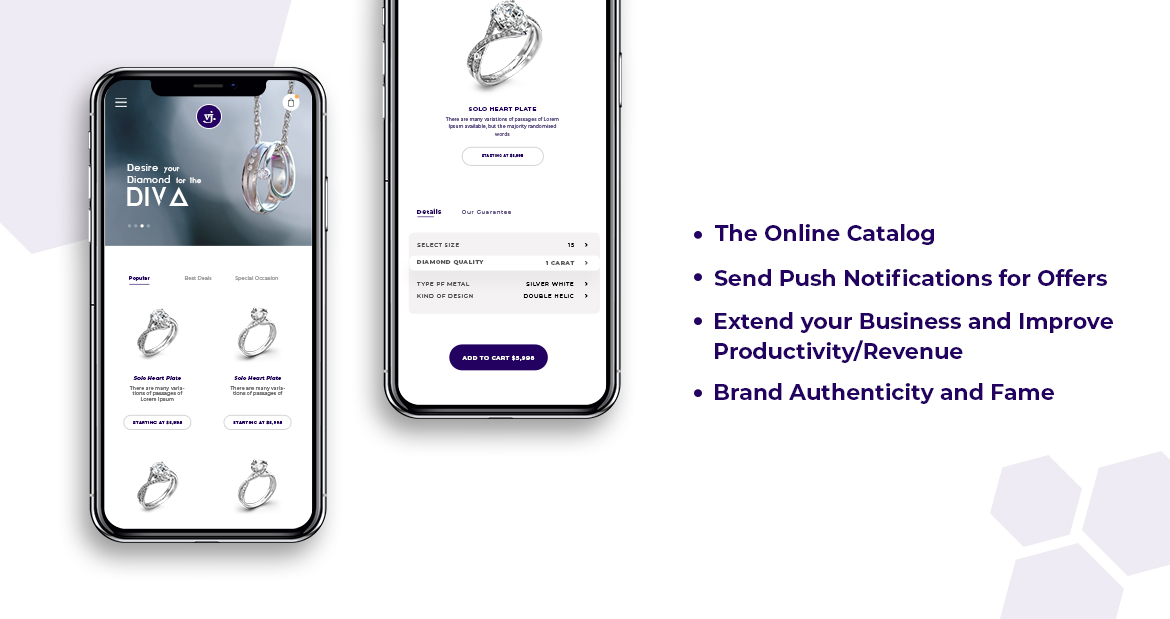 By using a mobile app, you can ensure the entire product catalog is accessible to the customers. The target customers can make use of Jewelry Mobile Apps to find out what they need, anytime they want. They can also check out ornament details using their Smartphone or tablet.
The high-resolution display of present generation smartphones ensures they get a fair idea of how the ornaments will look in real life. They can find out the ornaments they need by using a few finger clicks and taps, anytime and anywhere.
Send Push Notifications for Offers
Like many other companies, jewelry brands also offer promotions and special schemes to attract target customers - from time to time. However, it is easier to ensure those ads and promotional offers reach the target customers when your jewellery brand has Smartphone apps.
You can definitely use such Ads in the websites and social media profiles of your company but that way it may not reach a majority of target customers. The mobile apps can be utilized to offer push ads and notifications to the customers. These customers are not likely to check their spam email folder where most of the ads go by default - as it is.
People are more likely to check out Smartphone push notifications than emails, using PC or mobile devices, show the surveys.
Also read: - Why should an app developer consider Flutter App Development in 2019
Extend your Business and Improve Productivity/Revenue
In a world, where everyone is jostling for time and people have become accustomed to multi-tasking, having Jewelry shopping Mobile Apps makes sense. With Smartphone processing speed and internet access speed touching new heights, people can check out jewelry for personal use or gifting online courtesy the apps in a matter of minutes.
Using jewelry apps is definitely a faster experience than accessing websites of jewellery shops. For the users, every single minute matters and app usage helps them save time. You should hire app developer from a reputed firm to ensure you get a fast and functional jewellery app.
Brand Authenticity and Fame
For any company, having a mobile app is perceived as a sign of credibility. If you look around, almost every company from small pizza delivery joints to airlines and Skincare brands have their apps. So, Having Jewellery shopping Mobile Apps is beneficial for a jewellery brand.
Things that your brand's jewellery app must have to succeed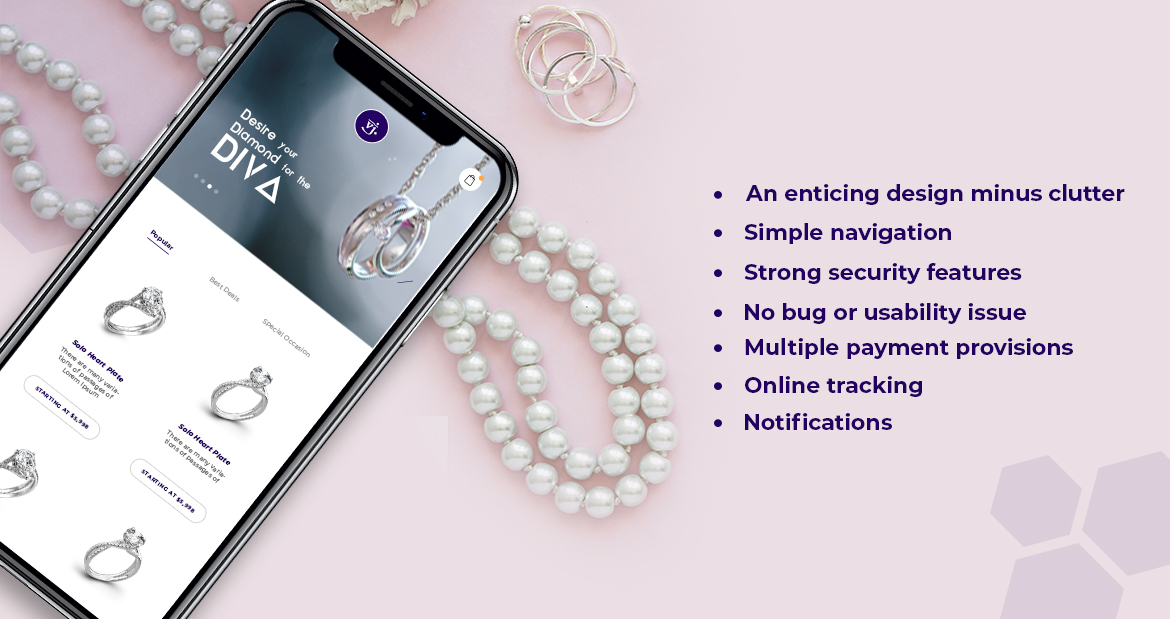 To ensure your jewelry brand app hits the bull's eye and woos the target customers, it must have a few features embedded. These are -
An enticing design minus clutter
We create jewellery app for your company needs to have a nice interface minus visual clutter. It is fine to use appealing graphics but excess visual elements and animations may repel the viewers and that can also affect app load time adversely. Most mobile users have no patience to put up with slow loading apps.
The app should have a nice layout and easy navigation. The viewers should be able to return to the homepage from any section smoothly. They should not face any problem in accessing any section or finding that they want- overall.
The app must comply with the latest security features of Google Play and Apple app store. Mobile app users are now wary of using apps that compromise with online security measures.
No bug or usability issue
The jewelry app of your company should be devoid of any bug or issue that mars user experience. No one likes using a mobile app that crashes every now and then or shows up weird error messages when trying to access some features - for example. It will work against your brand.
Multiple payment provisions
Not all of your target customers will have the preference for same payment modes. So, your jewelry mobile app must have support for several online payment modes for the convenience of the target buyers. These include means like debit and credit card, online banking, platforms like PayPal and new digital wallets.
Once a customer places an order using your company's mobile app, he/she should be able to track it until it is delivered at the chosen address. Of course, the customers may opt for messaging end email based tracking updates but the facility to check the progress using the app is something no one can overlook.
The app for your jewelry brand should have options for notifications. These are useful for sending offers, coupons, and reminders to the users. They can be updated about limited period deals and you can remind them of renewing any membership etc.
Choosing the right app development company for your needs
While selecting an Android and iOS app Development Company to design an app for your jewelry brand, check out a few aspects -
The company should not be a newcomer in the app development sector, to start with. Opt for a company that has expertise in the field.
It is better if you pick a company that has clients in the sector. You can check out jewellery mobile apps designed by such companies and then choose the apt one.
You should opt for a mobile app development company that is clear on aspects like documentation and charges. Top notch entities in the sector will not evade queries on such factors, anyway. Ideally, you should clear all queries on the app before choosing a company.
Conclusion
Whether your jewelry company sells ornaments aimed at young professionals and millennial or targets the elite class with a penchant for authentic 24-carat gold ornaments - selecting the right android app development company is important. Of course, you need to have an iOS app too.
Unless you pick the right company for jewellery app development, the investment will not be fruitful.