Nowadays, you can find apps for almost everything - banking, paying utility bills, food delivery, grocery shopping, and healthcare services. The way technology is seeping in all sections of human life is nothing short of astonishing. It is now near impossible to get many things done without using computers and the internet. However, the Smartphone apps have revolutionized the way people access various online services.
The healthcare mobile apps have come as bliss for both medical professionals and patients. Using these apps, it is now simple to assess various health metrics, contact medical service providers and book appointments with doctors, etc.
The flourishing Healthcare App Development market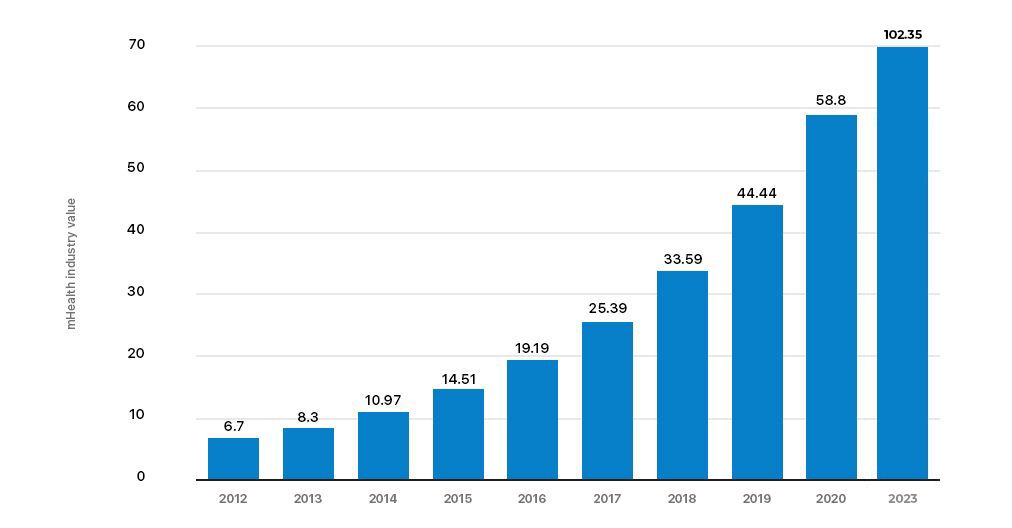 Thinking whether or not to launch a healthcare app?
Well, trust the data – always.
In the last few years, healthcare app development market has been growing at an unprecedented rate. The estimate is that the global mobile health app market will touch the figure of $102.35 billion by 2023.
A US report by Accenture reveals tablet and Smartphone use by healthcare management has shot up to 48% from 36% within 2016 and 2018. With smart wearable devices sporting support for the heartbeat, calorie counter, and more - this trend is likely to continue. The Healthcare app development market is also being boosted by growing health awareness in the mass.
Not tough to conclude, healthcare app development is a profitable bet in today's time.
The significant advantages of using mobile healthcare apps
There are numerous advantages of using healthcare mobile apps.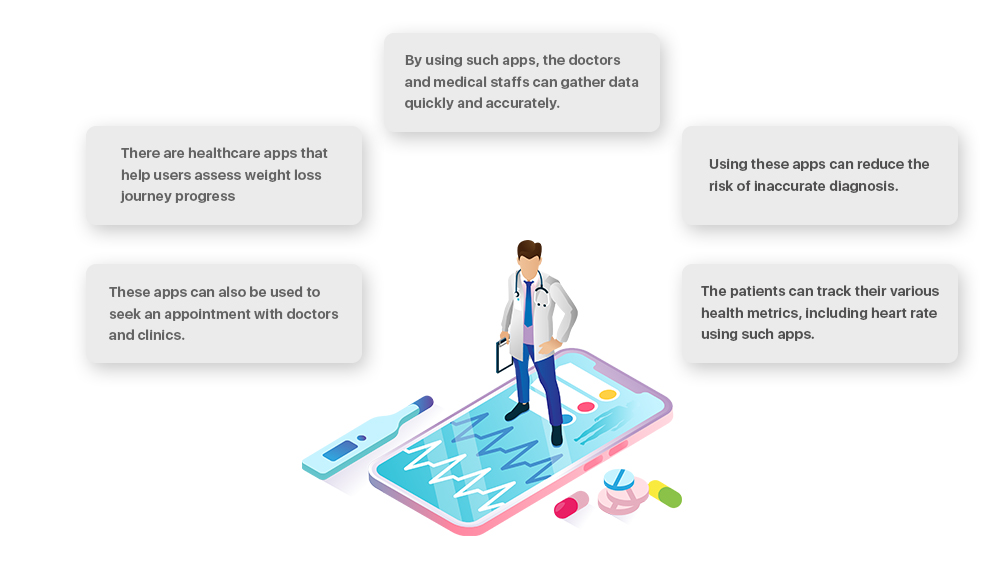 By using such apps, the doctors and medical staffs can gather data quickly and accurately.
Using these apps can reduce the risk of inaccurate diagnosis.
The patients can track their various health metrics, including heart rate using such apps.
There are healthcare apps that help users assess weight loss journey progress.
These apps can also be used to seek an appointment with doctors and clinics.
Things to remember before selecting Healthcare app development agencies
A lot of clinics and medical institutes, healthcare service providers offer dedicated mobile apps. Some of these apps are meant for use only by the doctors and medical staffs while others are meant for the patients and their kin. While developing a mobile app for a clinic, healthcare service provider or general medical usage, certain things have to be analyzed. These are:
The healthcare app you want to get developed for your clinic or pharmacy should be compliant with standards like HIPAA. It is necessary for safeguarding individually identifiable health information. It also regulates how data is shared through mobile healthcare apps. So, ensure the Mobile app development company you hire is capable of developing HIPAA compatible apps for the clients.
In some instances, it is okay to develop healthcare mobile apps without adhering to HIPAA. These include apps meant for checking weight loss progress, calorie counting and so on.
The healthcare app developed for your clinic, diagnostic center or pharmacy should be simple to use and have an appealing UI. As a matter of fact, these apps will be used by various types of users and some of them are not tech savvy. So, the learning curve should not be steep. The navigation should be easy and the users should be able to locate what they want without having to use too many menus and submenus in the app.
A wide range of payment modes
In some healthcare mobile apps, online payments need to be made. These include the Healthcare apps which are used to book an appointment with a doctor or medical consultant, etc. There are apps using which people order medicines online as well. In such apps, it is better to use multiple types of online payment options. This is necessary because not all users prefer using the same type of online payment mode.
Popular online payment modes that should be included in such apps are debit cards, internet banking, credit cards, and the popular digital wallets.
Also read:- Grow Your Jewellery Business by investing in Mobile App development
Using the right design, layout, and hues
People who access healthcare apps are often in worry and stress and apps with light and muted colors are suitable for such users. Usage of bright and fluorescent colors can add to their stress level. So, it is necessary that the healthcare app you get designed for your clinic or diagnostic service is made with the right layout and colors.
Typically, healthcare apps are made with muted, subdued hues like green, white, cream, light blue, etc. And now you know, this is not without reasons.
Using right notification methods
In some mobile healthcare apps, the developers need to deploy push notification and reminders. These include apps that people use to take medications in time and apps that help aged people with frail memory to stick to medical appointments, etc. Such notifications and push reminders have to be deployed carefully. The notifications can be made effective by using suitable color coding, animations and sound scheme, etc.
Checking for version compatibility
A majority of Healthcare mobile app users have Android-powered devices. Contrary to iOS, Android users use devices that run various versions of the popular mobile OS. So, you should hire a Mobile app development company that can take care of this issue. The app developed for your clinic or healthcare setup should be compatible with different versions of Android and iOS. Or else, your app will remain inaccessible to a section of target users.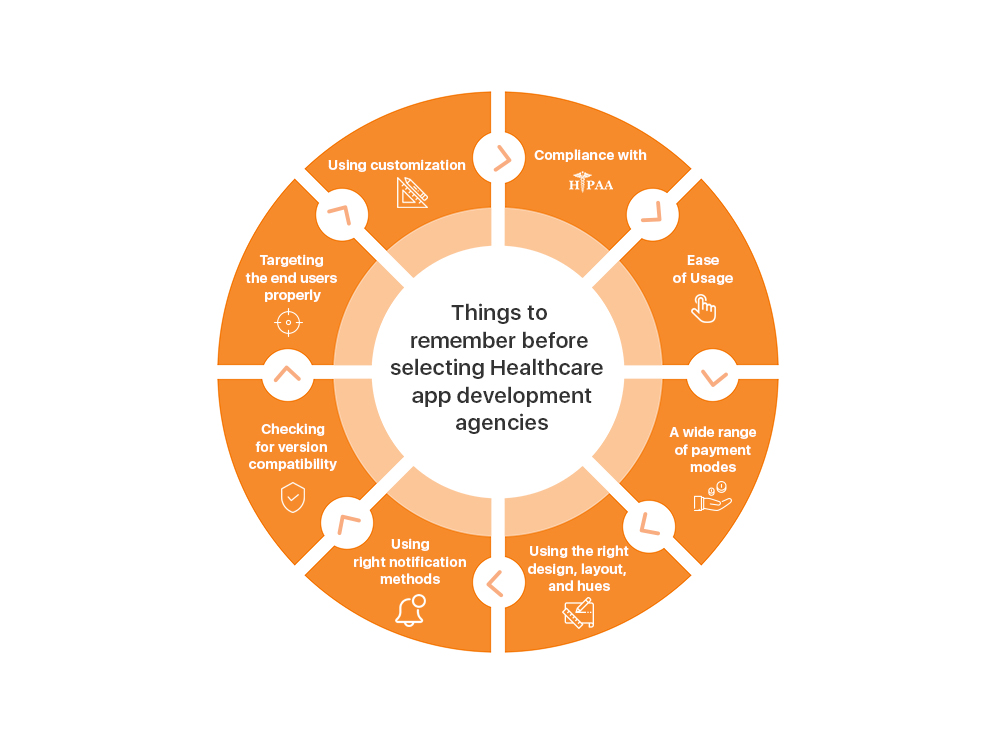 Targeting the end users properly
Not all healthcare mobile apps have the same target users, as it is.
Some such apps are used by the mass while some are used by people with specific medical conditions or health objectives. Some users have certain disabilities and need to use healthcare apps as an aid. So, you should hire app developers who are capable of tweaking app design to suit specific target user needs.
Your app developer should be able to understand the needs of the target users while designing the app.
For Example –
Some healthcare apps have to be equipped with provisions for changing font size, text to speech conversion, etc.
Color schemes should be chosen carefully in apps, built for the users with poor vision.
Not all of your target healthcare app users will have the same preferences. For example, if you want to develop a mobile healthcare app for weight loss enthusiasts or people seeking balanced diets, the customization choices should be there. Some users may like to stick to the included exercise regimen in the apps while some others will want to develop their personal regime from scratch! The same things can be applicable for diet apps.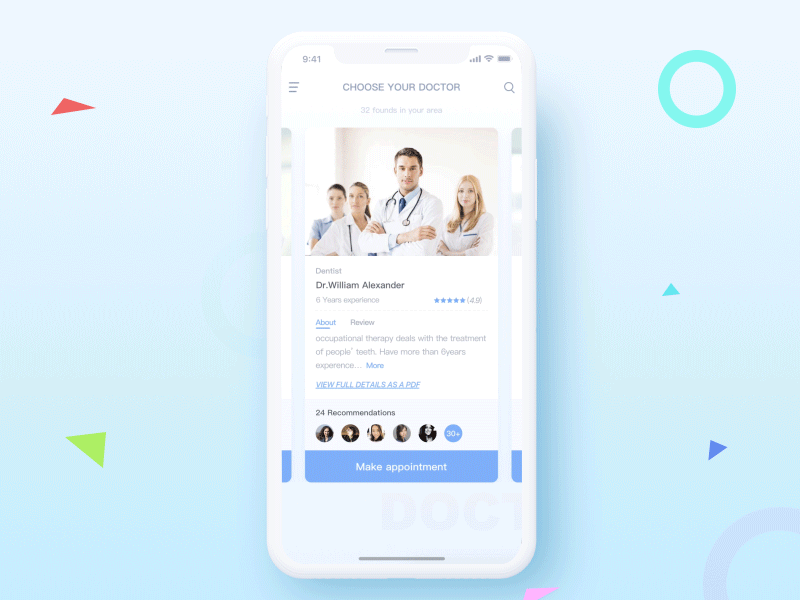 Zeroing in on the right agency for Healthcare mobile app development
To ensure you pick the right iPhone app development company to get a mobile app designed for your clinic, health care facility of brand - assess the following aspects carefully –
It is better you pick a seasoned and reputed app development company that has several clients belonging to the healthcare sector. Such an Android and iOS app development company will be the best option for your needs. You can check out the client feedbacks of such firms online.
Before zeroing in on such app development companies, ensure you learn everything about their policies. The app may need revisions and enhancements after creation. You also need to get the facts clear on payment terms and app maintenance etc.
Also read: - Xtreem Solution Listed in 2019 Clutch Report as a Top Developer
There are so many agencies offering Healthcare web portal development as well as app development services. Hence, before hiring anyone or any team, make sure they are proficient enough to complete your project within the timeframe and budget you want.