App development like coinbase goes with a number of complex integrity, features, and solutions. Sneak into today's blog to learn about coinbase mobile app development.
Speaking of the fact, there are more than 50 Cryptocurrency exchanges apps for consumers, traders, and merchants.
And more are in the development process…
Investing in crypto is not a daunting task because, with cryptocurrency exchange applications, people can anywhere and anytime can buy, sell, and track digital currency seamlessly.
And that with unthrottled security layers.
From the box of so many coinbase app development like apps and platforms, recently, the coinbase (Cryptocurrency exchange app) is gaining heatwave-popularity, and for this reason, I have picked "Coinbase App" to discuss today.
I am sure you guys are too excited to know about it.
We will discuss; its market size and revenue growth, how it works along with benefits and features.
Wait! We will also learn… cost to develop a Coinbase app for your business.
What Is Coinbase App Development Market Size and Growth?
Coinbase, the company was established in 2012 with a radical idea to enable each crypto user to send and receive digital currency - bitcoin, and today, the company is built as a trusted and easy-to-use platform for utilizing the broader cryptoeconomy.
Talking about the coinbase market size, according to a statista report, Coinbase saw its net revenue grow significantly in 2021 compared to 2020 and 2019. And, had more net revenue in each quarter of 2021. The net revenue of Coinbase in 2021 (Q3) is estimated to be USD1,235 million.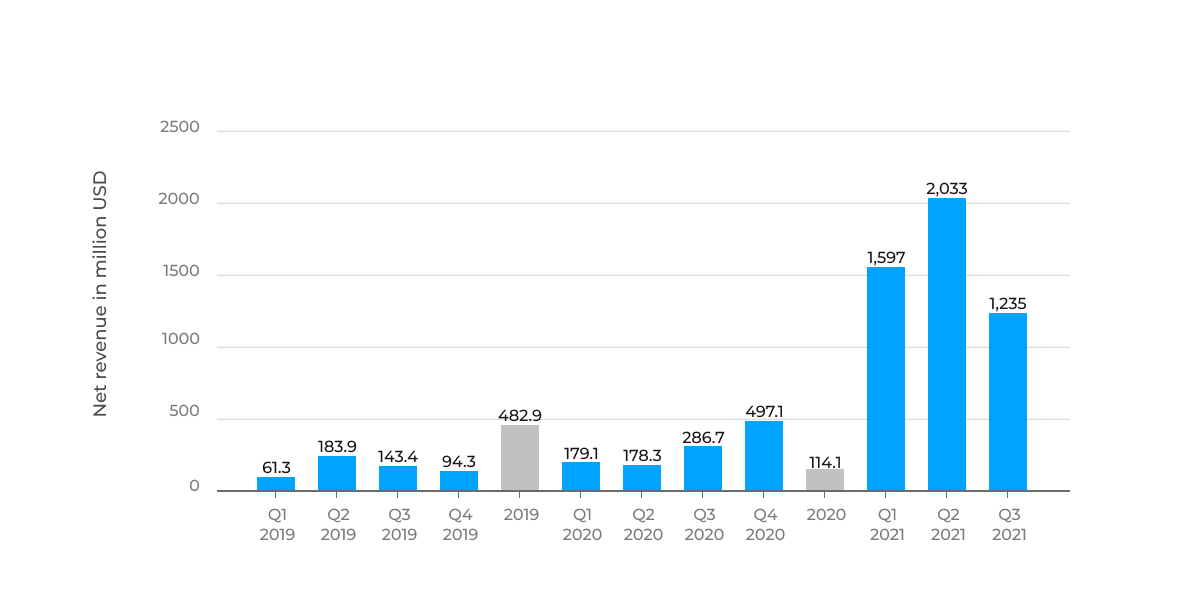 The Delaware-based company built and released a crypto-exchange platform (as a mobile-based app) in 2013 which is now eagerly used by millions of users worldwide. On Google Play Store, the app has been downloaded by 10M+ users and its website stated that a $217B quarterly volume was traded.
How Does The Coinbase App Work?
Coinbase app development is a crypto exchange application that prompts easy buy, sell, and monitor digital coins with intelligent security and other advanced technology stacks.
Coinbase is a simple, safe way to buy, store, trade and sell your cryptocurrency. The app supports 300+ digital currencies and smart history lookup, latest crypto news, and everything to make a beginner to a crypto master.
The app's functionality and the user interface are overwhelming and it is easy to set up an account, begin trade, withdraw money, and everything.
Here's how it works:
For the first time, users need to create an account with information that the system asks such as your name, email address, and password. Upon email and phone number verification, users can sign in easily.
The UI will now ask for bank account details in order to support currency exchanges such as buying and selling and transferring money to a bank. Based on the region, you may have to provide KYC verification.
After that, the app will take seconds to refresh the homepage from where users can glimpse buying and trading preferences.
The app is packed with a multitude of assets. In case you buy cryptocurrency for instance; ETH - then the app will show you all the information about Ethereum on your front page.
Apart from this, the app has a well-versed dashboard and significant options to prompt fine investing and settings to tweak as per needs.
Why Is Cryptocurrency Exchange App Development Like Coinbase So Popular?
Coinbase app development is popular among crypto users because of its seamless and intelligent features (100+ supported assets, buy and sell crypto easily, secured transaction vault support, and smart tools) and functions (secured transaction and withdrawal, fast bank transfer, and smart investment suggestions), also the app has 100+M verified crypto users across the globe.
Another reason could be the app updation and new features deployment to the app. The community works on a principle to increase the crypto economy.
Some other crucial reasons are as follows:
Extensive cryptocurrency selection
Offers Coinbase debit card
Simple and advanced trading
Low minimum to fund account
Easy to use for cryptocurrency beginners
Lower pricing available with Coinbase Pro
Well, app development like Coinbase is a smart decision and successive step towards establishing a reputable business recognition in the market.
But an app without user-centric features is nonetheless equal to a bad experience (or an intolerable app).
Features of Coinbase Mobile App Development
Signup: As for k basic details of the users to set up their account to begin crypto trading.
User verification: Verify users' emaddressesress and phnumbersmber for security and marketing agenda.
Bank details: Prompt users to provide bank details for easy and seamless deposit and withdrawal needs.
Buy and Sell: Provide easy-to-buy and easy-to-sell digital assets with a simple process.
Crypto tracking: It is a must and important feature, enabling users to see hikes and dips of various currencies in real-time.
Browse history: This feature lets u eye the past transaction-deposits ding and withdrawals withdrawal.
Settings: This provides users with multiple options to tweak their profile with necessary constraints.
Also read: How Much Does It Cost To Develop eWallet App | Time, Cost & More
Advance Feature To Be Included In The Development of Cryptocurrency App
Crypto News and Latest Alerts
This is an advanced feature (also available in Coinbase app development) that provides all minor to major details on the crypto economy and the market. Share the latest and crucial news and info (in any format) to keep educating crypto users to know more about this wedge.
Remote Disable Phone Access
This feature is depicted and presented in many cryptocurrency app development that focuses on helping users and their data to save from hackers. That is why a crypto exchange app comes with high-tighten security and encryption layer support.
Real-Time Crypto Tracking
Real-time tracking of digital assets provides crypto users with an efficient way to invest in the best revenue-generation assets. As they show real price with fluctuation of updation in seconds, users get accurate data to invest potentially into well one with complete knowledge and transparency.
Steps To Coinbase Mobile App Development
In this section, you will learn the parameters to be followed to develop a crypto exchange app like coinbase. It would be beneficial if you follow the underneath method in a structured way as it demonstrated.
1. Do Comprehensive Market Research + Competition Research
It is very crucial to understand the crypto market.
There are a number of app development company offering a multitude of crypto solutions - but not all of them are successful.
Simply, understand the feasibility of your idea. Ask questions about acceptability, preference, and success.
Eye on your competitors to learn more about this segment. Derive strategy based on knocking-out competitor approach.
2. Brief Down Necessary Cryptocurrency App Features
With the unique features you introduced, you will arm your app idea more successfully to make users accept it with little effort.
Not all crypto exchange apps are successful (well accepted by users) and of course, there could be a reason for this.
Do a hypothesis and conclude your answer. Approach the one which satisfies your vision and objective of the application wisely. Also, do consider these advanced features mentioned in this blog for more success rates.
3. Proceed To Design and Coinbase App Development
You are almost done now.
After planning out the necessary features catered to crypto users, simply shoot everything to the development phase.
Remember to organize the required resources before shooting the development. Standardly, you may require Project manager, UI and UX designer, Mobile app developer, QA professional, and Digital Marketer.
The technology stack needed for app development like coinbase is mentioned below:
Tool: Android studio and Xcode
Language: Kotlin, Swift, or as per your choice
Web service: REST API's, Alamofire, Swifty, and more
Database: Mysql, or as per your choice
Design: Material design, MVC, and MVVM
Others: Firebase notification, Payment gateways, etc
4. Release, Maintain, Improve
After the fair testing phase, you are good to release your app on the app market. Here consider the knowledge of digital marketer as they know more about app marketing and app store optimization.
Well, that's not the end, keep bringing new features and security updates to sustain engagement.
Also read: How Much Does It Cost To Develop A Stock Trading App | Time, Cost & More
How Much Does It Cost To Develop An App Like Coinbase?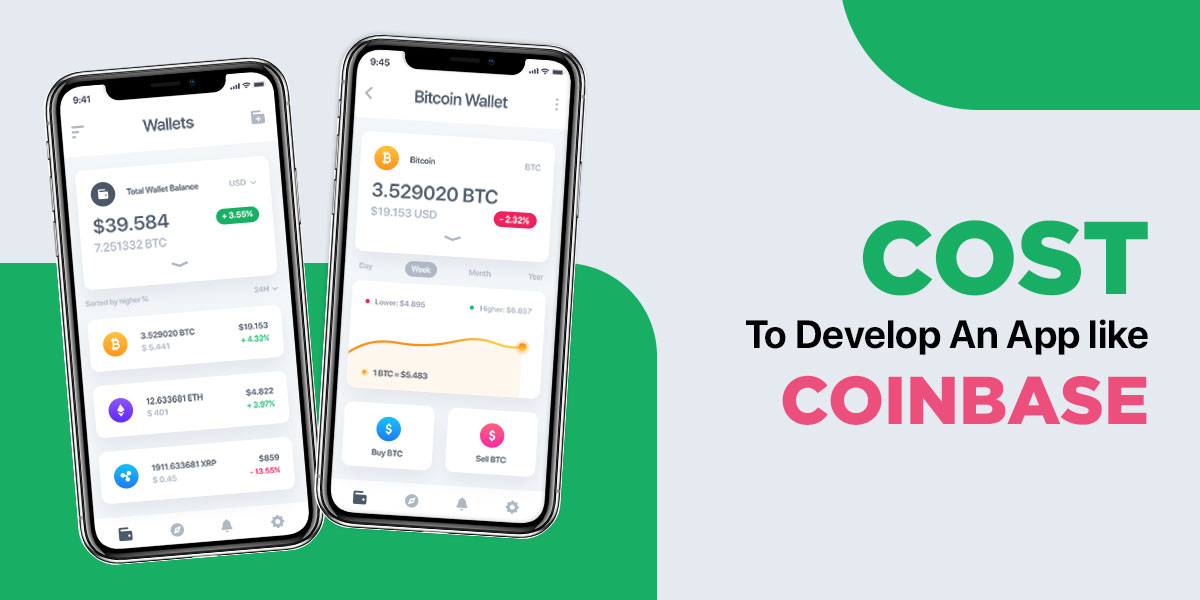 Well, the app design and development are complex in their own manner.
There are kinds of features and functionalities to achieve and hence, arguably affect the cost.
To give you a rough estimation, developing a coinbase app with basic functionality and features for Android and iOS would cost $35,000 - $40,000.
Adding custom features, the developer would charge an additional fantasy app development cost for that.
To know how much app development like coinbase will cost you, contact us
Wrapping Up
Entering into the crypto world is overwhelming in itself.
And developing an app to facilitate users to easily, buy, sell, track, and store your cryptocurrency is something more than adventurous.
Acknowledge this blog when considering app development like coinbase, if you have any thoughts to recommend, do write in the comment section.
Planning for coinbase app development?
Talk to our experts and see how they can help you with your project needs.