If you are a person who wants to grow and have high revenue, then you must have a stock trading app. Before going into the industry, you must check out all the details about the Stock trading app development process, cost & features. Let's discuss and get all the information.
What Is a Stock Trading App?
Stock trading apps allow users to save their time and make deals for the short and long term as per their suitability. We can say that these stock trading apps work incredibly for both beginners and experienced investors.
The high growth in stock market app development could be the reason for taking more interest in investing money in the stock market.
Want to know more? Let' have a look at the below points-
Sign-up or register into the app and link any of your bank accounts with the app.
Choose accordingly, you have to select a deposit method or one-time transfers, whatever you want.
Buy stock and wait for the perfect time.
Sell stocks in the same way as you purchased them.
Stock Trading Apps in the Market
Before having stock trading apps, people took references from other well-established stock trading market people. These apps will help you to know the current market status, analyze the trend & competitors, and many more. In this way, you can attract your customer to your app.
Some names of stock trading apps ruling in the global market: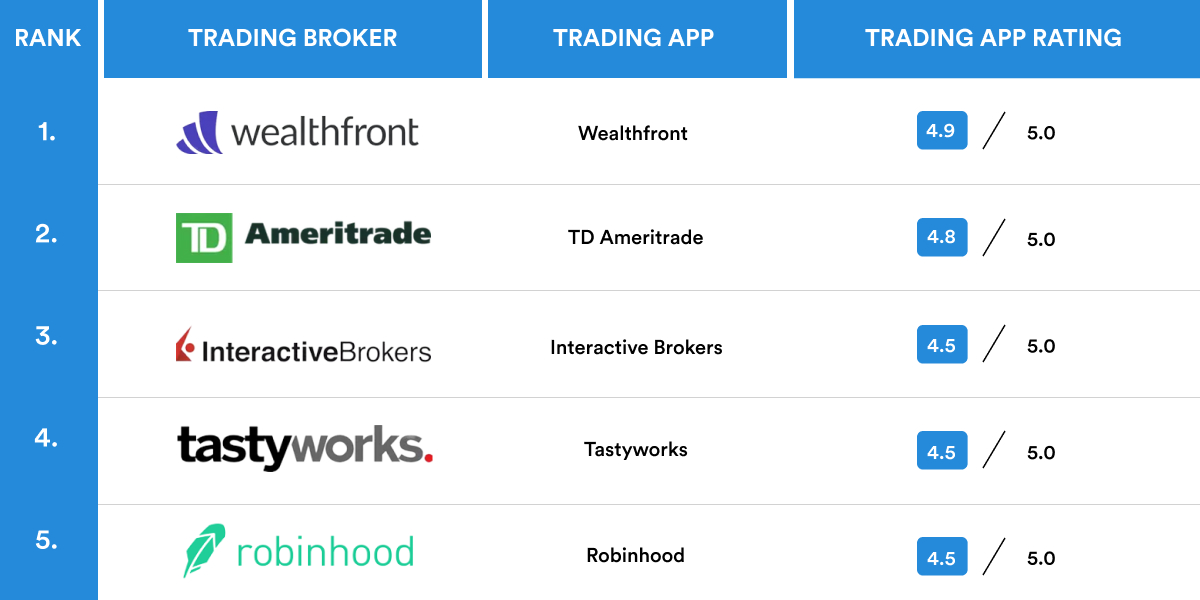 Overview of Stock Trading Market
Are you looking to hire a stock trading app developer? If yes, then primarily you have to check the status of the stock trading market. On the off chance, due to the effect of the COVID-19 pandemic, the stock trading market underwent a drastic transformation.
It feels good to see the interest of the young generation in the trading apps like Robinhood and others. Nowadays, businesses are also going to have Robinhood clone app development services from top companies.
According to the reports, 60% of the young generation use smartphones and apps at present and this is the reason why there is a huge demand for on-demand web development services. In addition to this, people are collectively aware that various apps including the stock trading application, are growing rapidly.
With the highest equity market capitalization of over $24.4 trillion as of May 2021, the New York stock exchange is known as the largest stock exchange worldwide, followed by NASDAQ, the Shanghai Stock Exchange & Hong Kong Exchange.
Have a look at the global online stock trading market revenue with a forecast from 2022 to 2028.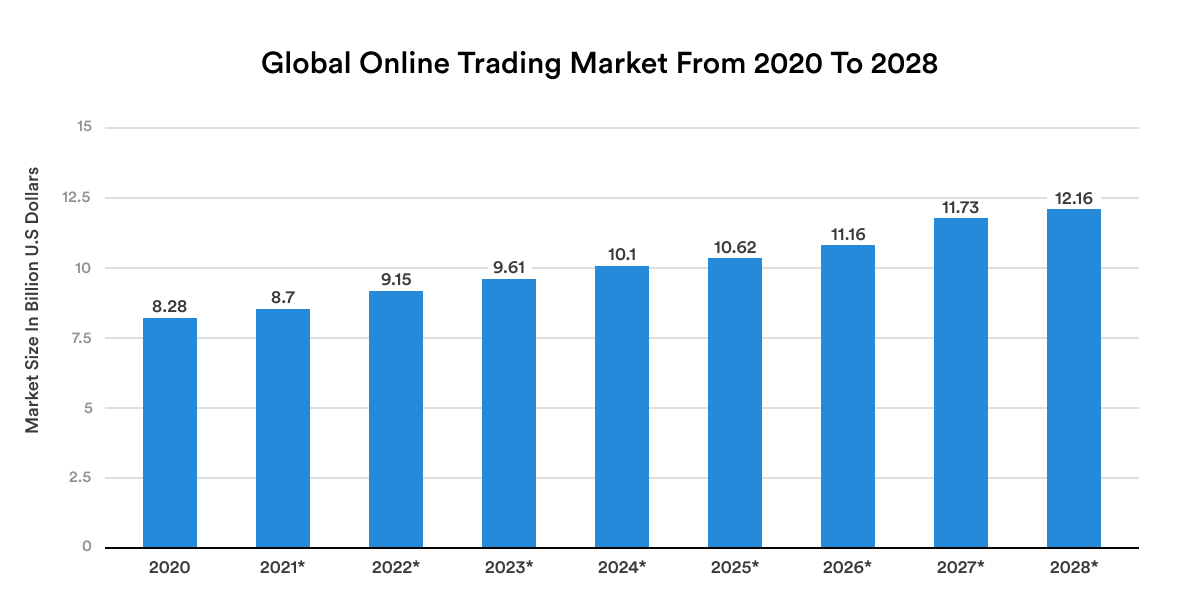 Monetization Strategies of Popular Stock Trading Apps
Nowadays, all businesses are trying to contact the popular mobile app development company to get online stock market app services to accelerate their annual profit and earn huge income, but do you know how they do it? These apps offer a free trading facility to users, and here the big question is how they manage to get such huge revenue?
Apps like Robinhood have similar monetization practices to generate money and boost revenue.
In-App Ads
The stock exchange entrepreneur can use a paid ad strategy to show ads for other insurance ventures or fintech verticals at an affordable bidding placement.
Paid Membership
This strategy is much more effective and increases the revenue faster as well as allows members to take part in the stock market. More advanced features are available under app membership.
Selling Products
By using this monetization strategy, the app includes different products to sell. Examples include insurance, mutual funds, and many more.
Transaction Fee
All the transactions done by the users via the app will be chargeable, hence whenever a user will do any transaction, a particular amount will be deducted as a transaction fee.
Early Alerts to Users
You can sustain users' engagement by sending them early alerts. Sending critical matter alerts early to them increases conversions and can make good money through it.
Also read: Sports Betting Mobile App Development - Time, Cost & Everything
Features of Online Stock Trading App
Features are an important part of any mobile app that make the app more interactive and different from other apps available in the market. It increases user engagement or provides the ultimate experience to app users and features play an important role in it.
No matter whether you are using iOS or Android, you must include salient features that can attract customers to your app. So, what are the impressive features of a stock trading app?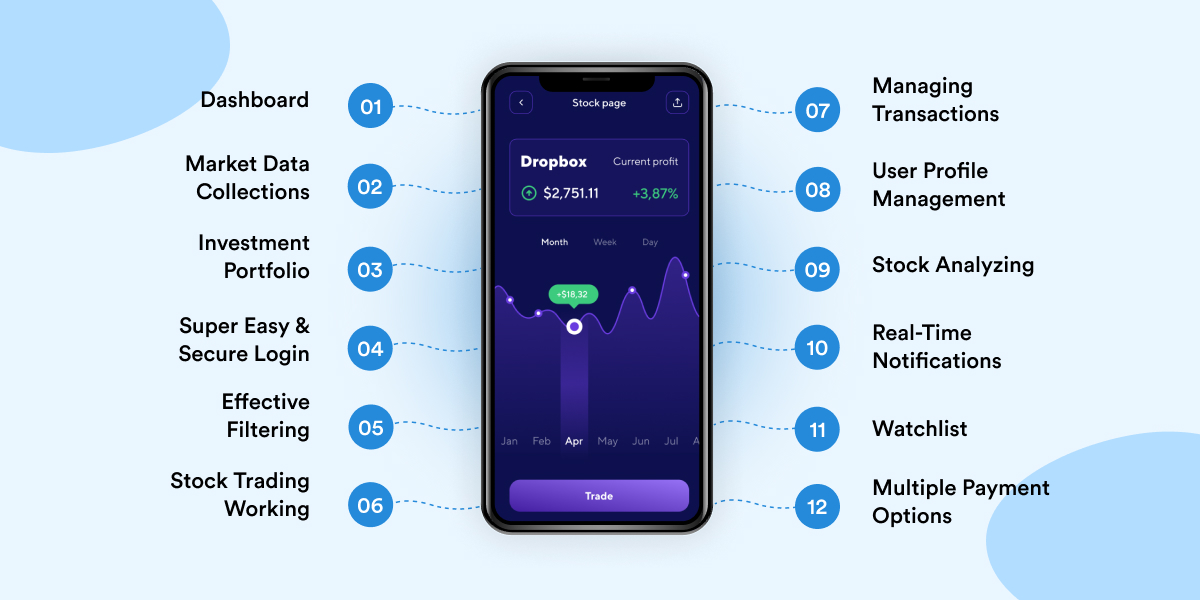 Dashboard
In this, investors or users will be able to find everything according to the requirement -watchlist, order status, holdings, balance, charts, and many more. It will deal with all kinds of information that can be accessed by the user easily.
Market Data Collections
All the trending stocks deal with the latest market insights and focus on what an investor needs the most? It enables users to see the performance of stock and invest in a profitable one.
Investment Portfolio
Stock trading apps let the users generate their investment portfolio to help them in doing investments. It refers to allowing them to invest with the help of an automated algorithm and individually sell & purchase stocks.
Super Easy & Secure Login
Stock Trading app developers include this feature in the app because it provides security to users' access. Multiple sign-in options are available which consist of a phone number, social media accounts, Email ID, and more. They can also use touch ID technology along with biometrics for better protection.
Effective Filtering
By using this feature, only verified app traders are allowed to identify stocks with the help of the 'sorting' option that extracts all the needed information including trade records that work efficiently.
Stock Trading Working
It is the way through which users will be interacting with the stock trading app. The entire working procedure comprising holding, purchasing, & selling the funds will be a hassle-free task for the investors.
Managing Transactions
This feature is an absolute need for stock traders. Providing them with a glimpse to see all the transactions made by them. Also, this is an essential feature of stock trading apps.
User Profile Management
An investor has the right to change, according to his/her preferences whenever he/she wants. Therefore, this feature is necessary and it allows users to edit their profile according to their ongoing interest in stock trading.
Stock Analyzing
It is perfect for those investors who want to do more research or find availability in a stock trading app. The analysis helps the seeker to know the most trending stocks of the time with their market rates.
Real-time Notifications
Stock trading apps come with a real-time notifications feature that notifies you about the trend, news, suggestions, tips, and whatnot to help make the life of the investor easy. This way, it is easy for users to keep updated about the latest stock market.
Watchlist
It is one of the best features, in which the user can track the performance of a specific stock in the market and save it in their watchlist to buy or sell later. They can save all the stocks they are interested in and can get their latest trading cost; hence there is no need to search again and again.
Multiple Payment Options
If you have different payment options then users are relaxed and tension-free. It is a perfect and compulsory option required by users.
Benefits of Stock Trading App Development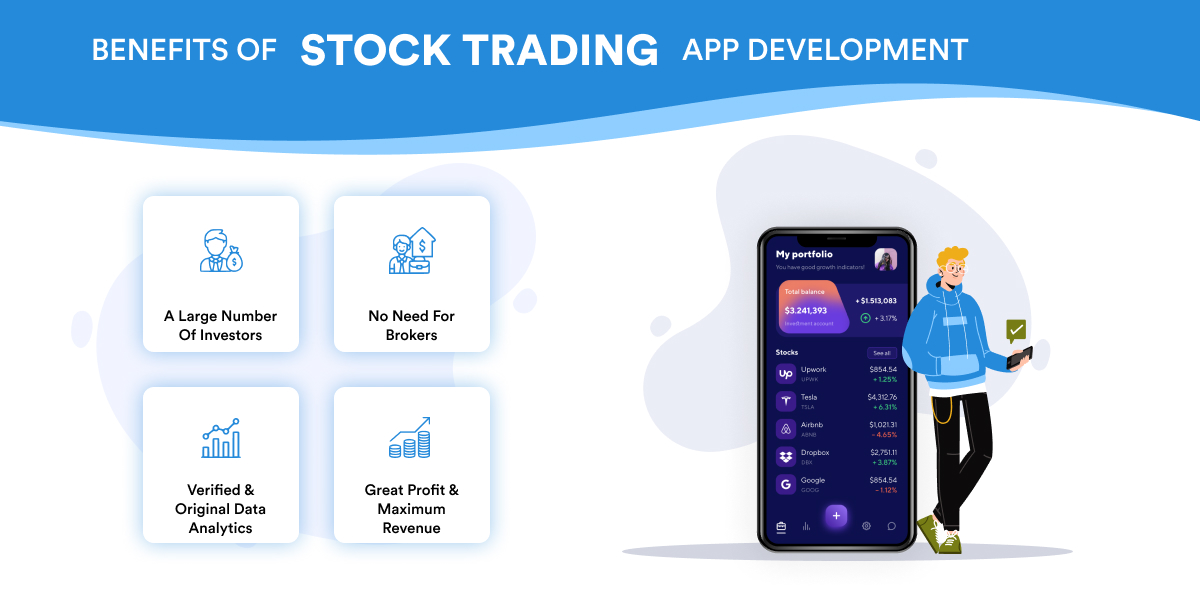 Before knowing the cost of stock trading app development, let's familiarize ourselves with its benefits. Is it valuable to have a stock trading app in terms of revenue or are people interested in investing their money via the app?
A large Number of Investors
The concentrated market of investors is huge. Many youngsters are also approaching this vertical phenomenon. With each passing day, the number of investors is increasing nationally. The use of stock trading apps has also increased with various benefits. With a large number of investors available, stock trading app development companies can generate more revenues.
No Need for Brokers
Stock trading apps are a trading method between users and the stock market, there is no broker in-between. Meaning the user doesn't have to pay anyone, the surplus directly comes to the user's account. In this way, there is more profit for both the parties rather than going the traditional way.
Verified & Original Data Analytics
Many investors are looking for a stock trading app that can provide verified data analytics. However, stock trading applications are developed under the authority's guidance and provide accurate and real-time data such as stock trading data for analytics. They can complain if analytics given by traditional adversaries are not appropriate.
Great Profit & Maximum Revenue
In any case, revenue & profits are always higher than the cost of the mobile app. Stock trading apps are beneficial for business persons to get high earnings if the app is efficient for better security and easy functionality.
The Process To Follow For Stock Trading App Development
How to create an app like Robinhood? There are essential things that need to be considered. If you are interested in the stock trading business, then have a look into it.
Identify the Market Requirements
It is the first step to having a smooth and unique stock trading app. Look into the spectrum of data collected from market research. This helps you to think out of the box to make your app unique from others. You can also check competitors' workforces and can learn their practices to restrain mistakes primarily.
Choose The Right Platform
As of now, people are using Android and iOS smartphones, fractionally. If you are planning to create an app, then the owner must decide which category they are targeting. This decision can be based on the market analysis as well and what type of audiences are more interested in the app they are developing. Either you can have Android or iPhone app development services.
Follow The Compliances
You must hire a good company that can provide you services as per the industry norms and standards. Every specific industry has some regulatory compliances for digital firms that comprise money laundering, data protection, customer privacy security, source code ownership, and many more.
Stock Trading App Design
The rule of thumb to make any app undertaken by end-users is by designing UI friendly interface that should be easy and simple to understand the first-touch experience. Apart from that, the app's user interface and experience must be more unique and impressive than others.
To make it happen, work on generating amazing ideas and consider requirement analysis collected from the market data. After development, send the application for testing to ensure its prolong rates. Ask the app designer to work majorly on the UI/UX to attract the user base.
Front-end & Back-end Development
For the development part, you should have experienced and skilled developers, who have rich knowledge about it.
Whether you are having iOS or Android app development, you must have an efficient development team who have tried their hands on multiple programming languages. They should be familiar with the ongoing tech stacks like Python, Ruby, PHP, Java, and MySQL for back-end development. Also knowing CSS, HTML, jQuery, and JavaScript would be an additional benefit.
Following is the required technology stack; developers must be familiar with.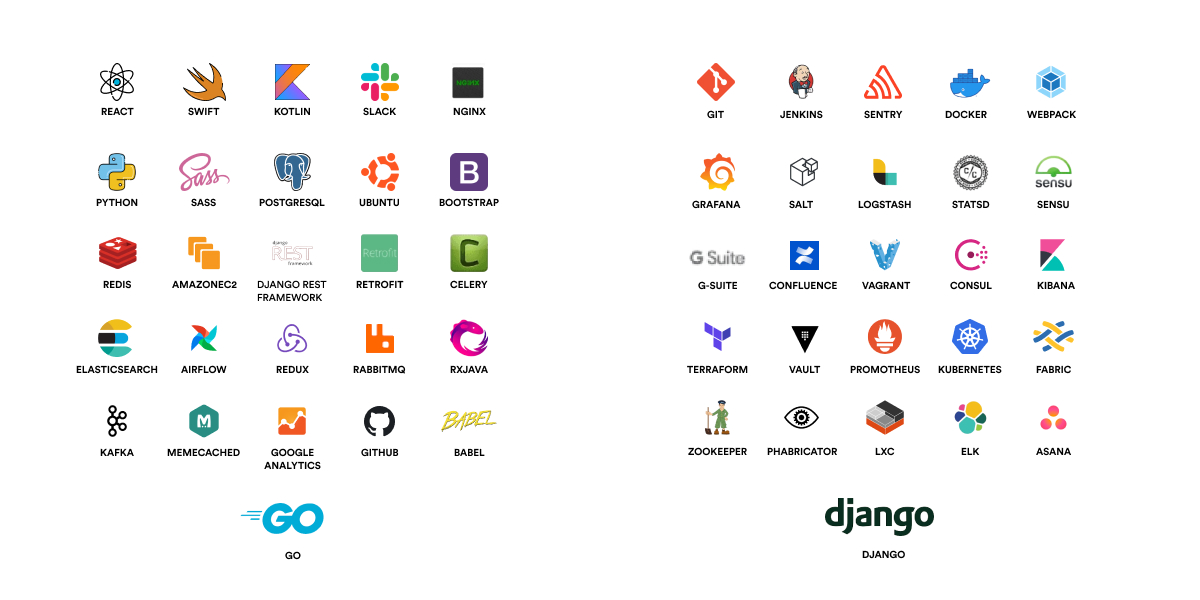 Testing Phase
After the development phase, you need a perfect team of quality assurance engineers who can test the stock market mobile app in terms of its quality, functionality, features, and many more. The app will launch after their approval only, and if they give any changes to do, the app will be re-test again after those changes. The phase goes in a loop until the app becomes clear from any bugs and errors.
Also read: Real Estate App Development - Time, Cost, Features & More
Know The Cost To Develop a Stock Trading Application
Are you planning to design an app like Robinhood? Want to capture a large market by developing an app similar to Robinhood?
Stock trading apps like Robinhood are available for iOS and Android. The app has various features with multiple screens. The app also has strengthened technology and comes with greater security and privacy options. To make this type of app for your business you need a good amount on hand to pay the stock trading app development company.
However, there are additional factors that can affect the cost of stock trading mobile app development. Factors include the design of the interface, backend and frontend development, testing, and platform choice. On the off chance, time & cost are two important things that get affected by the factors such as App platform & type, App Features, Team structure & technology stack, hired company and developer's location, and many more.
The inclusive cost of a stock trading app can fluctuate depending on illustrated factors. The general time to design and develop an app like Robinhood with ready-to-deploy could take anywhere from 8 to 10 months.
If you are thinking of hiring a mobile app developer from European countries, it will cost you higher as they charge high as compared to the Asian development companies and developers, who take fewer service charges.
To conclude how much does it cost to develop an app like Robinhood while considering these stats of facts in mind could be around $15,000 to $35,000.
Summing up
Now that you are aware of the cost estimation, you can roll up your sleeve and get started with the development of the stock trading app. If you have any problems, read this blog again and if still, you have any trouble, you can contact our app development experts for help.
Finally, the decision is yours as we have done our part by making you familiar with the most-known things about the stock trading app development process. We hope this blog helped you in every possible way!
Planning to create a Stock Trading app?
Speak to our experts.
Get connected with us and our specialist and developers will help you and provide the feasible solution to create stock trading mobile app that's ideal for your enterprise.