Due to the evolution of technology, now we can find a good lawyer via a mobile app. If you are a legal services provider or a lawyer who wants to migrate a legal consultation business into the mobile app platform, we can help you do it better with the help of on-demand lawyer app development.
Here, you can find experienced app developers to take your services forward, where a person can contact you via app for legal advice. With the help of this app, you can earn great and onboard new customers.
As 85% of users are spending most of their time on mobile apps instead of browsers, this shows the importance of business done through the mobile application. If you are from the legal industry, you can find a way to connect with interested people via mobile application development.
How Can a Law Firm Benefit From Mobile Apps?
As we all know, more than 80% of internet users search for lawyers online in the US only. Out of this, 35% of searches are from smartphones & tablets. Users are shifting from websites to mobile applications because it's easy to use & quickly accessible.
If we go with the statistics, people spend 88% of their time on their mobile & just 14% on the web. The mobile usage numbers are increasing day by day, whereas browsing is fighting its way hard to clinch day by day.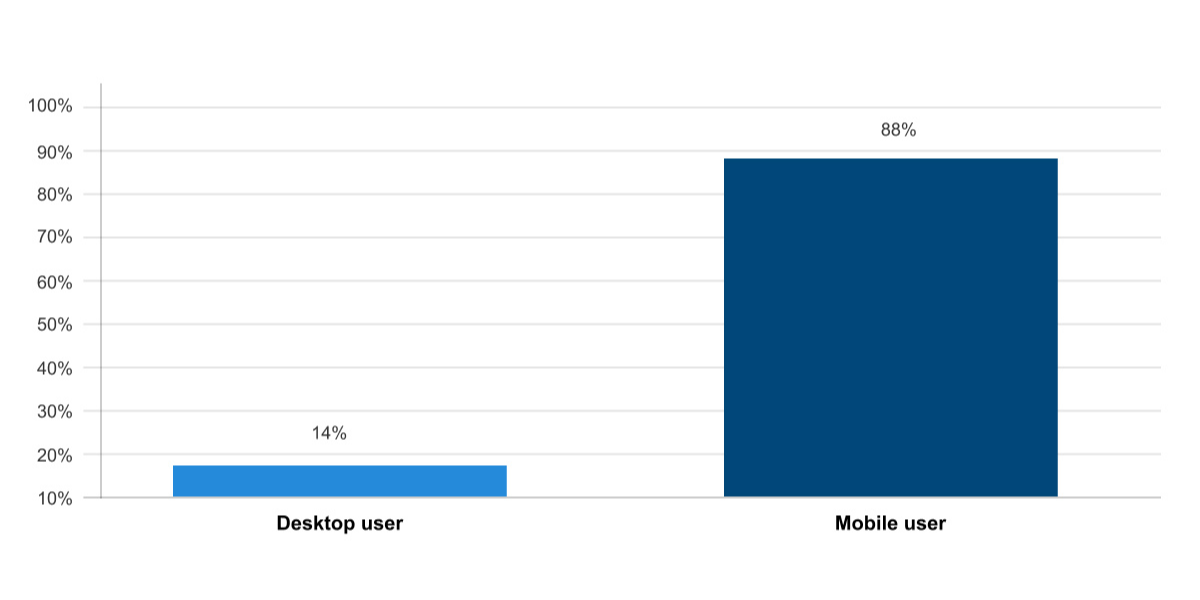 So it is one of the reasons why your company should consider mobile app development but will have to connect to the right audience and thus give you more opportunities as a business.
Let's have a look, there are more benefits of mobile apps in the legal industry.
Mobile app development can increase the efficiency of a law firm
Increases productivity of your law firm and enhances client satisfaction
Makes staying in touch with clients easy as it makes you accessible
Works as advertisements in front of your potential clients
Keeps you ahead of your competitors
Mobile app development makes it easier for the clients to access the new updated cases
Different Types of Law Firms
Before you start any type of lawyer app development/ law firm application development, you need to find the main purpose of the application. There are many reasons to create a law firm mobile application development as you need to select which one will be perfect for your mobile app.
Out of the total mobile firm application, 4% are for recruitment, 12% for events, 20% are for usual firm & client communication, and 64% are for resources & tips for many types. 70% of these are done for android mobile app development, while the rest 30% are created as ios mobile app development.
Now you understand mobile app development for law firms is not only about customer care. Even not restricted to the clients. You can use it for media and publisher activity as well as other legal agendas.
Legal apps can be categorized into the following:
Apps providing services to attorneys
Apps providing services to clients
Attorney Oriented Law Firm Apps
It is a very beneficial application for the attorney and It's usual for us to facilitate the daily routine of the lawyers. Such functions help in professional networking with colleagues, and consist of recruiting, chats, recording of meetings, taking notes, setting up meetings, hotel & flight bookings, sharing documents, managing documents, lists etc.
With all these features, you can get a solution that can enhance the productivity of your law firm. The community can use this application at their convenient time with all the information that alludes to the firm's services.
The advancement of technology facilitates digital sign contracts. With the use of legal mobile app development, the user can do most of the legal tasks digitally like downloading the documents from the library, analyzing the profile, etc at convenience.
Additionally, you may store, modify, and share users' information across devices using cloud technologies. It helps you save time and make the process easier for both law firms and customers.
Customer Oriented Legal Apps
Earlier, legal apps were only about the law brochures & not offered in terms of functionality & feedback. Once it started becoming recognized, legal firms with the mobile app started offering the best services to their clients to boost credibility & promote customer loyalty. They made advancements in the application & made it easy for the users to schedule appointments in writing instead of dialing a number to book an appointment.
These advances made communication easy between the customers & the lawyers. Primitive features like pop-up notifications and push notifications may help share standard to critical legal information easily. It increases the user experience, as it can provide a seamless experience.
Why Do You Need a Lawyer App Development?
The answer is quite simple: to revolutionize the way, you can conduct your business model. Users can search for specialized lawyers, book an appointment, audio or video call with the lawyers, and discuss their legal requirements via chat.
Major benefits you get when opting for on-demand lawyer booking app development
For customers
Customers can search and find a good lawyer with a speciality of services.
Customers can book an online or offline appointment with a lawyer at their convenient time. They can use app features such as live chat, audio, and video calling to reach out to the lawyer.
Customers can get some good deals and discounts with pre-negotiated rates.
With a superior and user-friendly on-demand law firm app, customers can resolve their issues in the best and most efficient manner.
For Lawyers
Lawyers can be found online with the on-demand law firm app development.
They can build relationships with their clients by offering unmatched legal counsel and services.
Lawyers can reach out to their clients remotely if they want to discuss something important.
Lawyers can document all their client data online and store them in the app to enhance productivity and efficiency.
Also read: Real Estate App Development | Time, Cost, Features & More
Features of The Law Firm Mobile Application Development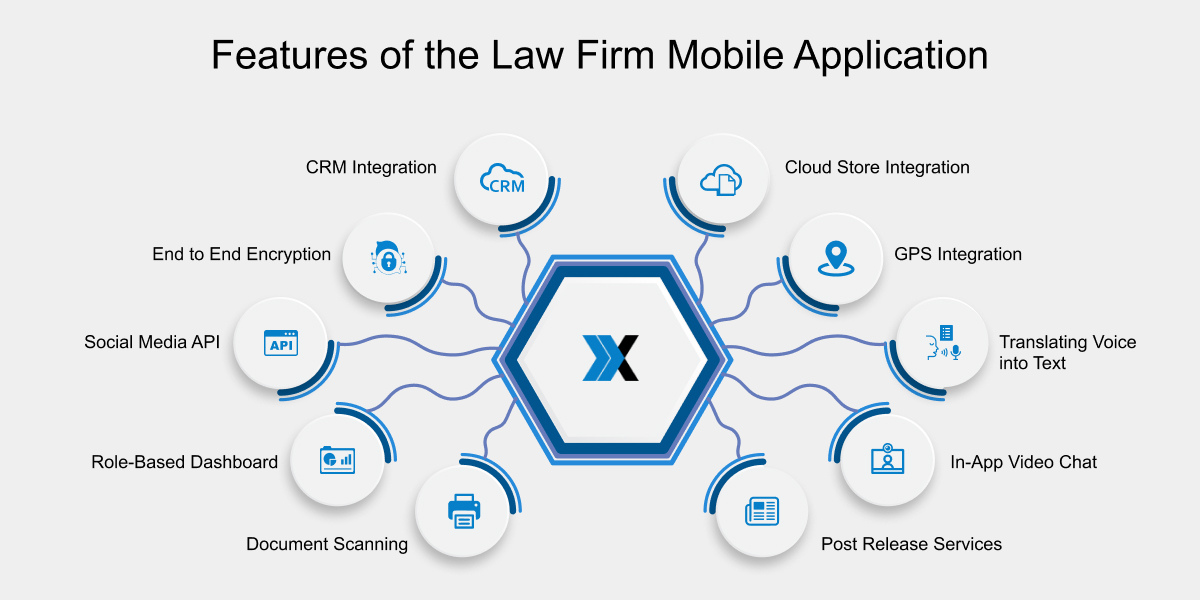 The legal app consists of four panels, which are
Admin panel
Law firm web panel (Attorney)
Employee app web panel (Lawyer)
User Panel
Following are the lawyer mobile application development features
CRM Integration
It can be integrated to manage clients' relationships & communications as they can get help from instant help on call & chat.
Cloud Store Integration
It enables users to store data in full security and privacy, leaving the breach left hanging.
End to End Encryption
This makes it easy for the lawyer app development & the users to share the information via secure end-to-end encryption in mobile app development.
GPS Integration
You can hire mobile developers to integrate GPS integration so users can find nearby law firms.
Social Media API
The API delivers a convenient option for users to connect social media accounts to the application created by a law firm.
Translating Voice into Text
This advanced feature helps you to convert voices into text. Users can use it when they have to share voice messages or don't want to use keywords for writing.
Role-Based Dashboard
It can be a super admin who can manage the dashboard for users & if the user has paid then the admin can get customized dashboards for those users or his employees.
Post Release Services
It allows users to get services even after the project has been completed like error solving or anything else.
In-App Video Chat
In-app video chat will help lawyers and other relevant communities to learn easily via face-to-face interaction features.
Document Scanning
It allows lawyers to scan documents at the time of the meeting.
Advanced Features To Be Incorporated Into The Lawyer App Development
Features of an application must be easy, intuitive, and unique. Here are some suggestions for advanced features for legal app development.
Push Notification
User Authentication
Document Management and Scanner
In-app Navigation
Analytics and reports
CRM integration
Multiple Payment Gateways
Feedback and Ratings
The Most Popular Legal Mobile Applications Development
Bird & Bird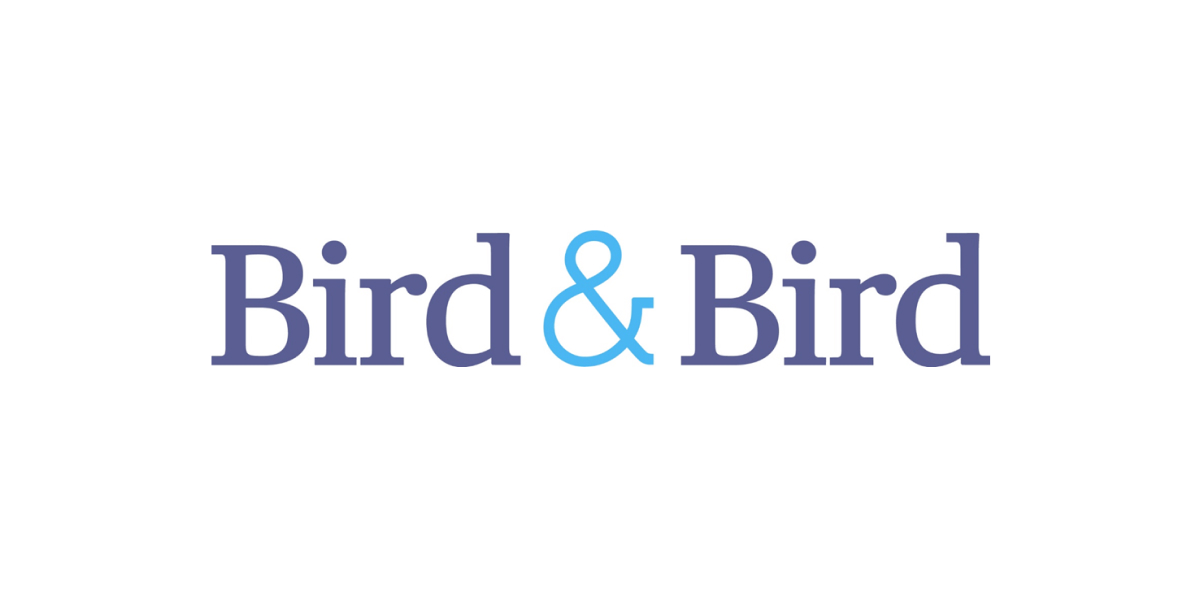 Bird and Bird is an international law firm that has helped and advised clients that come from 120 countries through their legal solutions parameters in the last year. It is one of the most downloadable apps as it makes the work easy with online marketing as per country.
Sheppard Mullin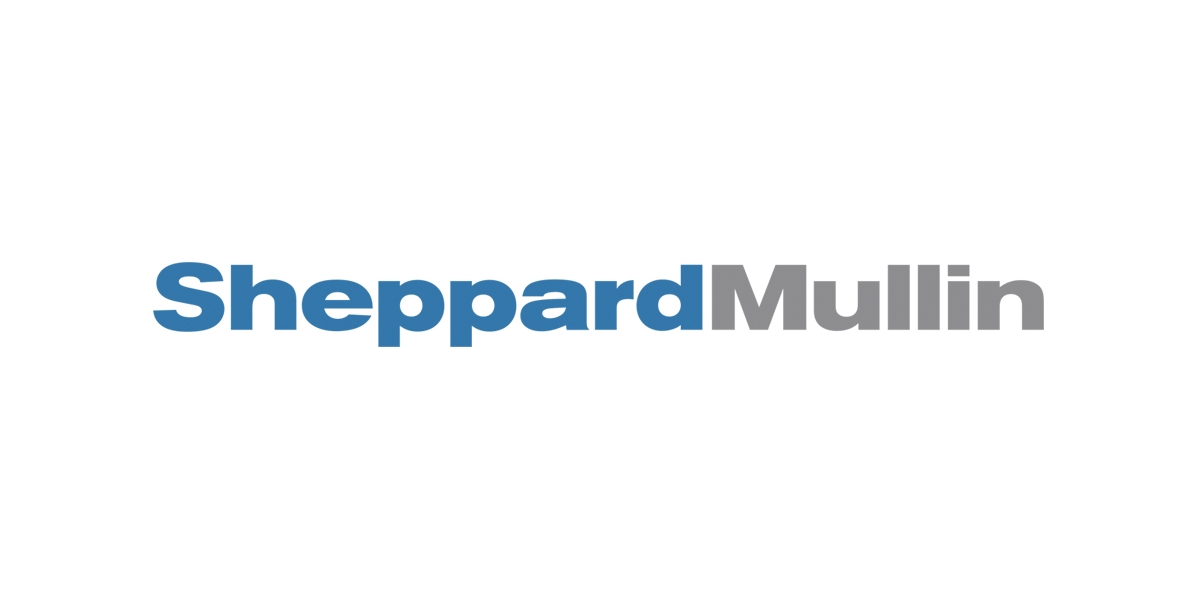 The app is owned and managed by the biggest and top American law firms. The app gives the major financial and corporate law solutions in an easy-to-understand manner. It has many clients from Fortune 500 companies. This lawyer app development available on both platforms Android and iOS for free. Additionally, this app is also good for students in preparing for competitive exams and interviews.
Allen & Overy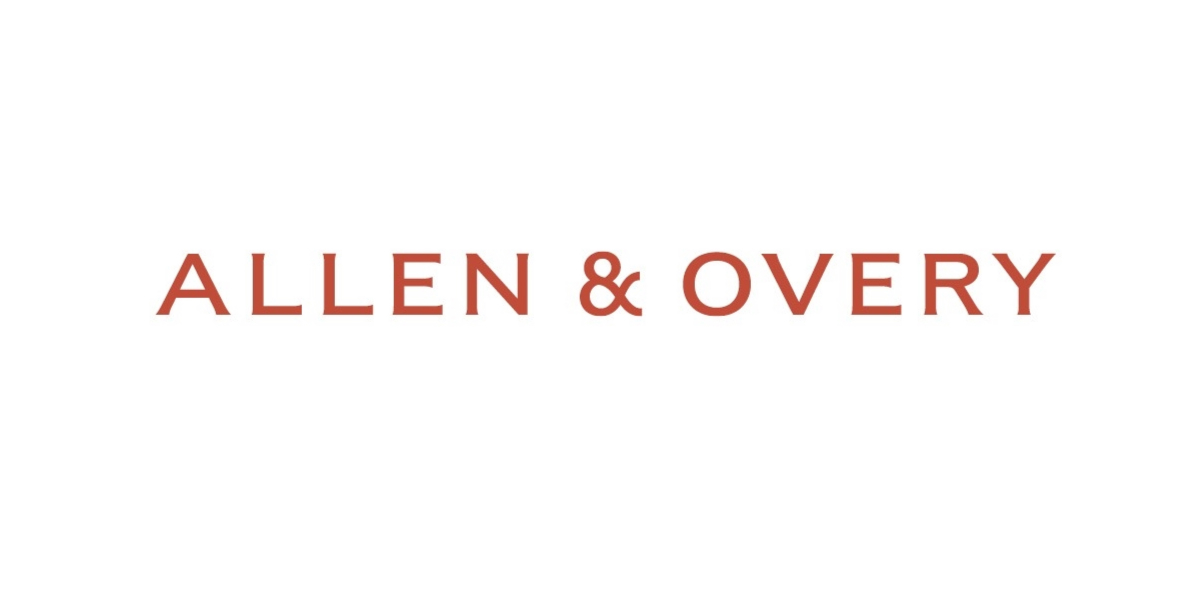 Allen & Overy is among the biggest law firms in the world with more than 5000 employees that work in 44 offices & 31 different countries. The firm is renowned as globally the best law firm with expertise in banking, funds, finance, etc.
Also read: Stock Trading App Development | Time, Cost, Features & More
How Much Does it Cost to Develop a Law Firm Mobile App?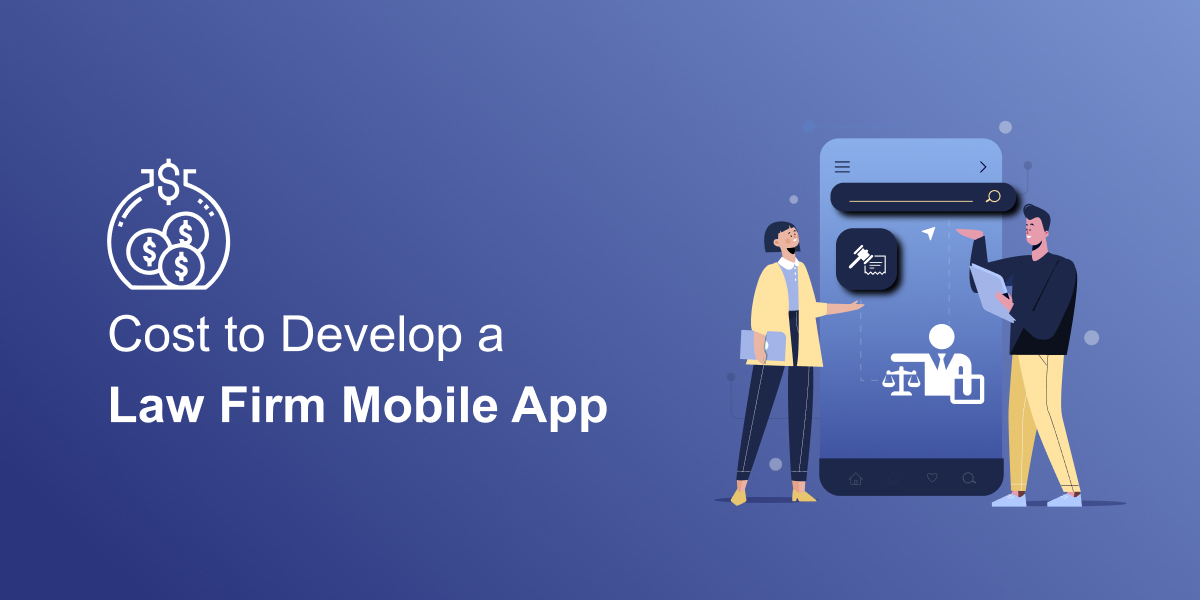 There are lots of factors that we need to consider for mobile app development for any business. Starting from cost analyses and workforce to decide the country and development module whether outsourcing or hourly rate.
Whether it will be android app development or iOS mobile app development, or cross-platform mobile app development.
If you outsource it to countries like India, then you can get an amazing application at minimum investment, however, you need to pay a heavy price for mobile app development in the US or Europe

The lawyer app development cost depends on various things. It is a tricky task to find the cost and other factors. However, some factors include app development platform, app features and functionalities followed by UI/UX, in-app security and the other access element.
Most on-demand lawyer app development goes with the hourly model. If you hire the UK or the USA developer, they charge around $150 to $250 per hour. On the other hand, if you hire any Asian country such as Indian developers, they offer the best app development services at the best costs, generally between $30 to $50 per hour.
For rough estimation, the cost of design and development of mobile apps for law firms starts from $15,000 and could be as high as $20,000.
Conclusion
Developing a lawyer application for your startup is a good decision. It will help you to serve your clients in a better manner. It is necessary to know about initial things before getting started.
I wouldn't recommend it if you are jumping into the development stages without a clear plan, strategy, and goal for your app.
Consider the following drills to get started in the right way:
What's the primary function of your app?
What is your budget?
How do you plan on building it?
What kind of time frame do you envision from production start to launch?
You'll also want to consider your launch strategy.
Hence, draft a sound business plan that reflects each objective of your business goals in law firm app design and development. While making this plan you would come to know the different levels of the app development process.
To confirm that you have enough wealth to manage each stage of app development, consider where your funds are coming from.
For those of you that are planning to develop a new lawyer app development as a startup company, you'll need to raise money from investors or you're independently wealthy.
You can work with your marketing team or IT department. However, if you're starting a business from scratch and launching an app with it, you'll probably need some help so don't hesitate to take help.
We hope this blog helped you in every possible way!
Planning to develop a Lawyer Mobile App?
Speak to our experts.
Get connected with us and our specialists and developers will help you and provide the feasible solution to create a lawyer mobile app that's ideal for your enterprise.