eWallet app development is a good decision if you want to make your business successful and give customers an option to pay for their purchases seamlessly.
eWallet apps are sometimes abbreviated as digital wallets that let wallet owners send and receive money digitally.
From every directional niche, to name a few, the eCommerce industry, Taxi booking applications, Online bill payment, and Ticket booking apps are using eWallet facilities to prompt merchants and customers to pay online.
As a result, digital wallets are revolutionising the curves of traditional wallets.
If you're thinking of building an eWallet application, there are various constraints to impulse.
This eWallet app mobile development blog consists of one to many critical points that let you understand the scenario of the current eWallet app market, eWallet app types, and digital wallet features with time and cost estimation.
All these things are definite to help you make better decisions.
So, let's get to know how to create an eWallet app.
What Is eWallet App Development Market Size and Growth?
eWallet or digital wallets or mobile wallets are the same and they are the topmost used payment preferences by consumers of young age and working people.
This market is generally referred to as the Digital Payment market segment led by consumer transactions which include payment of products and services which are indeed made over the internet as well as mobile payment at POS (point of sale) via smartphone applications.
The following statistic shows the market size of mobile wallet transactions of various demographics.
(the statistics survey time period is March 2021)*
According to statista.com, the usage of popular eWallet mobile apps like Apple Pay and Google Pay in North America is reportedly high and is believed to increase at a significant rate.
Moreover, China is seen as the world's leading country in mobile payment. Contactless payments like Alipay and Tenpay are used mostly in China.
Looking at another statistic, the global transaction comparison would empower a better picture to understand eWallet penetration.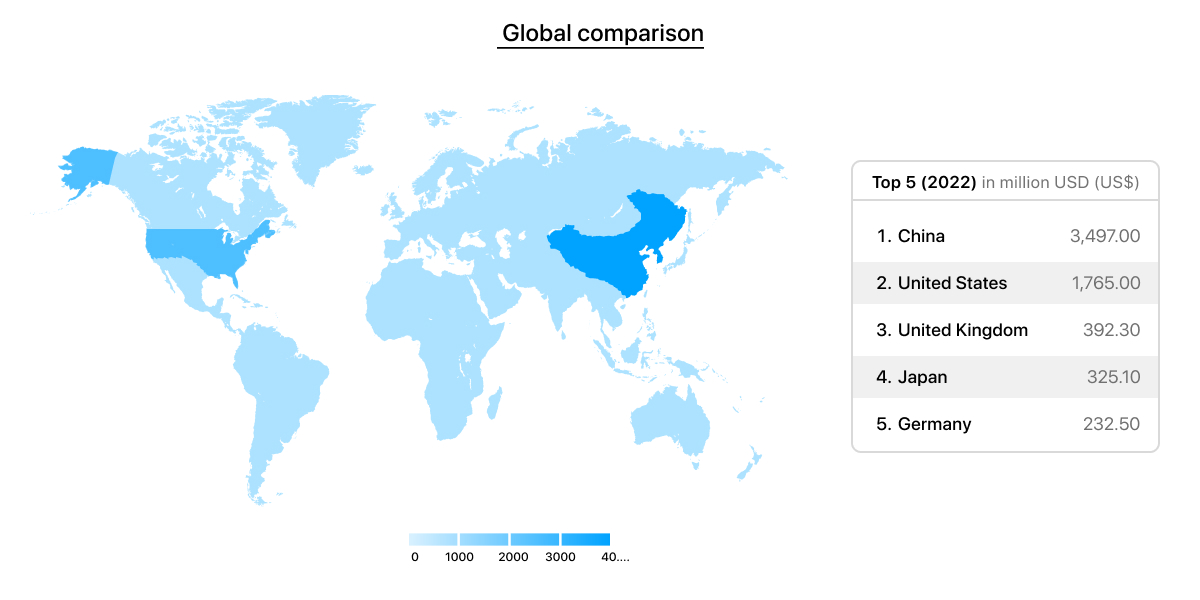 Transaction value by segment (2022) is US$8.49tn
Transaction value is expected to show (CAGR 2022-2027) of 12.31%
China has the highest cumulative transaction value US$3,497.00bn
The top five regions that stand inflated are China, United States, United Kingdom, Japan, and Germany
Should You Invest In eWallet App Mobile Development?
Now the real question is…
Should you invest in this segment?
If we take the above statistics from a weighted perspective, you would find that the niche is growing consistently.
The number of digital transactions is increasing each year at a significant rate, which means more and more people are adopting contactless wallets, NFC, and other digital mediums.
Have a look at the statistics below…!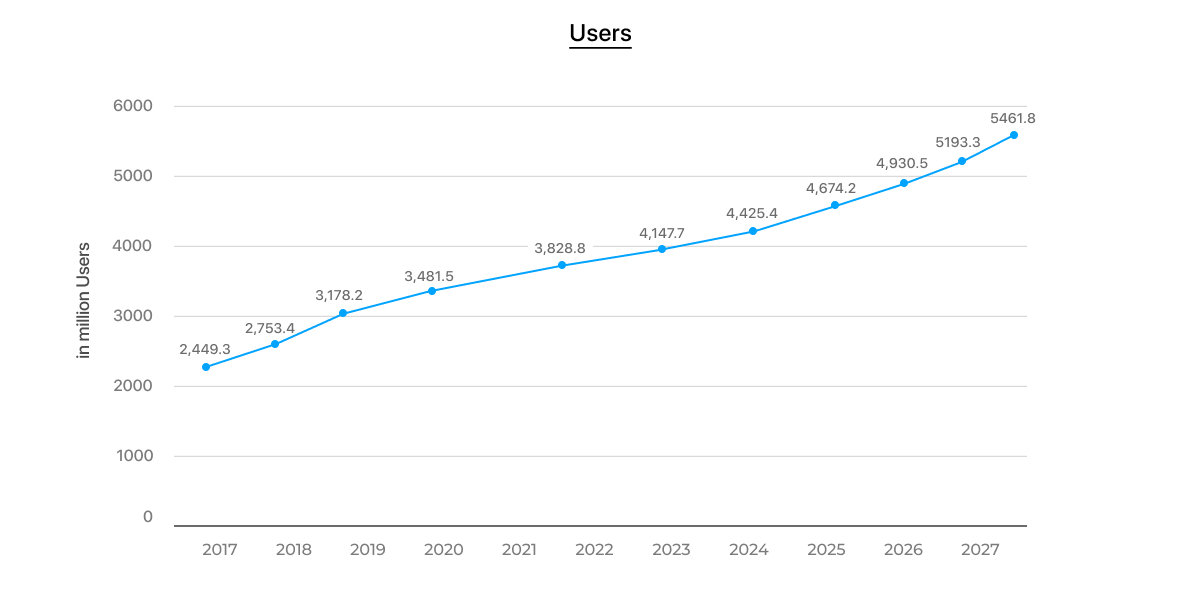 In the present year, the number of digital transaction users accounted for 4147.7 million across the globe.
Tremendously huge ????
Ironically, user penetration keeps increasing. In 2023 (4425.4 million), in 2024 (4674.2 million), in 2025 (4930.5 million), in 2026 (5193.3 million), and 5461.8 million in 2027.
In conclusion, investing in eWallet app development is a good decision but with huge competition rates as well.
Types of eWallet Applications In The Market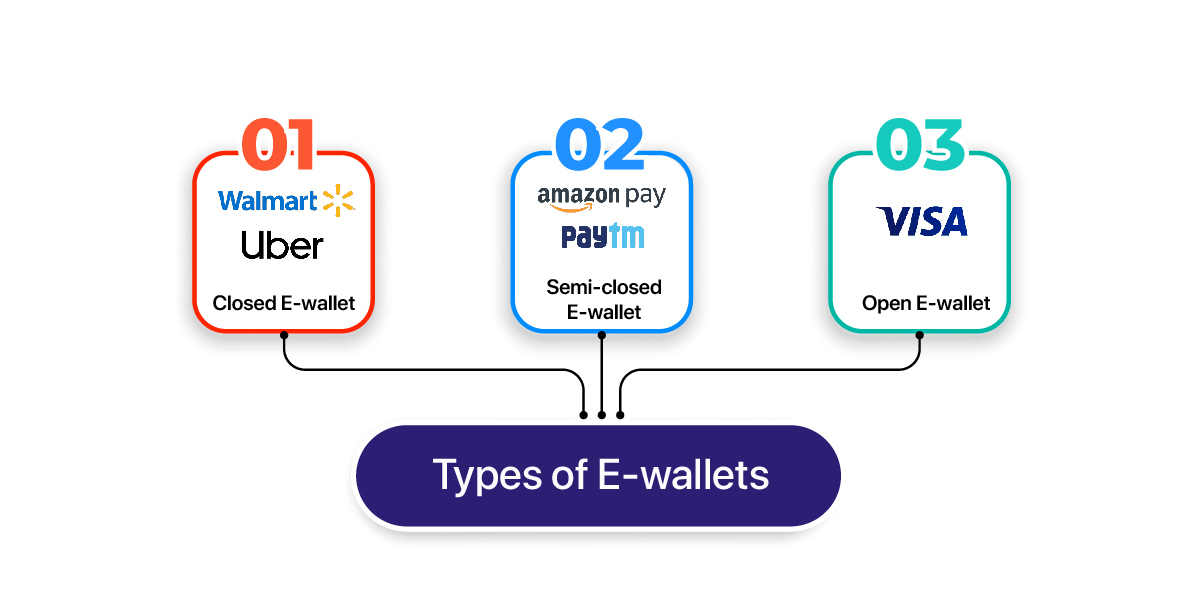 If you are a beginner, you might not know about eWallet app types.
Before you launch your eWallet mobile app, you should know about the types.
Three types of eWallets are:
1) Closed Wallet
Closed wallets are a kind of specific digital wallet created for a definite store, app, and website. These wallets offer limited accessibility to users as compared to open wallets. However, users can add money to their wallets from cards, pay to the store via scanner or QR code, and ask for troubleshooting.
Closed wallets enable a wallet issuer with a scope of brand awareness, to promote products and services with great conversion rates. However, closed wallets only empower users to pay for purchases along with getting a refund amount on their wallet.
Examples include Uber, Walmart Pay, and Ola Money
2) Semi-Closed Wallet
Semi-closed digital wallets are not dedicated to a specific store or app, instead, they make other small businesses and eCommerce sign and accept an agreement with the eWallet company to access the eWallet apps' services and features.
Semi-Closed wallet types generate more revenue than closed wallets and open wallets as they enjoy commission and earn from other programs.
Amazon Pay, Google Pay, Paytm, and Apple Pay are examples of semi-closed eWallet.
3) Open Wallet
Open wallets are card-based wallets that banks and institutions issue to interested users. Customers can use open wallets for withdrawal and pay for goods purchased via swiping cards. The open wallet can be monitored through a mobile banking application; users can add more requests for seamless transactions and other benefits.
Generally, choosing the digital wallet depends on the nature of the business and the objectives to be achieved. Know your business and end objective to find your type of eWallet application.
Some examples of open wallets are Master Cards and Visa Cards.
Also read: How Much Does It Cost To Develop A Stock Trading App
Top 5 Most Used eWallet Apps In The Global Market
1. PayPal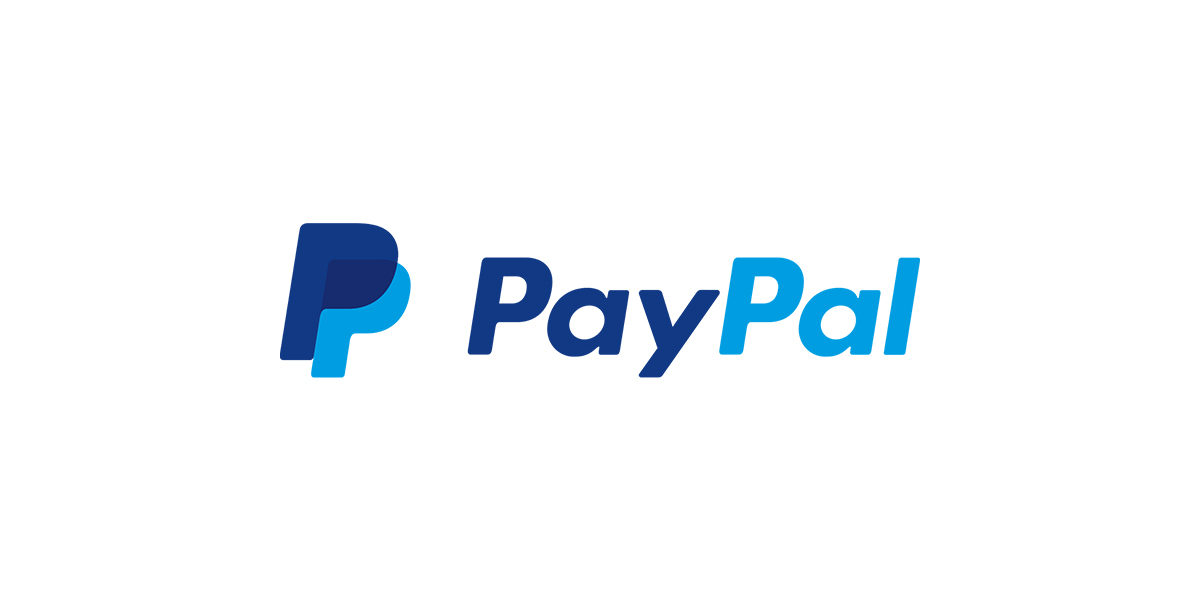 PayPal is the oldest digital wallet (coined in the 1990s) and currently is the most used eWallet app in the United States. According to statista, since 2016 PayPal has been the most used digital wallet and is now available as a convenient, intelligent easy-to-use app.
Most reliable platform
Prompt micropayment quickly
No charges confiscate
Worldwide acceptability
2. Amazon Pay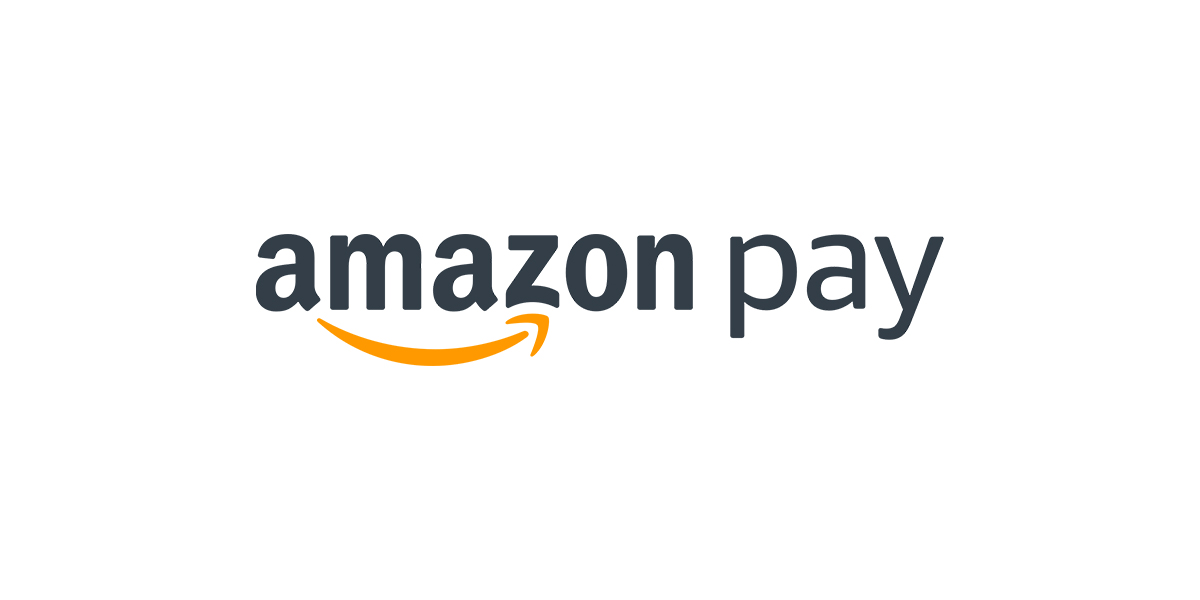 Amazon Pay is one of the best digital payment methods that let users pay for their purchases seamlessly while earning cashback. Amazon pay is a service offered by Amazon Inc. across a global scale and thus the users are enormous. At present time, more than 197 million users (monthly) use the Amazon website.
Available as an ewallet
Can be used on the web and Alexa
Amazon pay provides complete protection
Support schedule payments, recurring payments, and split bills
3. Google Pay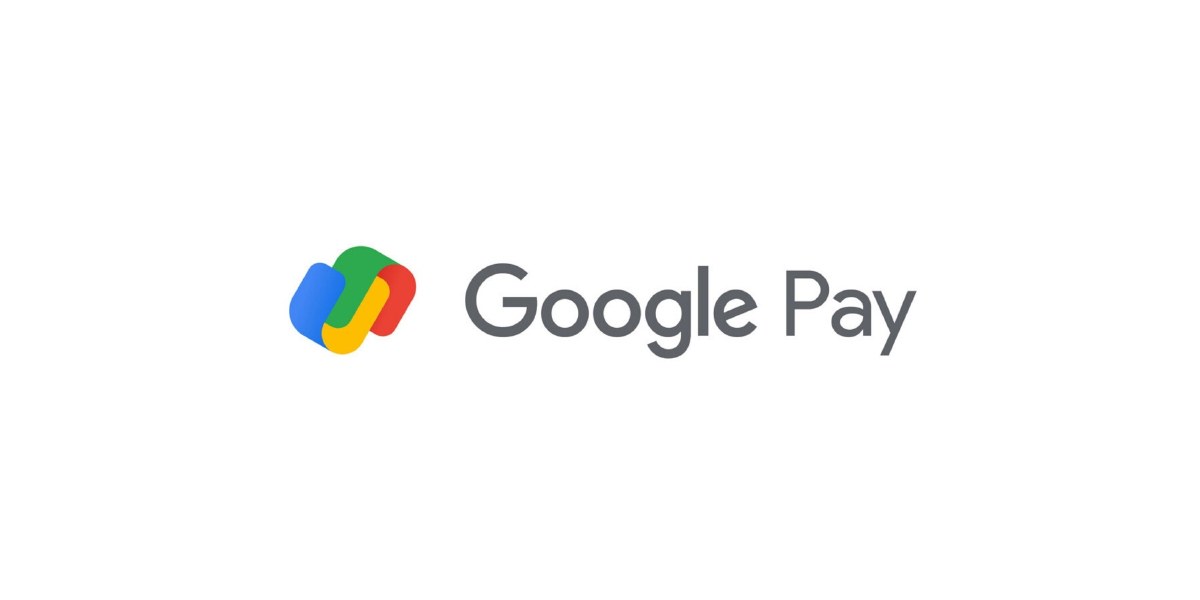 GPay or Google Pay is another world's most used digital wallet payment system, offered by the most dominating tech magnet company - Google. The app is available in easy-to-understand and easy-to-use and loaded with features. At present time, Google Pay is used by more than 150 million users around 40 different countries.
Fast payment and strengthen security
Easy API integration for developers
Offer generous cashback and rewards
Support auto bill-pay and reminder
4. Apple Pay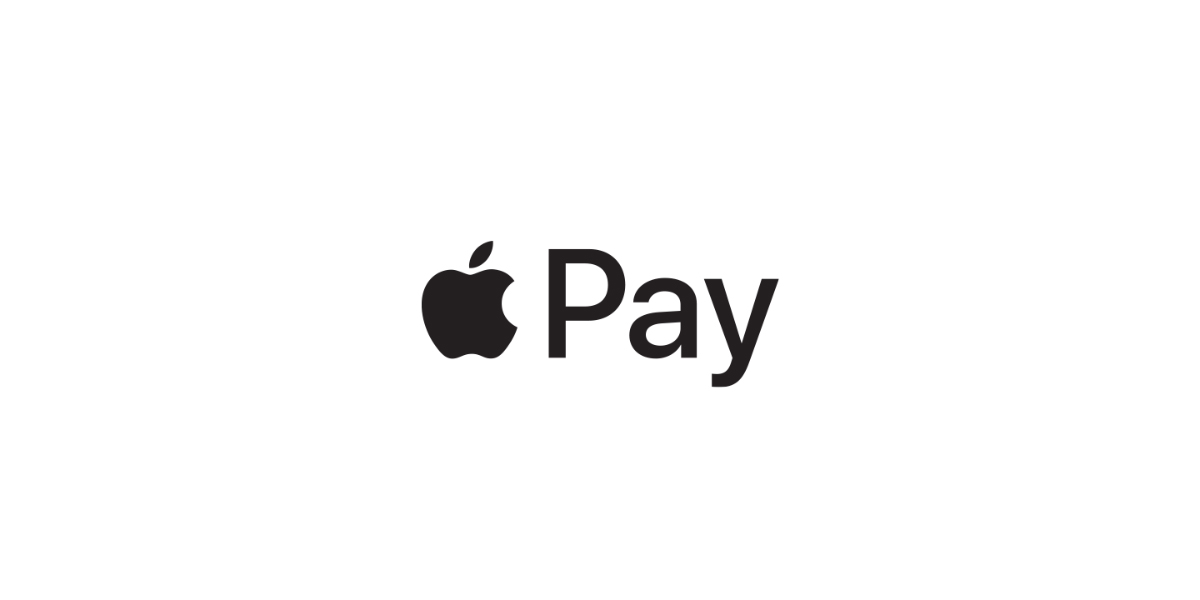 Apple Pay is a unique kind of digital payment system that uses near-field communication (NFC) technology to accomplish the payment. Although Apple pay doesn't require a specific contactless terminal for payment, it works with any merchant that accepts it.
Designed with great security and privacy
Dedicated support team
Real-time bleach protection and fraud detection
Works with most bank and cards
5. Alipay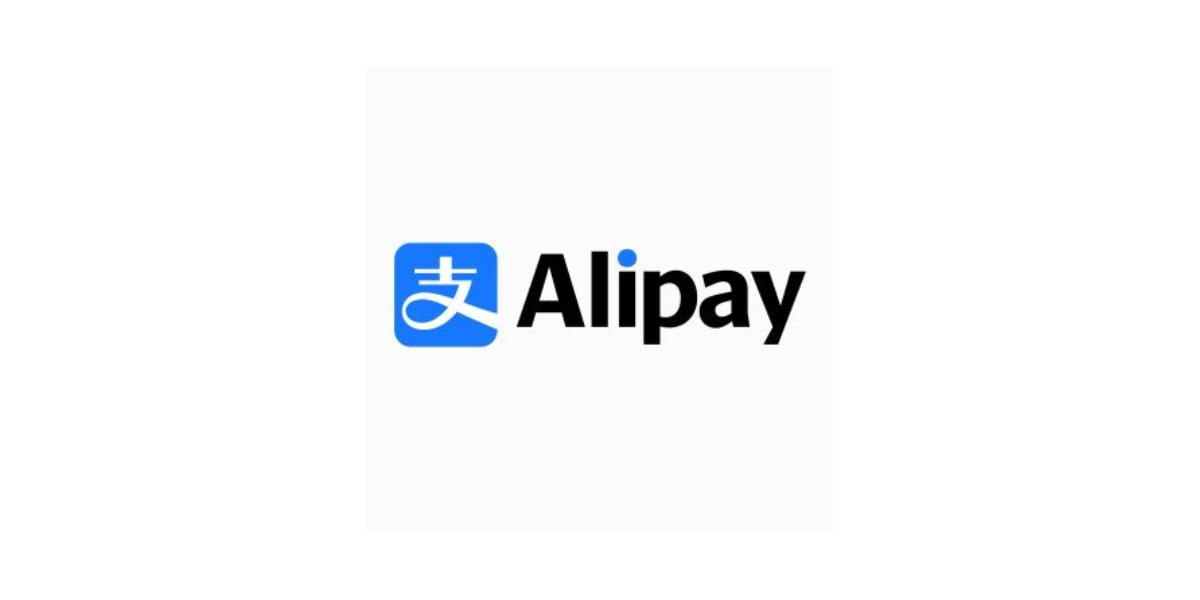 AliPay is China's most used eWallet payment system. Alipay serves over 1.3 billion users and 80 million merchants - according to sources. Alipay incorporates all the intelligent features that other digital wallet apps have such as real-time monitoring, a strong encryption layer, support from experts, etc.
Intelligent advanced encryption
Real-time information monitoring
Dedicated support team
Offer 90-days payment protection
Creating an eWallet App? Must-Have Features To Consider
Features are the most important sleeve. A good ewallet app development indulges advanced and supportive features to provide a seamless experience to users.
A typical eWallet app features divided into three segments, those are -
Sign In/ Sign Up

Bank account authorization

Add balance

Check balance

Transfer fund

Bill payments

Transaction history

Notifications

Splitting bills

Budgeting tools

Referrals and Promotional offers
Dashboard

Manage users

Real-time analytics

Offers and Discount Management

Revenue Management

Security Compliances

Manager Merchants

Content Management System

Customer Relationship Management

Promotional Offers

Audit Management
Dashboard

Generate QR code

Add products

EMI options

Manage customers

Manage stuff

Withdraw money

Create events

Loyalty rewards

Withdraw money

Promotional offer

Notifications

Detailed statement
Basic features are explained below:
Dashboard: Distinctive dashboards are designed for respective users and consist of different features to support management and decision making.
Sign Up: This feature is only available to merchant and end-user commodities, while admin holds authority to dismantle, manage, and take actions related to this.
Add and Check Balance: This feature is only available for end-users to enable them to load balance from debit and credit card whenever they want.
Transactions History: This feature is available for merchants and users to support seamless payment management and analytics.
Generate QR Code: The merchant can generate QR Codes by mutually agreeing with the admin's policy to prompt end-users to make payment through scanning codes.
Withdraw money: Only available for merchants that enables them to withdraw earned money as a benefit associated with the policy.
Pop-up notifications: Provided to merchants and end-users to get advanced notifications related to payments, bills, and other referral programs.
Advanced features to consider for eWallet app mobile development
Near Field Communication: Every major eWallet app comes with NFC technology to offer fast, secured, and reliable payments to stores, friends, or other purposes. Google Pay, Apple Pay, and Amazon Pay come with NFC technology.
iBeacon and Bluetooth: It works better than NFC but lacks some issues. However, incorporating iBeacon technology into eWallet applications is good as it makes the payment faster without touching a phone. When iBeacon is enabled, it sends a request to the respective users for payment and auto-fetches for successful or failed payment to the owner.
QR Codes: QR Codes are a common technology used for a variety of needs. In the eWallet concept, it is used for payment. It uses a smartphone's camera to scan a merchant QR code for transferring the amount of goods purchased. It prompts a quick payment for purchases.
How To Develop a Profitable eWallet App Development?
It is easy to design and develop an eWallet application for your business.
If you don't know where to start, the following suggestion might help you create a successful eWallet app.
1. Do Comprehensive Market Research + Competition Research
The best way to create an eWallet app is to start with researching. Do comprehensive market research to understand the market swing.
For instance; you can look at the statistics mentioned in this blog for a general overview. Besides this, you can go over to research websites to explore more data, facts, and information about past, current, and future trends of eWallet.
2. Plan Out The eWallet App Development Features
After you are done with the research workout, do...
Brainstorm about the features that need to be in your eWallet applications. You can look at competitors' eWallet apps to better understand the features mentioned in this blog.
As a general suggestion, plan out the basic and advanced features individually as it gives you a clear vision and makes things easier to achieve.
3. Proceed To Design & Development
After planning out the necessary features in your eWallet app development, you can now proceed to the design and development phase.
To help you more, the following are tech stacks mentioned that give you a better picture of development.
The technology stack needed for building mobile wallet apps is mentioned below:
Front End Development: Swift, Java, CSS, and Bootstrap
Back End Development: JavaScript, Ruby, AngularJS, and Python
Database: MongoDB, Cassandra, HBase, MySQL, and Postgres
For SMS, Voice, and Phone Verification: Nexmo or as per your choice
Payment: As per your choice
Push Notification: Twilio, Push.IO, and Amazon SNS
Real-Time Analytics: Hadoop, Spark, Big Data, Apache, and Flink
QR Code: ZBar Code Reader
4. Release, Maintain, Improve
Don't forget to test before launching your application on the App Store.
Testing an application helps catch errors, bugs, and snags if present.
After being done with the testing, the app development company also provides post-app development consultation including app maintenance and update.
Also read: Time & Cost to Develop Fleet Management Mobile App
How Much Does It Cost to Make an eWallet Apps?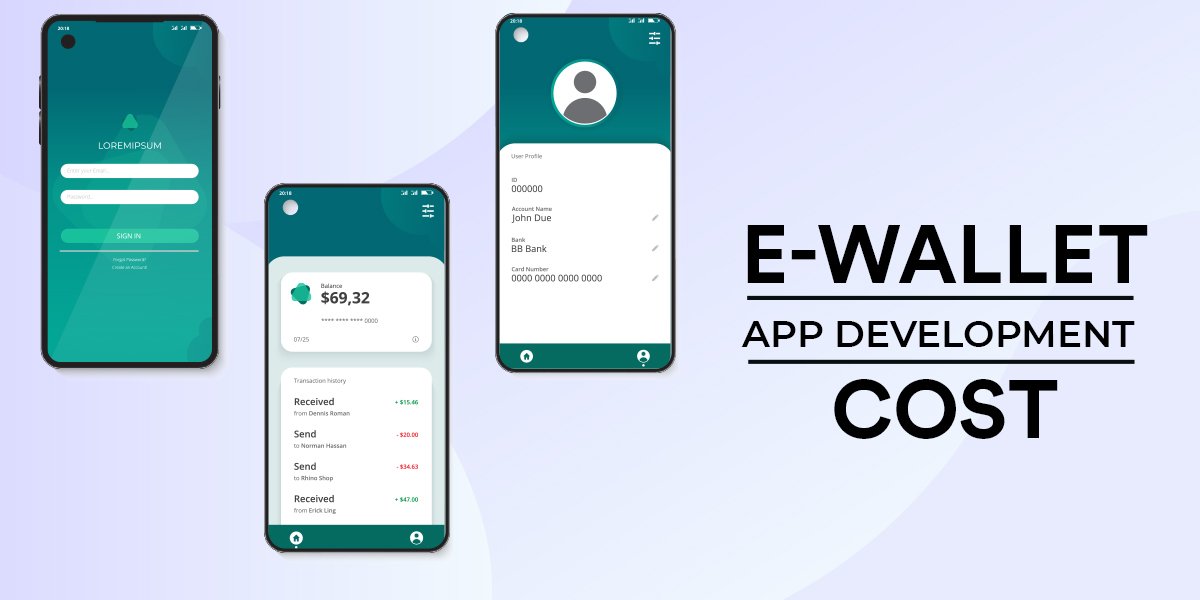 The eWallet app development cost can be figured out by considering the various multiple factors.
Factors that do affect the investment are as follows:
App design
Integrated features
Development platform
Technology stack
Developer's charges
To give you a rough estimation, developing an eWallet app with basic functionality and features for Android and iOS would cost $25,000 - $35,000.
Adding custom features, the developer would charge an additional cost for that.
To find out how much it costs to develop an eWallet app as per your idea, connect with our expert
What's Next
That's all in this eWallet app development blog.
I hope you've learned the possible things required for creating a digital wallet app like Google Pay, Uber, etc.
Have something to say? I would love to hear your thoughts!
Planning to develop an eWallet app?
Speak to our experts!
Get connected with us and see how our expert mind can help you with your project needs.