If we think for a minute, video streaming app development is a profitable business.
Since video streaming is closely connected with the gaming and entertainment sector, the user base is monumental, which is true, a potential market to target and earn millions of dollars.
You can get started with the flow by considering developing a user-centric video streaming app for mobile and desktop users.
But your major focus should be on mobile platforms as more than half of the world's population is using smartphones.
Take this blog as a guide, because I'll be briefing you (interested readers) on how to build a live streaming app including live streaming features, cost, and other important factors in mind.
Let's get started…!
What is Video Live Streaming Market Size and Growth?
It was incredible reading the statistics on the video streaming market.
The video streaming segment has rising popularity among people, especially children and youngsters.
Talking about the market size, the video streaming market is expected to reach US$80.83bn in 2022, worldwide.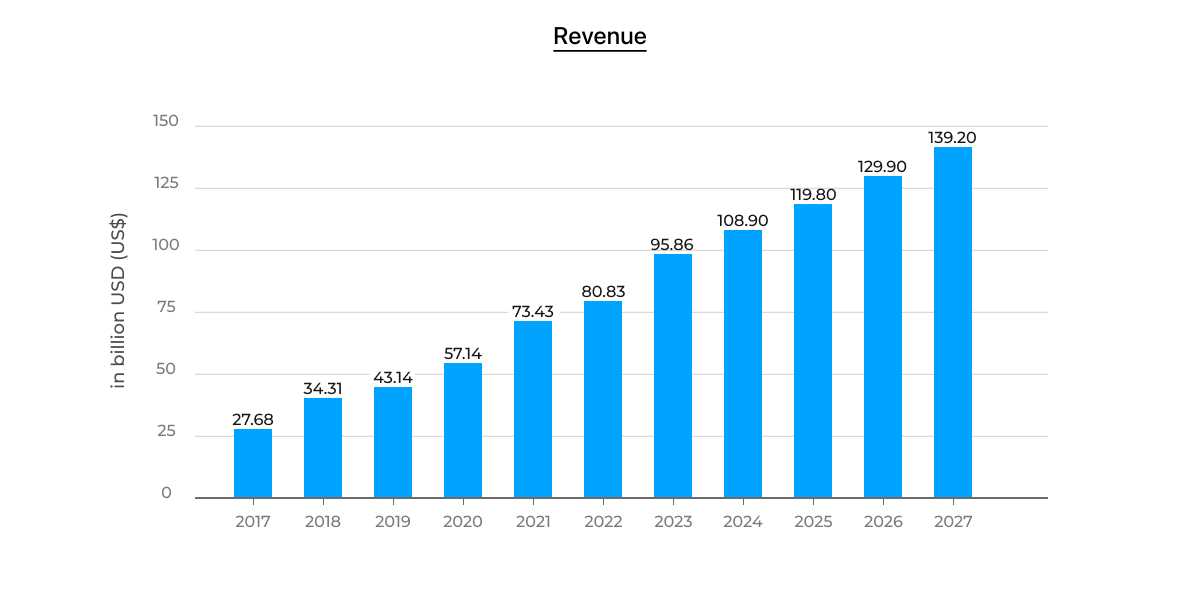 The market size of video streaming is growing at a CAGR of 11.4% resulting in projected revenue of US$139.20bn by 2027.
And you will be surprised to know that most projected revenue generated from the US region amounts to US$34,100.00m in 2022.
Making it hanging on the top position compared globally. The other top four competitive regions are China (with US$18,360), the United Kingdom (with US$3,237 ), Germany (with US$2,863), and Japan (with 2,558).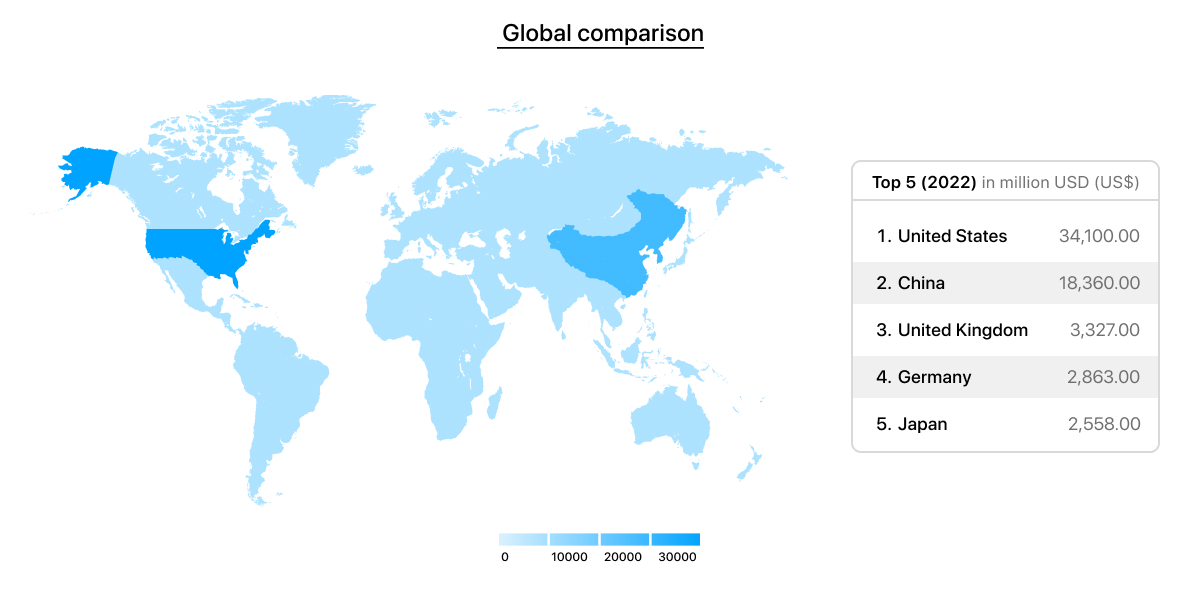 Market size value in 2022: US$80.83bn
Revenue forecast in 2027: US$139.20bn
Growth rate: CAGR of 11.48% from 2017 to 2027
Market size and forecast revenue segment: Worldwide
Should You Invest In Online Video Streaming?
Well, the market is growing readily and extremely - fast.
Since the pandemic, more and more people have increased the use of smartphones and heavenly streaming content online.
The surge still continues and is growing swiftly.
Look at this statistic…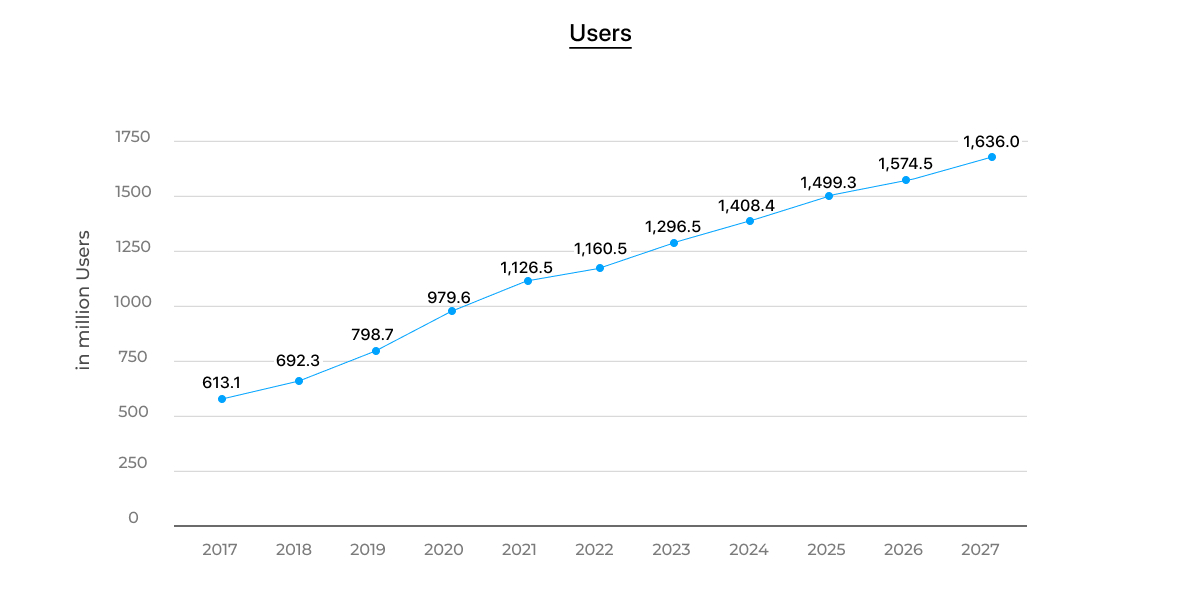 The enumeration shows the growing numbers of users worldwide in the online video streaming segment. In 2022, the total number of users will reach 1,160 million and in 2023 there will be 1,296 users.
This means the market is shriveled with a host of opportunities. Hence, if you're thinking of developing a video streaming app for your business, it is a good time to get in the race of conquerors.
Types of Video Streaming Apps
The distribution of visual content using advanced technology is generally categorized in three different types.
Live Video Streaming Apps
Live video streaming apps are the most used app in this segment. Typically, these apps allow users to broadcast visual and audio content simultaneously to others who have access to the stream. Additionally, these apps have risen the trend of internet influencers and celebrities, including gamers.
Examples include popular live streaming applications; Twitch, YouTube Live, Livestream, and Periscope.
On-Demand Video Streaming Apps
On-Demand Video in short VOD is arguably the most popular type of video streaming that people have witnessed so far. It uses advanced technology to distribute content to VOD platforms. These apps allow users to watch content as per their choice whenever they want. They can even schedule and add them to their favorite list. Additionally, these apps do charge users in exchange for content distribution.
YouTube TV, Netflix, Amazon Prime Video, and Hulu belong to this category.
Video Streaming Apps from TV Providers
These kinds of apps are not VOD, instead, use OTT technology to distribute cable package content digitally. These apps are dedicated to authoritative segments and content is partially distributed from their network and server-side. Additionally, they do charge subscribers to stream content online.
Common examples of this are HBO NOW, Starz Streaming, and Showtime streaming.
Top 5 Most Used Video Streaming Apps In The Global Market
1. YouTube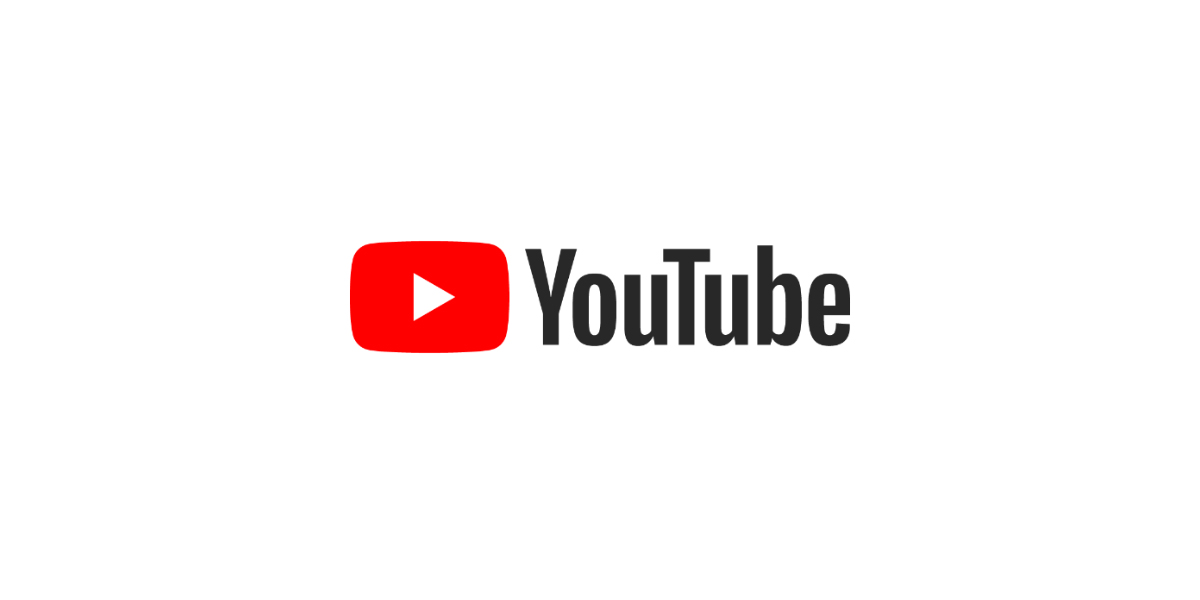 MAUs: 2.2 billion
Total Users: 2.6 billion
Platform: iOS, Android, and Desktop
Ironically, YouTube is observed as a popular social network application. Its live stream feature makes it catastrophic in the video streaming segment. Currently, Youtube holds the most number of users in the context of online video streaming. More than One-fourth of the world's population use YouTube every month equaling 2.2 billion users.
2. Netflix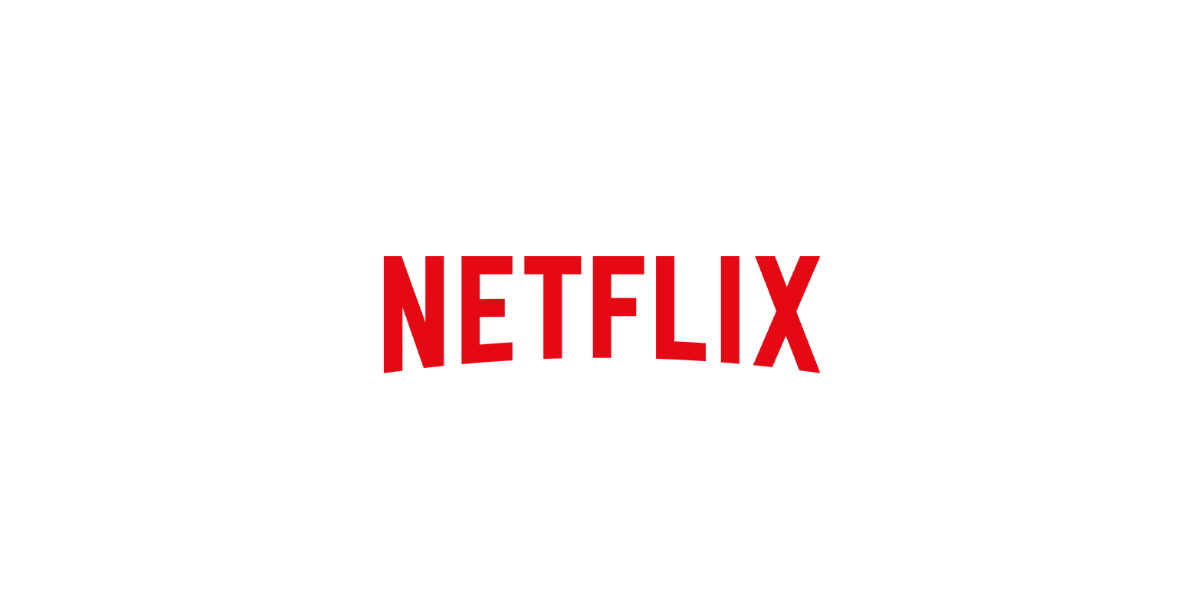 MAUs: 209.18 million
Total Users: 220.67 million
Platform: iOS, Android, and Desktop
Netflix is the world's second most used video streaming application that provides oceans of award-winning TV shows, movies, anime, and documentaries to users on-demand. To stream content online, users first need to activate monthly or yearly subscriptions as per their needs from pricing plans.
3. Amazon Prime Video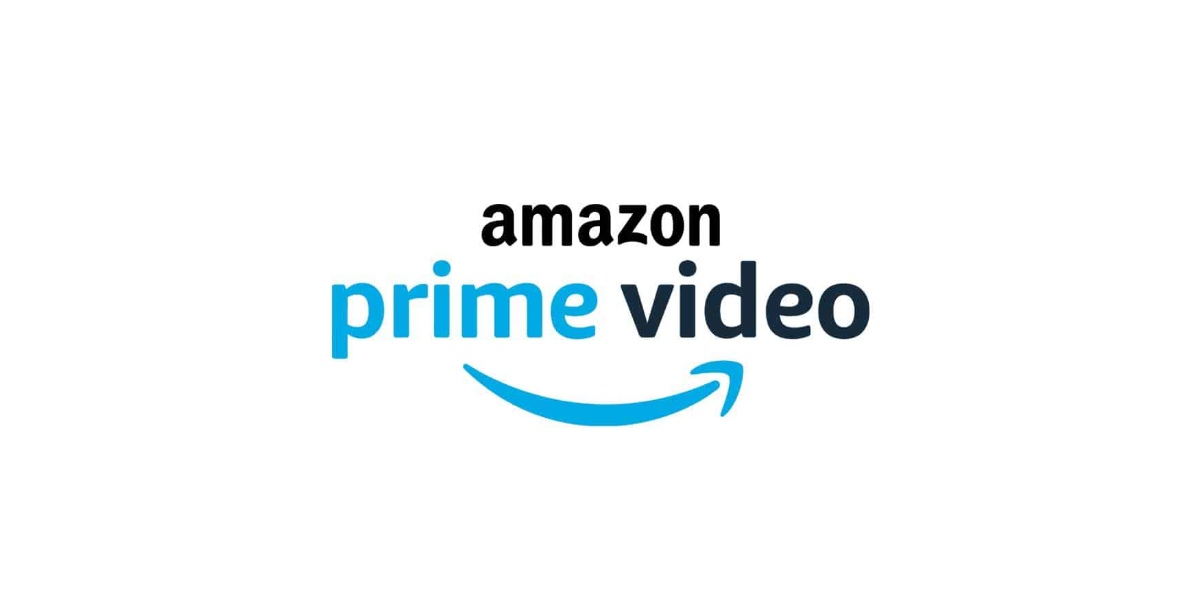 MAUs: 175+ million
Total Users: 200+ million
Platform: iOS, Android, and Desktop
Alternate to Netflix, Amazon Prime Video is another popular online video streaming app offered by Amazon.com Inc. that provides personalized on-demand content to users to stream and download their favorite movies, TV shows, web series, documentaries, and much more. Additionally, it puts prime content right alongside popular TV channels HBO, Showtime, and other streaming service giants.
4. Twitch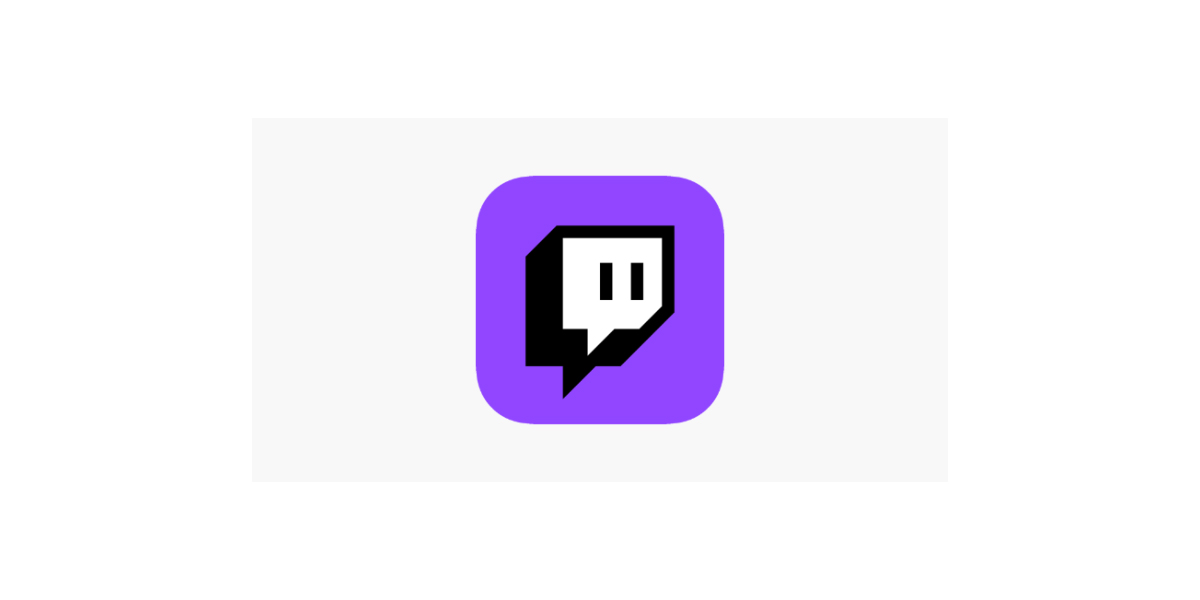 MAUs: 140 million
Total Users: NA
Platform: iOS, Android, and Desktop
Twitch is a dedicated streaming platform for gamers and streamers. Twitch is so popular because it streams live, broadcasts several esports competitions, educates other players, and it's interactive. Since the gamers community has increased on Twitch, video streaming app development company are helping clients by developing live stream apps like Twitch.
5. Disney+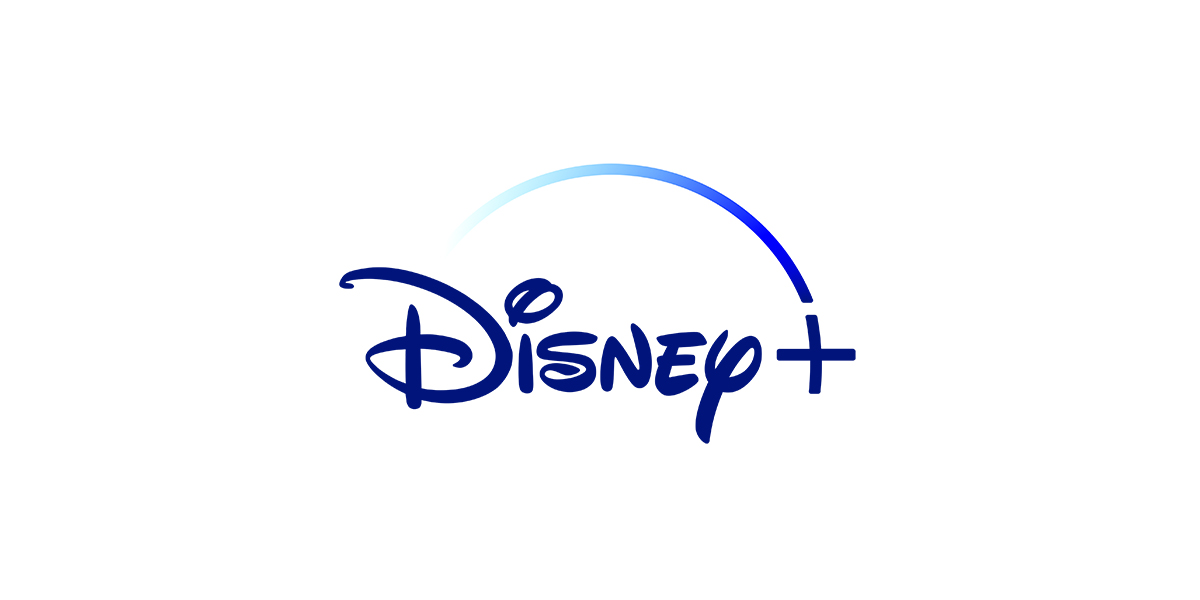 MAUs: NA
Total Users: 137.7 million
Platform: iOS, Android, and Desktop
Walt Disney owned Disney plus media streaming service holding an edge over other streamers. It is significantly known as a low-cost video streaming app as it provides an affordable package to stream content on its glossary. Based on a recent study, Disney+ had 137.7 million subscribers worldwide as of its second quarter of 2022.
Also read: OTT Video App Development: Time, Cost, Features & More
Video Streaming App Development Features
Video streaming is a fascinating subject to study.
An effective video streaming app incorporates dozens of features to support interactive experiences, personalized content delivery, and overall amazing satisfaction.
Below are the features of a video streaming application that you can gradually look into to add to your video streaming app development idea.
Online video streaming app development features explained
The features are briefly explained below in order to give knowledge of why they are important and to make your app look similar to other video streaming apps.
Sign up
Many online video streaming apps offer users to log in to the application using social parameters.
User profile
Provide end-app users to add multiple profiles so they can manage individual preference in no time.
Chat
For dedicated streaming and broadcasting, add chat feature to help streamer to communicate with audience instantly.
Search
Let users input their favorite contents in the search bar and stream for fun.
Subscription
Opt this feature when you want to earn revenue through pricing plans. Like Netflix, Prime Video, and others.
Downloads
Build interactive experience by allowing users to download their content and watch them later.
Rating
Provide a scope to users to input their thoughts and feedback on the video.
Multi language
Users are unlike and thereby your video streaming app should too support multiple language features.
Settings
A dedicated page to manage, monitor, and control basic user preference like sign out, password protection, etc.
Advance features to consider in video streaming application
Recommendation
Offer personalization by providing them relevant content based on viewing history and preferences.
AI chatbots
AI chatbots are great to solve users' basic questions to critical queries.
Artificial Intelligence
Use advanced technology in your app (if possible) to make your app rich and offer intuitive experiences.
How To Develop a Business Centric Video Streaming App?
Developing an app is not a two-minute race or a simple recipe.
You need a handful of resources and a proper guide from where you can start...
Below are some tips that can help you to get started with your app development idea. Act precisely!
1. Do Comprehensive Market Research + Competition Research
See your market, understand your audience, read facts, and collect information.
Take the help of online tools and market research editorials from reputed sources like Statista and GrandViewResearch.
These will help you in understanding global to specific region facts and market history of past, present, and future.
Simultaneously, eye on your competitor, see what they are doing and most importantly how they're growing.
2. Plan Out The Video Streaming Features
Features play an important role in video streaming.
Some most used features are already discussed with you. Incorporate them for better results.
However, some important features that must-to-be present in your app are easy to sign up and sign out complete privacy protection, an intuitive homepage, an intelligent search bar, and an AI chatbot.
3. Proceed To Design & Development

A good and experienced app development firm is required for successful and pleasant app development and deployment.
Look out for well-known and intelligent people that can help you honestly and completely support you til the dawn of the process.
To help you more, the following technologies are required for video streaming app development from scratch or any medium.
Programming Languages: Kotlin, Java, Swift, Objective-C, React Native, and Flutter
Backed/API Stack: Ruby, .NET, Postgre DB, Redis, Node.js, and Socket.io
Admin Panel: Material UI, Angular, and jQuery
Web Server: Nginx or as per your choice
Database: Postgre DB, Oracle, MySQL, and MongoDB
Payment Gateway: PayPal, Ewallet, and Netbanking (you may also use other payment gateways)
Frontend: React Native and Angular
Networking: Alamofire and Retrofit
Architecture Pattern: MVVM/VIPER
Messaging kit: AWS or any other as per your choice
There are many more technologies that induce, but these are some important ones that you will require anyhow.
4. Release, Maintain, Improve
After testing your application, release it in chosen app marketplaces, app stores, and app platforms.
Also, keep bringing changes and unique things to engage and sustain users for the long term. Moreover, continue your competitor research in order to tackle new trends and improve your app by bringing them into your application.
Also read: How Much Does It Cost to Develop Music Streaming App
How Much Does It Cost to Make a Video Streaming App?
Developing an app similar to Netflix or Twitch requires a big budget as these apps consist of advanced technologies.
But that doesn't mean you can't create your own online video streaming app that falls well within your budget.
To give you a figure, developing a video streaming app with basic functionality and features for Android and iOS would cost $35,000 - $45,000. And with advanced features and complexities, it would cost above $70,000.
To find out how much it costs to develop a social media app as per your idea, connect with our expert
Summing Up
The video streaming segment has a potential reach for business. With this guide, you have learned most of the ins and outs of video streaming app development.
We hope this blog helps you in every possible way!
Planning to develop an online video streaming app?
Speak to our experts!
Get connected with us and see how our expert mind can help you with your project needs.