Music streaming apps have changed the way of listening to music. Back in the days when people used tape recorders, mp3 players, and other devices that helped to tune their favorite music.
In this digital era, people are using hundreds of music streaming websites and applications, such as Spotify, Pandora, SoundCloud, and Shazam, where they can listen to any song of their choice.
Indeed, it is a revolution in music and fun, too. All these mobile apps, music streaming apps such as Spotify, Pandora, and others are locking their place in our lives.
But the question is, how do these music streaming apps work?
These applications offer easy access to listen to their favourite track or song. These music streaming apps provide trending and users can create their playlist and can customise it as per their preference. They can listen to them even offline, available in a few streaming applications. These music streaming apps aren't just a way to refresh your mood, but a neighbour for your long journey as well.
As of now, you can find hundreds of apps similar to music streaming apps like Spotify on Google Play and Apple Store. You can download them easily and with an easy login process, you can access and listen to various songs in HD quality. However, how these apps are designed and their experiences could be different, varying each.
What's making them so popular is low-cost, pocket-friendly subscription rates to access music as old as the 19s and as latest as today without ads.
With such great extension, many companies and entrepreneurs are tapping into this segment to make a profit. And so you are too, you will find this blog helpful as I've mentioned everything that gives you a boost to start your own music streaming business with a magnificent app in hand.
Market Overview of Music Streaming App
Music streaming applications catch heat like a fury night wind wave and their market value keeps going upward every year. Additionally, the top music streaming applications have a much larger user base than lower-ranked apps.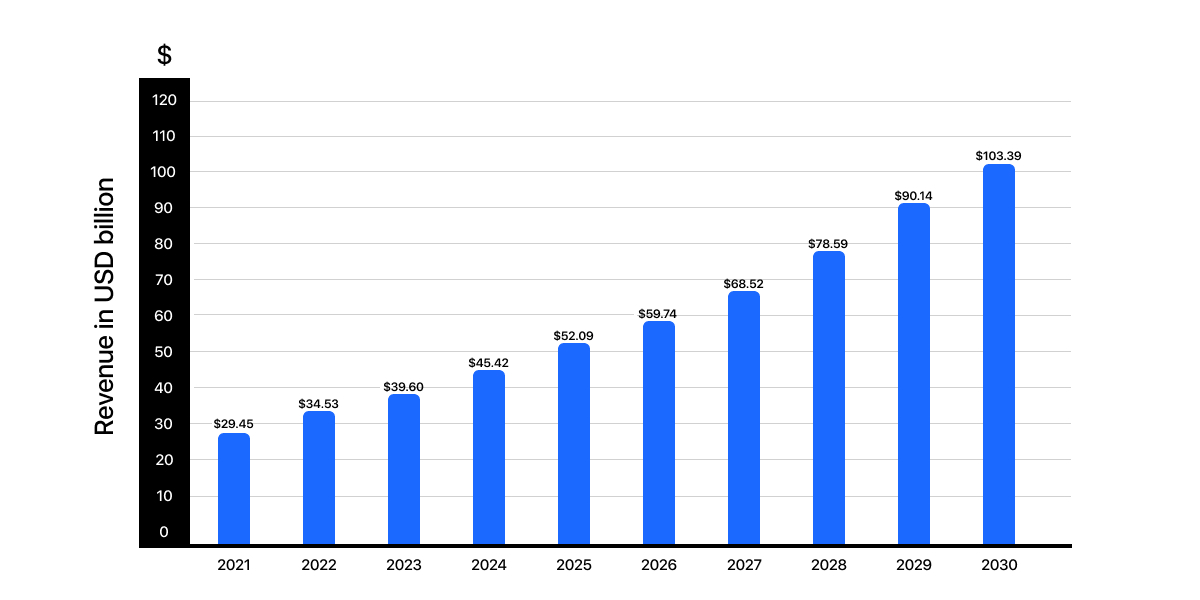 If we go through the statistics figures, it is stated clearly that the global music streaming market size was valued at USD 29.45 billion in 2021, USD 34.53 in 2022 and expected to expand at a compound annual growth rate (CAGR) of 14.7% from 2023 to 2030. By the end of 2030, the market size would be USD 103.29 B.
Those revenues are pretty much bigger than imagination. Since these music streaming services are built on portable platforms, we can access them on both browsers and devices which is another great eternity for this industry for fattening.
At this point in time, you must have an idea of how profitable this industry is.
So, if you want to build a music streaming application, here is a detailed guide with everything you need to know that counts global leading music streaming applications, features of music streaming applications, revenue generation module, Cost and factors with rough estimation figures.
Types of Music Streaming Apps
Talking about the online music streaming app types, generally, they are divided into three categories as per service offering nature. Radio-based music streaming apps and on-demand music streaming apps such as Spotify and Apple Music is mostly used by everyone.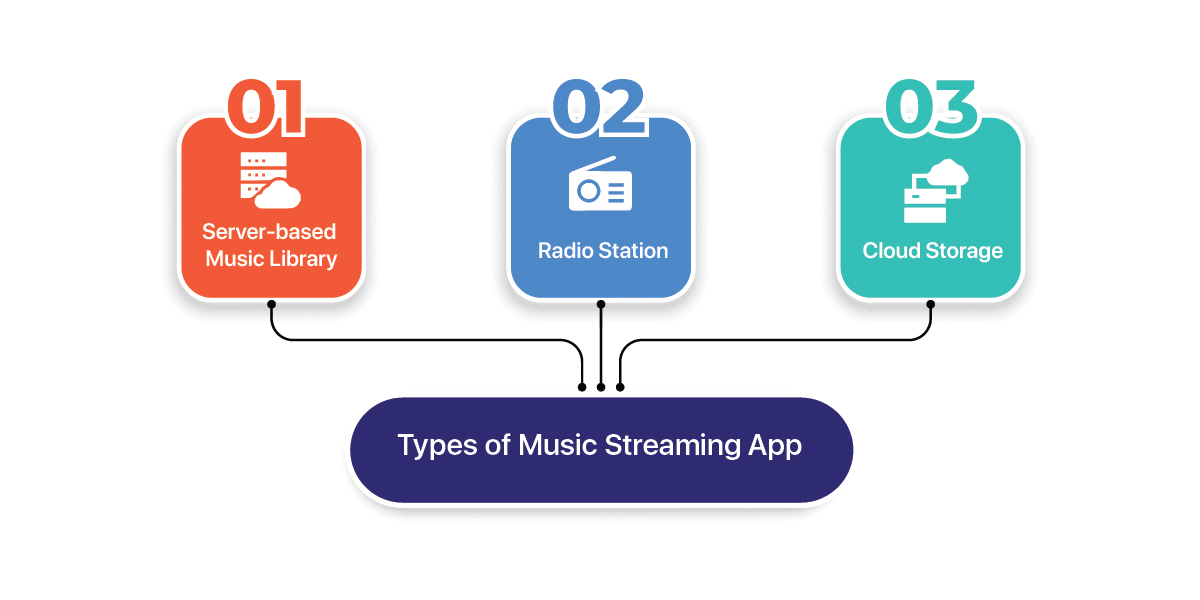 1. Server-based Music Library
The first type of music streaming app is a music streaming application that runs on a server-based music library. This category of music streaming service offers huge music discoveries with a plethora of artists and creators to listen to, add to playlists, like, share, and more. Additionally, users can access unlimited music freely but with some ad interactions. Such types of apps also come with subscription plans to cater to higher music experiences with some advanced features.
Example: Spotify & Apple Music.
2. Radio Station
Well, the second kind of app we have is different from the above one as it is dedicated to radio station channels and the AIR broadcast principle. Eventually, these apps are built to offer live news, music, and FM experiences to the users. Such apps offer incredible experiences to music lovers. In simple words, it is much similar in experience to hearing music on the radio and this kind of app.
Example: iHeart radio and ShoutCast
3. Cloud Storage
You may have seen and used such types of apps that allow you to store and download your favourite music online anywhere, any time. Because they are built on cloud technology intelligence that offers you to listen, save, and keep your music on the cloud.
Example: Audiobox & CloudPlayer.
How Do Music Streaming Apps Generate Revenue?
As music becomes the central part of every person's life, the earning modules of these apps are based on strategic earning models. Music streaming apps like Apple Music or Spotify are following the same principle to generate revenue.
Underneath are revenue generation strategies discussed.
Advertisements
I think this needs no introduction. It is a very cumulative and standard tactic to generate revenue. Uncounted popular music streaming firms earn this way by providing freemium services. Meaning that, users can listen to music without any charges but with interruption of advertisement played in the middle of the song, or when playing the next one - similar to YouTube music. This is done with the purpose to entice users to shift from free to paid plans.
Subscription
Subscriptions-based music streaming apps give users more options than streaming music. Since music streaming has become so popular among the young generation, entrepreneurs earn a larger capital of profit with subscription plans than with advertisement modules. Subscription features can vary from provider to provider. With a subscription plan either weekly, monthly, or yearly you can download, cast on other electronic devices, ad-free music, and much more features you can get.
Promotions
The last earning module of streaming music apps like Spotify and Apple Music is promotions. Spotify created Spotify Ad Studio for all artists and singers where they can create campaigns to promote their newly launched songs with price charges which are nominal. The users can start advertising on Spotify for just $250. The prices may vary from region to region.
Top Players of the Music Streaming App Market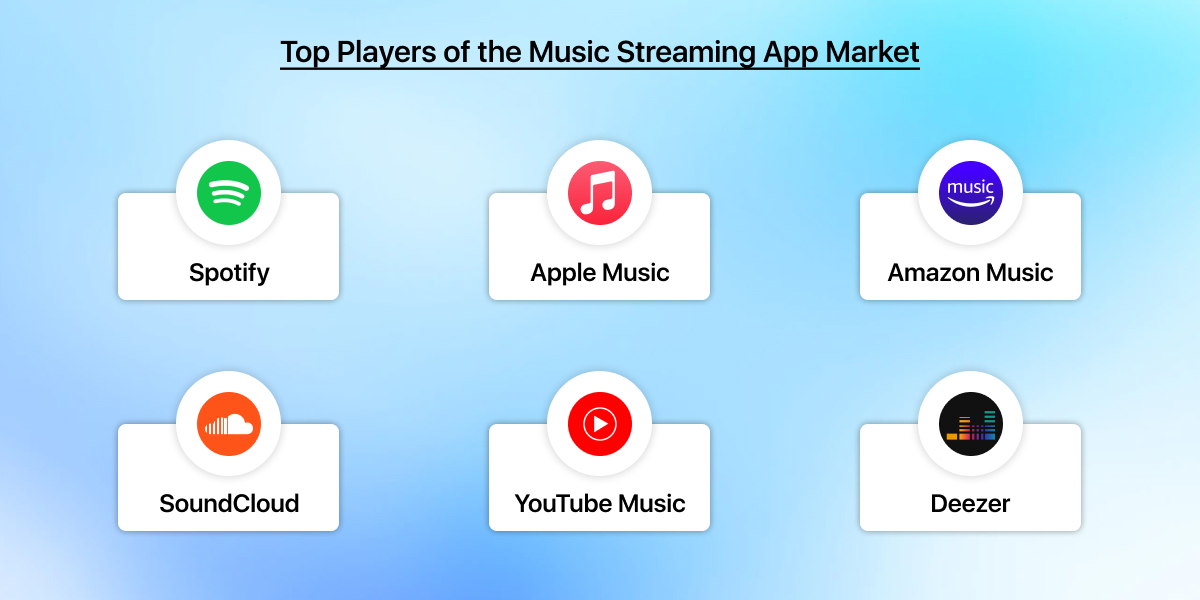 As the Music Streaming Industry is disrupted with billion dollars in revenue, there are some names of music streaming applications that are on the top of the charts. These top epithets have some unique features and propel some characteristics of distinctness in support to make the top. Those could be anywhere from high-quality music and unlimited access to songs to offline listening and more.
Following is the name of the top players in the music streaming app market worldwide.
Spotify
Apple Music
Amazon Music
SoundCloud
YouTube Music
Deezer
Also read: SoundCloud App Development: Time, Cost, Features & More
Features of the Music Streaming App Development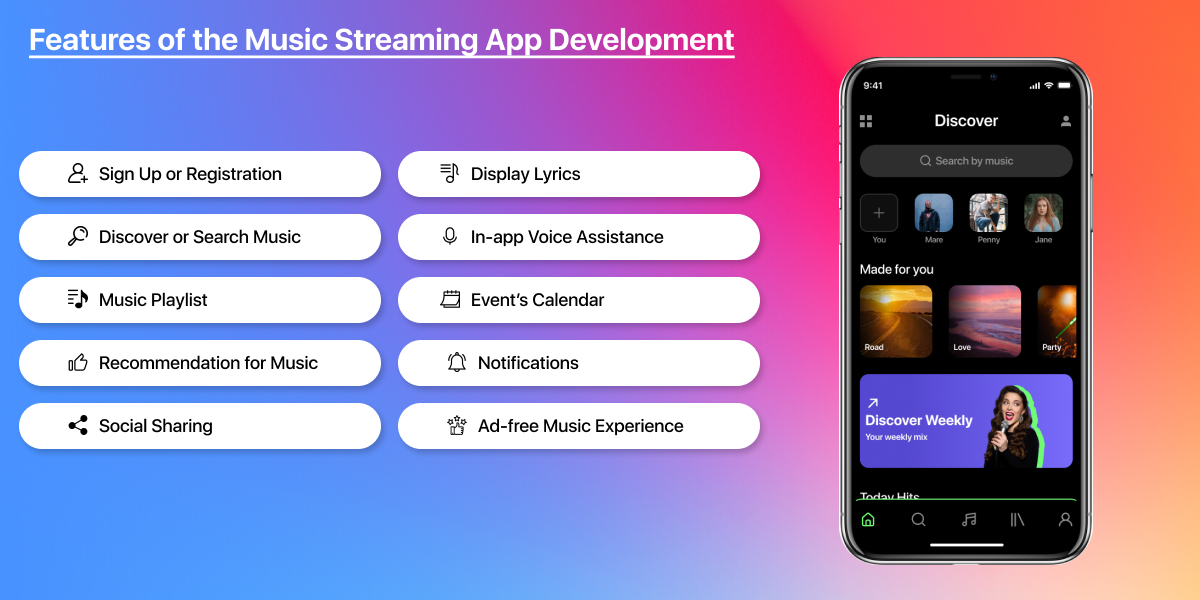 Now that you are well familiarised with the basic information about music streaming apps. Dig more to learn what online streaming music applications offer to users.
Sign Up or Registration
The surprises of music start when you log in or register with a music streaming app. The moment you pass the signup process, most music streaming apps create a dashboard as per the interest you choose.
Discover or Search Music
It is a very important feature 'Discover music by name or artist' helps users to listen to their favourite tracks without any waits.
Music Playlist
Music streaming apps like Spotify gives you the ability to create a playlist and add the songs that you loved to hear most within one tap.
Advanced Features of Music Streaming App
Eye on some advanced features too that a music streaming app may live without.
Recommendation for Music
Music recommendation features a host of clicks from music lovers. Sometimes it is observed as a tactic to increase the listening of the particular track by the artist.
Social Sharing
Do you know? Music apps that do have an option to share socially have more download clicks. So, yes it is an important feature. It also helps app owners to engage users to post app downloads.
Notifications
Give notifications to users about new music released by these artists, top-loved music of a day or a week, etc to encourage users to stay more on your app.
Ad-free Music Experience
Some great game-changers like music streaming apps similar to Spotify encourage users to switch to their premium plans to get rid of unwanted ads while listening to their favourite songs and enjoy a seamless music experience.
Display Lyrics
Spotify added lyrics of the music a user played in order to enhance the experience. Adding lyrics helps users to learn more about that particular music.
In-app Voice Assistance
Many music listening apps' search bars come with this feature. This feature helps those who find difficulty in typing or cannot type properly. With voice search, they can find their song and listen in no time.
Event's Calendar
This feature will facilitate users to check the date of the upcoming live shows or concerts of their favourite composers or singers.
How Entrepreneurs Make Money Through a Music Streaming Application?
It would not be wrong to say that music industry owners are rich and they will continue to be richer. The potential of this industry is not limited to any barrier.
In case you have just entered this industry with a brand new app, you might be tempted to know how to grow in less time, how to popularise your app in an audience, and how to earn revenue.
If that is so, you can earn money from your app through:
In-app advertisements
Number of app downloads from the play store
By offering premium membership plans
By charging music promotion on your platform
These are some popular music streaming app development ways to make revenue quickly. I suggest you keep exploring the chances and ideas you have in your mind. You never knew what works best.
How to create successful music streaming application?
Wondering how to create a music app like Spotify that are witnesses skyrocketing success? Well, there are a few things to keep in mind for this:
It starts with budgeting, building the right strategy, and gathering a team.
Write the requirements, and work on the scope of improvement before pushing to the app development.
Now, prepare a blueprint and create an MVP to validate your app idea.
In case you have run any market campaign, learn from users' feedback to offer expected features and experiences in your app.
Keep your app mobile optimised as well as perfect for various browser experiences.
Give consideration to licensing and copyright protection to avoid any compliance by other firms or any.
Remember to keep app design fluid and flaunt while the interface is simple and easy to understand.
Don't forget to screen your app from an experienced QA app professional.
Deploy app security or some minor updation constantly to engage with customers.
Music Streaming App Development: Team and Technologies
Yeah! You need a team to compete and complete those above tasks for successful music streaming app development. Those are -
Android/iOS Developers
Backend developers
Testers
Quality analyst engineers
Project managers
Support providers
Tech stack for developing a music streaming app:
Software for real-time data management and processing
Server storage space for cloud-based music streaming
Frameworks for developing UI for the desktop app
You will also require a proxy servers
Java or any other programming language for development
In the event you add more features, you will require a tech stack related to that job to be done.
To help you precisely, I have mentioned the list of distinct technology stacks that you must integrate at the time of on-demand music streaming app development.
Programming Languages: Python, Java, Swift4, Kotlin
Real-time Analytics: Hadoop
UI/UX Design: React JS, Angular JS, AWS, cloud storage, Azure, Google Cloud
Web App Development: Bootstrap, HTML5
Payment Integration: Braintree, Stripe, PayPal
Push Notifications: Bandwidth, Twilio
App Testing: Crash Analytics, Fabric, Jira
Data Management: Datastax
Factors That Affect The Music App Development Cost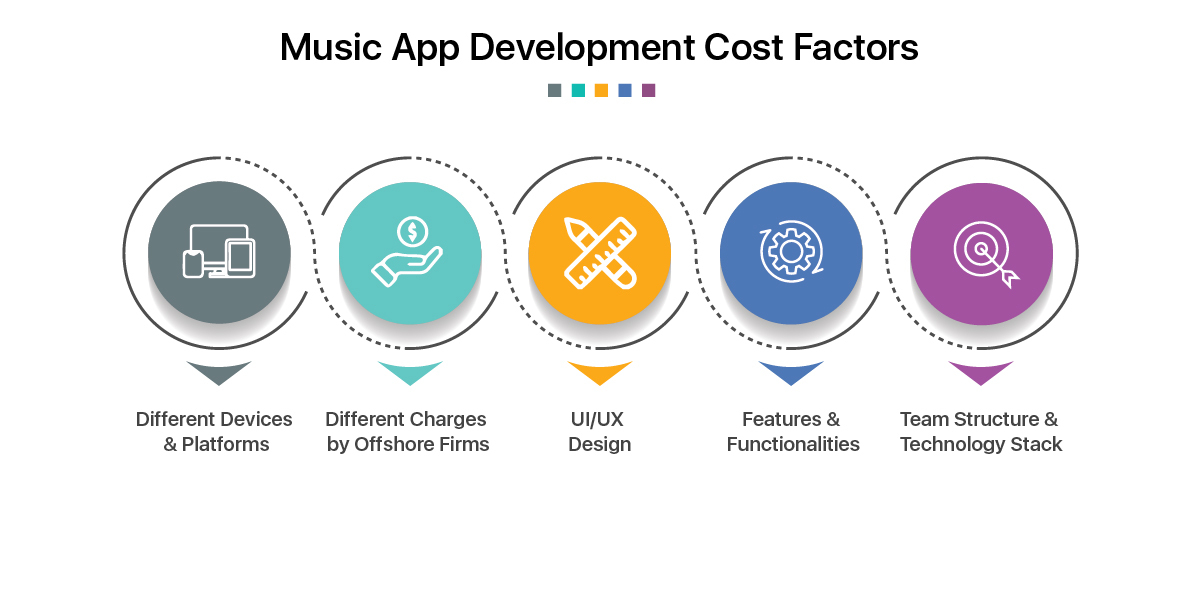 You have almost learned everything except the cost and its factor. In order to decide how much it would cost to design and develop a music streaming app like Spotify or Apple Music, you first have to consider the price factor at hand. Because it is important.
1. Different Devices & Platforms
I am sure you have done your research properly, you have data in hand. So, look at those facts and data deeply, learn from them, and analyse the consequences. Here, if we talk about different devices then you perhaps know that android and iOS users are more than other OS devices worldwide.
So, focus on creating an app user-friendly and mobile-friendly for chosen platforms.
2. Different Charges by Offshore Firms
Ultimately, you need a team to get your app developed with your idea and experience. So, it is important to look out for an experienced app development company having multiple expert developers, managers, and leaders that can execute your app development with great management and understanding.
Remember, app development cost varies from company to company and that is too parallel from region to region.
3. UI/UX Design
UI/UX is an impressive field…!
Also, it is a medium to cater for a large base of users with its principle and process. Apps similar to Spotify have multiple screen layers from the login page to privacy and all with extreme and classic interfaces.
Those aren't complex designs to achieve but require various processes to follow which takes more time. Meaning more money.
4. Features & Functionalities
Music streaming app development goes with a number of tech stacks. If you incorporate any feature that needs a third-party like payment interface, social sharing, security features, etc cost will be higher than standard apps that do not follow such things.
5. Team Structure & Technology Stack
A good and experienced developer not only just works on your ideas but does tell you about mistakes and improvements. In this way, you can build an even more robust app for customers and itself.
Cost Estimation to Develop Music Streaming App
I have provided you with all the knowledge about essential aspects of music streaming mobile development cost estimation. To know the figure, Music Streaming App development for iOS or Android would cost you around $22000. For Cross-Platform, it would cost you around $30,000.
Yes, that's the final cost you can expect to invest to get the app developed from Xtreem Solution.
Also read: OTT Video App Development: Time, Cost, Features & Market Growth
Why choose Xtreem Solution for developing music streaming applications?
Xtreem Solution is an award-winning and certified IT company operating in India having more than 10+ years of experience in live music streaming app development for startups and enterprises.
Experienced and qualified developers
Xtreem is backed by a team of well-qualified music app developers who are proficient in all the latest technologies and tools required for developing successful music streaming app.
On-time delivery
The company takes every project as a priority and uses an agile methodology process to get the task done in a specified time period.
Round-the-clock support
A specialised and well-trained team of support professionals at the company offers 24*7 services to answer the queries of its clients.
App maintenance
Xtreem Solution offers after-deployment maintenance services to its clients. Update your app with new content or new service offering easily and happily.
Flawless development
Xtreem follows a systematic approach and conducts regular testing to ensure that the app has no errors and that it serves its desired purpose.
What's Next
That's all in this blog. You are now capable of developing your own music streaming apps like Spotify and Apple Music.
You have gained a good knowledge with this complete guide for music streaming app development costs & features.
It's time to practice the information mentioned here. In case you want to learn more on music streaming app development or have any queries to ask, you can get in touch with us for a detailed project discussion, anytime.
I hope you enjoyed this blog :)