An app like Soundcloud meets your dreams which sharing your talents with other people.
Let's have talked about SoundCloud App, how SoundCloud app works?
How much does it cost to create like SoundCloud App?
SoundCloud concept is user-friendly; hence you can discover audio & music. Another thing Soundcloud allows you to the latest music. It's easy to use, all you need to do is to select the like button and save your favorite music to play anytime you want. The search page also allows you to find your favorite artists and follow their profiles to give you always the newest updates of your favorite artist.
The customers want to spend more hours listening to music from the music streaming industry. Different types of music streaming industry are available in the marketplace, reached a wider audience and fetch greater benefits both concerning popularity and revenue.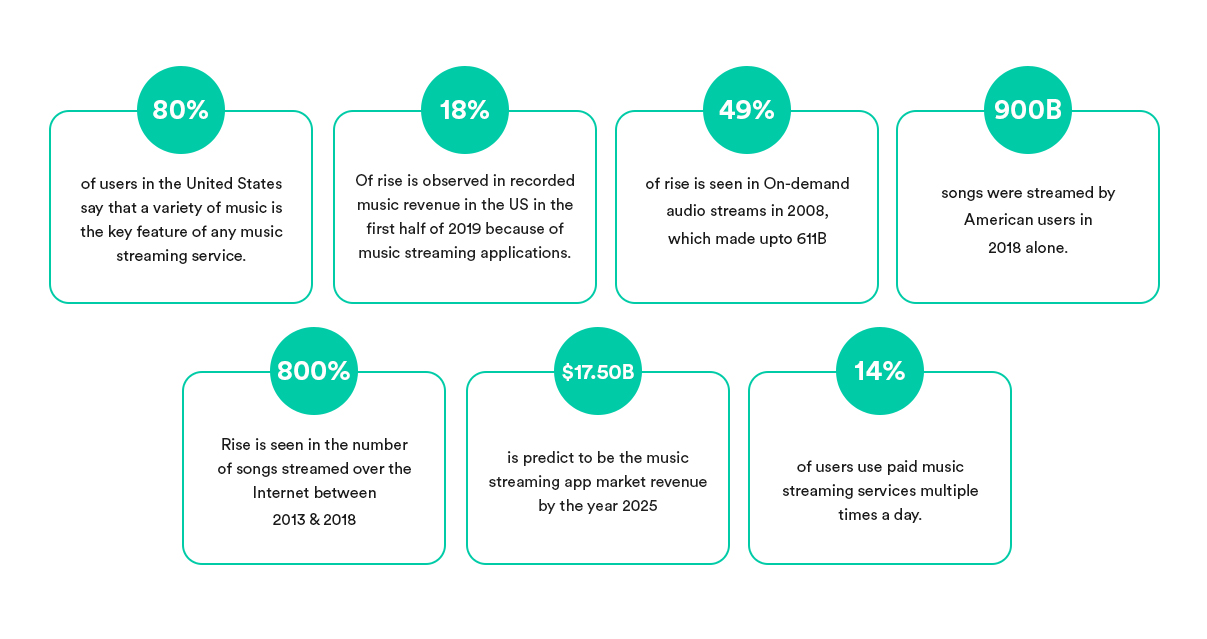 Soundcloud allows you to explore or find trending audio and more new feeds
Search paths, artists and other users
Rearrange your likes and playlists according to your playlists
Follow your playlists and artist to listen to what they must say
Lets you listen to your songs wherever you're using the Wi-Fi or data
Enables you to login or register using Facebook and Google
Scan scooter's QR code and begin the ride
Enables no registered users to download the app and can access the app easily
This booming expansion of audio and video streaming business is responsible for all new startups entrepreneurs and this encourages building a sound streaming app like SoundCloud.
Top Music Streaming App Running Successfully in the Market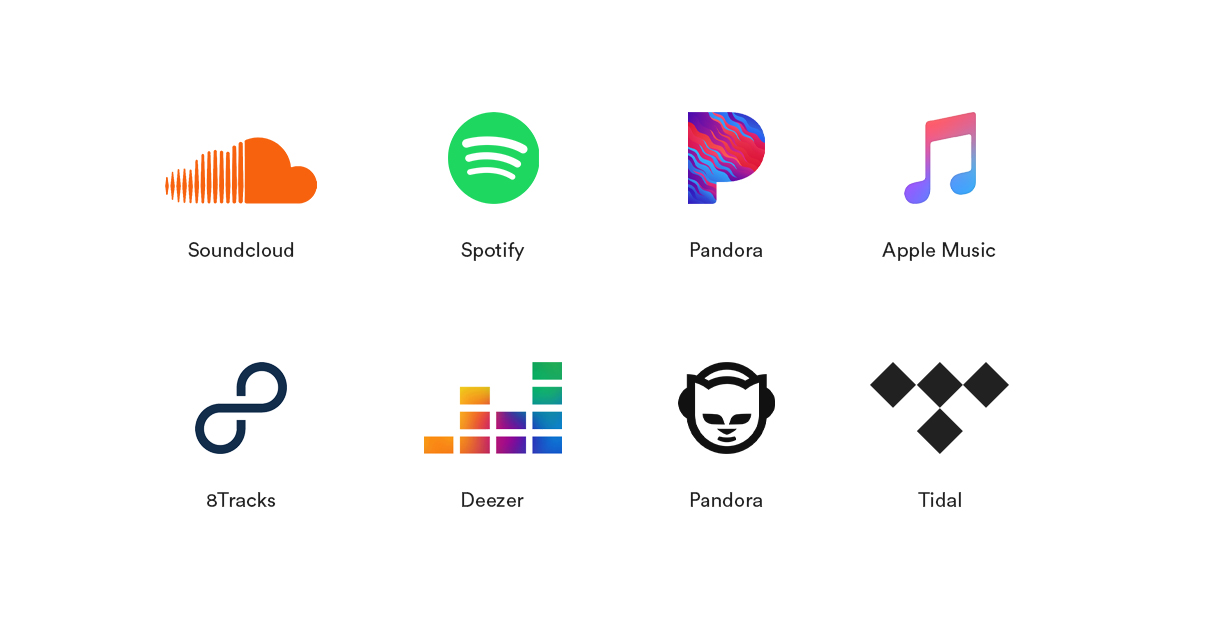 Soundcloud is a social networking site that's used mostly for the sharing of soundtracks. It's available in both iOS and Android app. Two types of peoples are using Soundcloud first is those who want to promote their music and soundtracks, the other one is who wants only to listen to their playlists or music on SoundCloud platforms.
How to Make Money from Music Streaming App?
Soundcloud is always different in the internet streaming music industry, how they allow anyone to upload and stream audio with no annoying ads or monthly fees.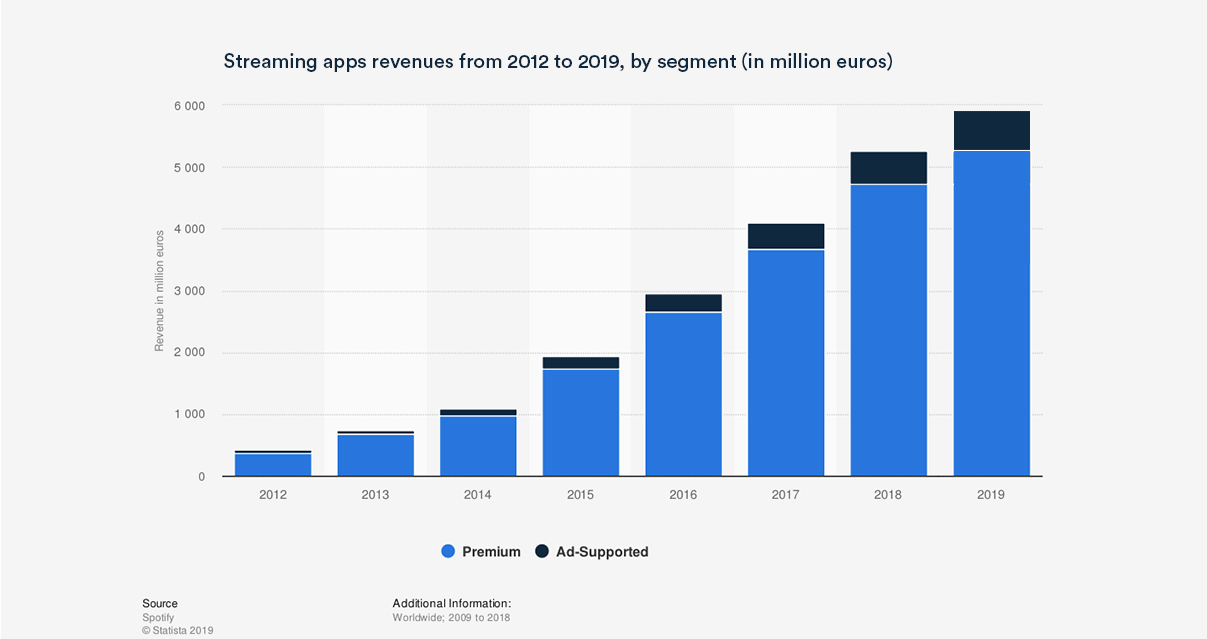 It's similar to YouTube's Partner Program, the new service enables artists to monetize the information they upload to Soundcloud through paid ads. In Soundcloud's platform, the company generates revenue to support the artists and not only the publishers and brands paying for the ads.
Funtion of SoundCloud Audio Music Streaming Application
Home
In-Home add a news feed, revealing tracks posted and reposted by other Soundcloud users which you follow. Give some track a tune, repost it, like it, add it to a playlist or start a track channel all directly from within your news feed.
Series
During this tab, you can access all your likes, the latest music, and playlists. You could even see your profile by simply tapping the three dots in the top right corner.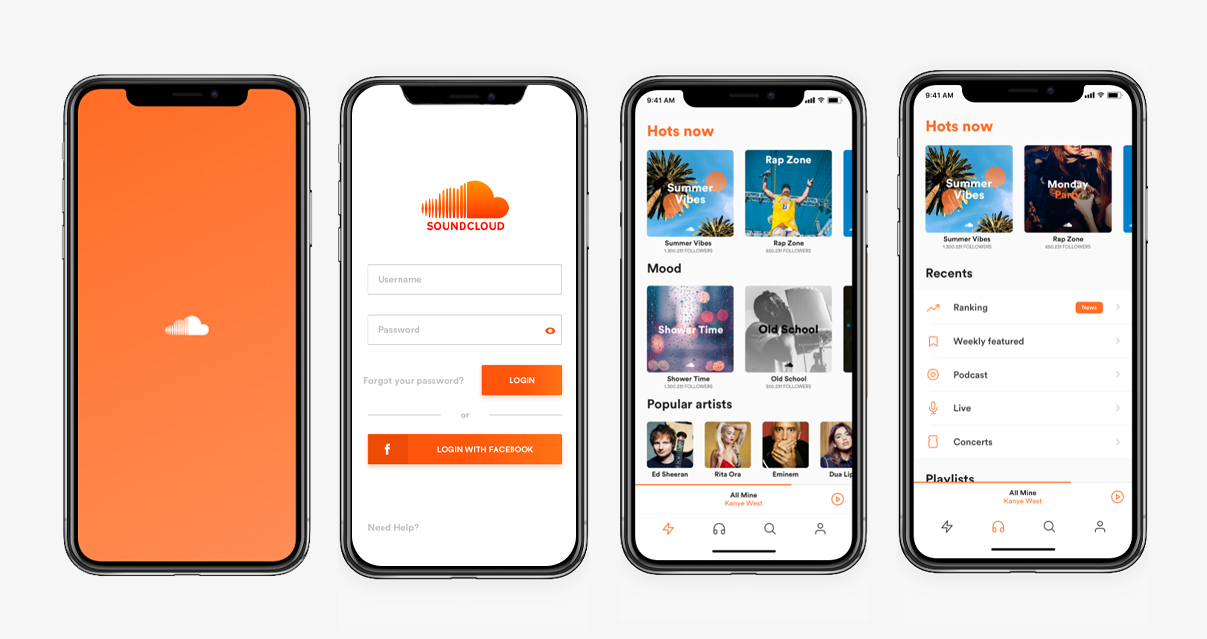 Music player
This tab will appear when you start playing music or soundtrack. It lets you easily access whatever you want to listen to the Soundcloud platform.
Stream
By using this tab, you can tap the arrow in the top labeled Stream to instantly browse through what is trending in music and audio. You can also browse through different forms of music.
3 Major Benefit of App Development Like SoundCloud
Users like to their music
Once you click on a username then you will be able to see their profile, what they are posting and also what playlists they have.
You can create custom playlists
You can create many playlists whatever you want which are public for different users to enjoy or private just for your use.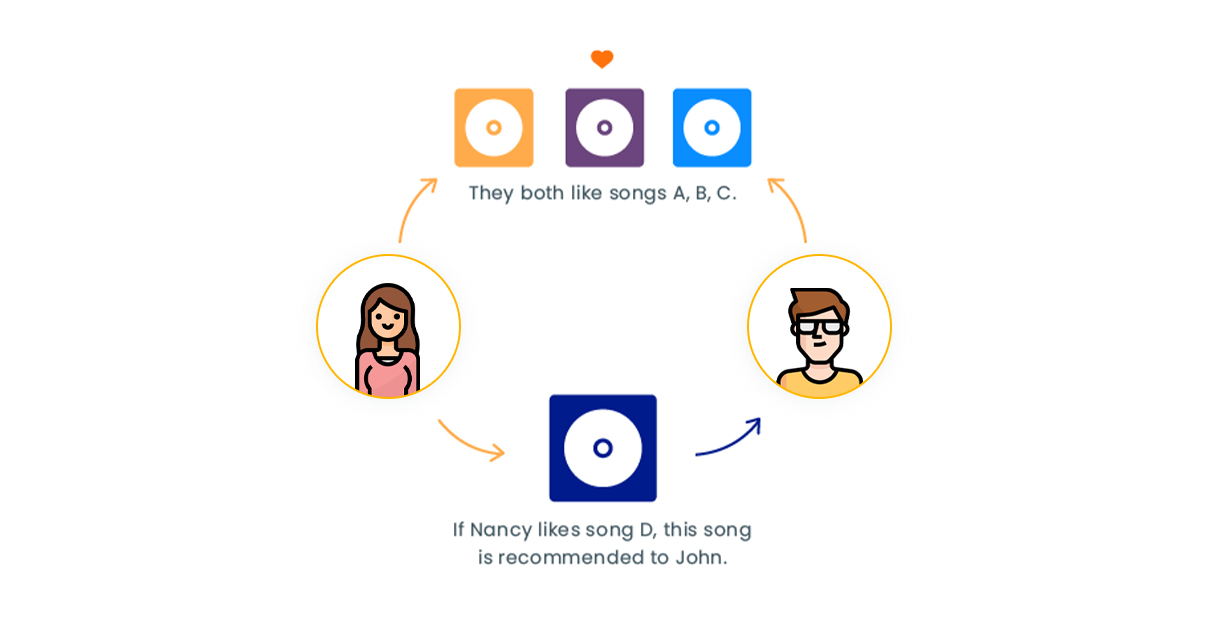 Start a channel to listen of similar tracks
When you do not have enough time to pick out the tracks on your playlists, you can simply tap those three dots on any play station with similar tracks. All of the music streaming apps has gained enormous momentum in the current market.
While we've already covered an article on OTT Video Streaming App and it's Development Cost, let us concentrate on the Soundcloud like app development cost in this article.
Also read: OTT Video Streaming App Development Time, Cost & Features
Fundamentals of SoundCloud Mobile App Development
SoundCloud is a music streaming app and sound distribution platform that lets users listen to millions of tunes also upload and encourage their track. It was launched back in 2007 by Eric Wahlforss & Alexander Ljung and can be found on both the desktop and mobile platforms.
A ripple effect of which is that lots of music streaming business enthusiastic Entrepreneurs and app developers started taking interest in determining the cost to develop an app like SoundCloud.
SoundCloud focused on this matter and came up as a platform that facilitates the journey of audio curators to enter the market and make their presence along with permitting them to appreciate others' work as a user.
Community Building
Soundcloud is a music social networking platform, also introduced the social networking feature of earning a community of like-people.
Search
As the name depicts, this feature enables users to search for any music track, artist, record, or class.
Create a music track
This feature lets users select the very best tunes and curate their playlist.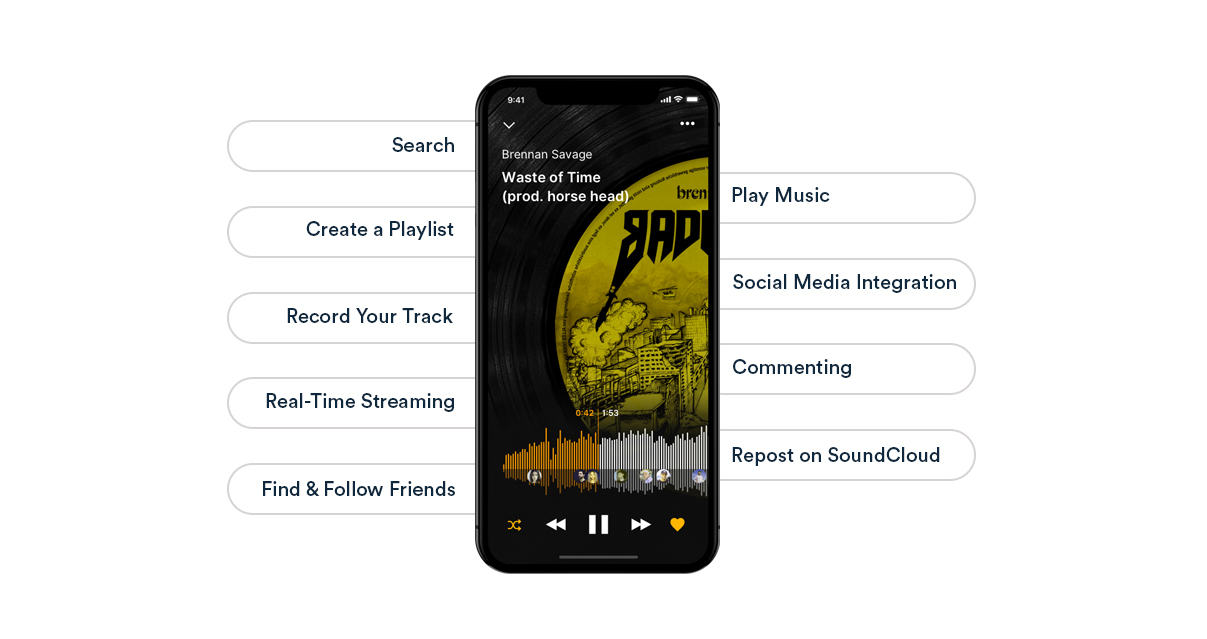 You can record your track
This is one of the essential features of the Soundcloud app. It gives artists a chance to record their paths and upload them to a private/public community. And this way, earn fame and money in the marketplace.
Real-Time Streaming
This feature enables users to come across the tunes and files which are trending in a specific category, area, or year.
Play Music
Play Music feature gives users and chooses to play any audio file.
Social Media Integration
One of the core characteristics of viral and addictive apps, Social networking integration feature lets users register via their social accounts instead of creating a new account. Also, it provides them an opportunity to talk about their favorite tracks on social media platforms.
Commenting
Commenting is still another quality that makes SoundCloud stand out of this crowd. With this feature, a user can add a comment to the song.
Locate and Follow Friends
This feature allows users to find other users, follow along with and eventually make their very own music community. This also counts the top features of the SoundCloud app which makes it different from others. When these features please users from the music streaming business, what causes them to select SoundCloud over 8 tracks, Amazon Music, along with other music streaming apps is their UX strategy.
Quicker Login
At times, to make an account can be a barrier to user retention; the staff offers a Social networking login feature. Also, they ask for nominal information when you create a new account.
Greater Gesture Controls
SoundCloud application has also replaced skips and back buttons with horizontal swipes and introduced the ability of gestures to provide an enhanced user experience. These attributes make SoundCloud rule the minds of people from all walks of life throughout the world. Thus, let us uncover the SoundCloud app tech stack before assessing the app development cost.
Building a Mobile App Like SoundCloud
For Soundcloud clone app growth, Reactjs is utilized for Frontend UI growth and Bootstrap is chosen by Frontend framework. DigitalOcean server handles all the hosting requirements, Stripe handles payments, SMTP features email services in real-time, and Nginx Server flows audio files.
While the knowledge of mobile apps technology stack and features will have given you the basic information of the development process, there is more to it. When speaking about how to build apps like Soundcloud, there are various challenges that development businesses encounter.
Framework to Create Mobile App Like SoundCloud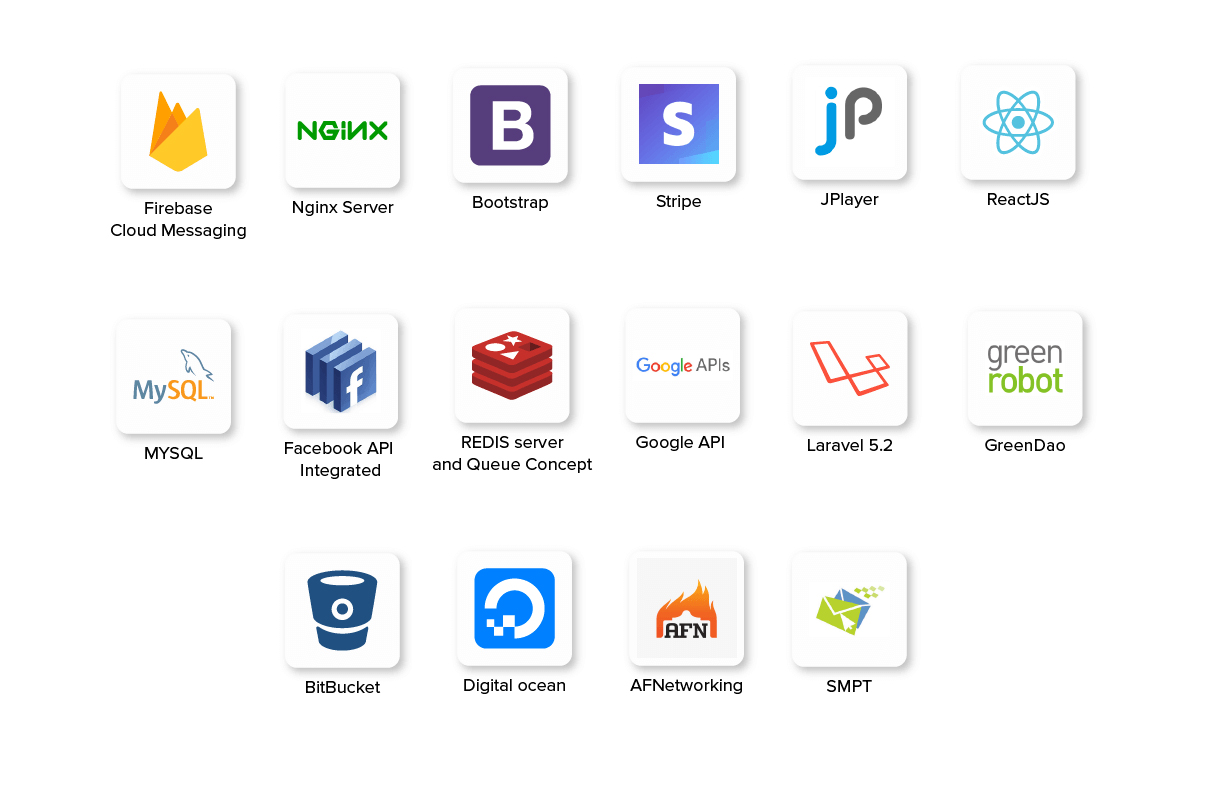 Being an experienced mobile app development company, we create music streaming applications on Ruby on Rails since it's an overall framework that delivers the best results to developers and project owners.
The main advantage of adopting Ruby on Rails framework is that it allows businesses to incorporate more functionality at an affordable price with ease. We have skilled hands, which will do magical things with Ruby on Rails.
How Much does it Cost to Create an App Like SoundCloud
The app development cost varies with several factors, such as app displays and size, attributes and functionalities, app platform targeted frameworks and other technology stacks chosen and their compatibility and much more.
So, the best way to receive a very clear and exact Soundcloud like music app cost breakdown is to contact the best On-demand music streaming app developers and get a price estimate.
Now, while this is about just how much you have to cover developing an application, let's have a look into how much you can earn through it. That is, the ways to recover the money that you spent in the process to construct On-demand music streaming app like Soundcloud.
The cost to develop an app like SoundCloud and Spotify will come between USD 60K to 80K.
According to Soundcloud business and revenue model, it offers 55 percent of their net revenue generated by a song uploaded to its creator and right holder but when it comes to how exactly does it make money.
4 Different Monetization Strategies to Your Audio Streaming App Development
Freemium Model
App monetization model, users can use the app for free. But, only restricted features and options will be available to them. To access more features and opportunities, they might need to pay a certain quantity.
In-App Advertising Model
In-App Advertising is among the best monetization strategies frequently considered by music streaming software. Under this category, users shouldn't pay anything for accessing the content of the application.
Subscription Model
In the Subscription monetization model, users are asked to pay an amount to get the advanced features and functionalities of SoundCloud like app for a normal period.
App Purchase Model
Lets users sell or buy virtual/physical goods within an app. Soundcloud-like mobile app prepared for the future. And finally, earn more ROI.
Also read: e-Scooter Mobile App Development, Time & Cost
Tips to Create Your Successful Music Streaming App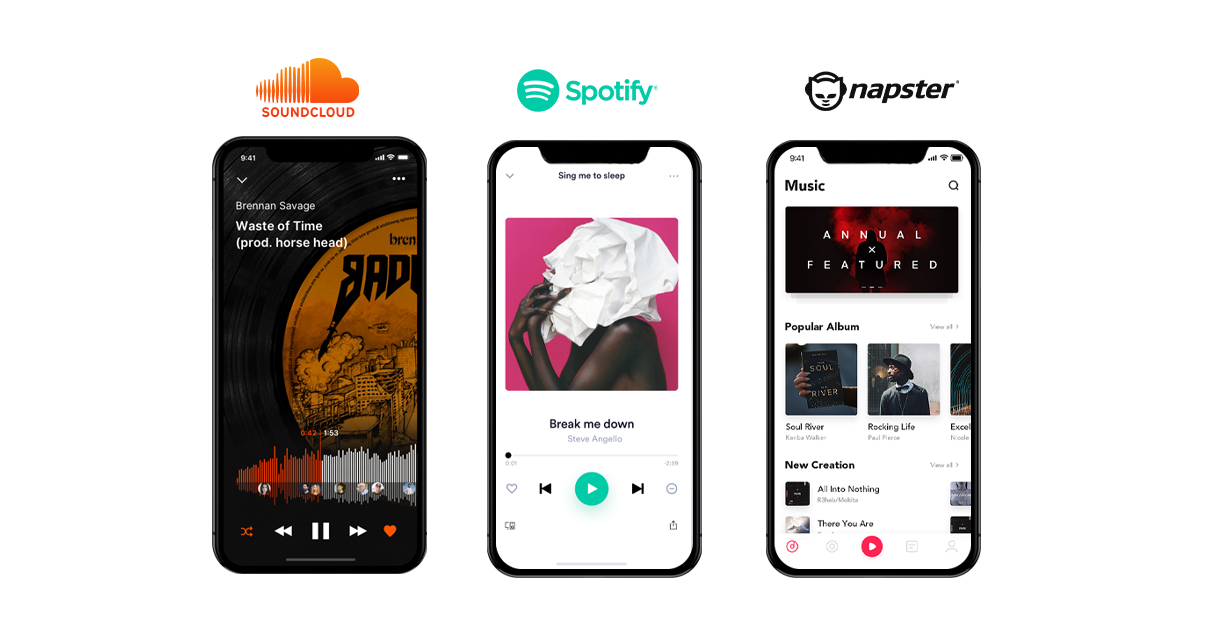 Offline Mode Accessibility
There is no issue with internet availability in music streaming apps. Though, users find it tough to enjoy their favorite tracks while boarding an aircraft or traveling in a place where the sign is too poor.
If you provide an offline accessibility option, the app usability ratio will see a substantial rise. Users will spend additional time in your app and eventually, bring more results than what you expected in the investment in SoundCloud like audio app development.
Better Artists-focused Options
One of the main challenges faced by SoundCloud application is that when artists become popular, they depart the stage. So, considering this challenge as a new pool of chances, bring better app features and functionalities that provide artists a motive to remain on the platform for more.
Pre-Save Feature
It provides the album to the user's library where it will become accessible only the minute it hits the marketplace.
Lyrics Availability
Last but not least, introducing the performance of accessing the lyrics of each audio track that is playing on your app platform may also raise its achievement ratio.