For a business planning to sell products and services online, picking the apt eCommerce platform is of utmost importance. There are plenty of eCommerce site building solutions but a majority of eCommerce development services make use of tools like Magento and Shopify.
Both of these eCommerce platforms are popular and they have been chosen by thousands of companies, hailing from diverse sectors worldwide. While these eCommerce platforms have plenty of features and customization possibilities, you need to compare them on some key parameters to figure out which one meets your business requirements the best!
Magento vs. Shopify: Overview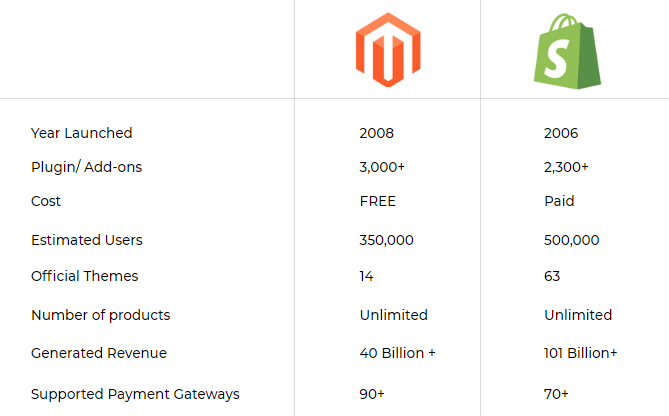 To design a compelling and attractive website by using an eCommerce tool, you will need attractive visuals and themes. The eCommerce tool you choose should have a good collection of templates or themes.
The Shopify development solutions make use of the inbuilt themes. This platform offers moiré than 60 professional and pretty themes for building business websites. Shopify's themes are well optimized for mobile devices and that is important because most people prefer shopping using their mobile devices nowadays. However, its free themes are limited.
In terms of themes, Magento is a step behind Shopify. It has a dozen themes- both paid and free and 10 of those are mobile responsive. However, the tool lets the users create customized themes and this is what the majority of Magento development services resort to. Of course, you need to know to code for this. Of course, this can take some time too.
Magento vs. Shopify: Ease of usage

While choosing an eCommerce platform you cannot overlook ease of usage! Taking the physical store to the online world should be a hassle-free and easy affair. You also need to think of the site usage experience from the visitor's perspectives.
Shopify has a smooth UI and it is easy to learn and use. This makes it easy for new users. This is basically a drag and drop style website builder. This ensures online shop customization is easy. If setting up an online store quickly is a priority, then you may consider this tool over others. Everything including inserting custom images, setting up a payment system and adding products can be done in a jiffy.
Magento However has a steeper learning curve. To extract most out of the software, you will need knowledge of some coding and technical skill. When you Hire Magento developer agencies, ensure they are operating for quite long in this sector. However, it is Open Source in nature and the online resources are quite extensive.
Magento vs. Shopify: Apps, add-ons and extensions
Once your eCommerce store is designed or set up, you will need to expand its functionalities. This is where the numerous app add-ons or extensions come into the picture.
Thankfully, both Shopify and Magento come with extensive app stores and there you can find numerous types of add-ons and apps.
These can be compared to the apps you use on your mobile devices regularly. The add-ons can be used to augment the payment system, enhance site security, add multilingual capabilities, and much more!
Shopify's App Store contains more than 2400 paid and free apps and they may require coding snippets. They can be added by a few clicks. Magento Marketplace also has a wide range of free and paid apps. It has more than 3000 such apps. The Magento apps can also be added with a few clicks and you will not need any coding knowledge. The in-app department, Magneto enjoys a slight edge over Shopify as it lets you add complex functionalities through the apps to your online store.
Also read: - React.js Vs. Vue.js - Which JavaScript Framework is a Better Choice for 2019?
Magento vs. Shopify: Payment options
An eCommerce website needs to have a robust and simplified payment system integrated. Without multiple payment systems deployed in the online store, you risk losing a major chunk of target customers to the rivals! So, you need to check how many online payment channels or systems are supported by an eCommerce platform selected by you.
Both Shopify and Magento let you deploy a wide number of online payment systems for a website. Shopify has Shopify Payments - a dedicated and integrated payment processor. The setup is simple and you can add the most popular and widely used online payment modes by using it.
Shopify Payments is preferable as it does not require transaction fees which can be the case if you use other third-party online payment getaways. However, Shopify supports more than 100 external payment processors - including PayPal and AmazonPay. So, customers eventually get plenty of online payment options.
Magento's Marketplace is the option to use for setting up online payment methods. This is not as simplified as using or setting up a payment system in Shopify but the procedure is not very tedious as well. Magento has support for top and popular payment processors like PayPal, AmazonPay. If you access its Marketplace, you get 148 payment integration apps. So, in terms of setting up an online payment system Shopify races ahead. However, a redeeming aspect of Magento is that it offers payment processors supporting multiple languages.
Magento vs. Shopify: SEO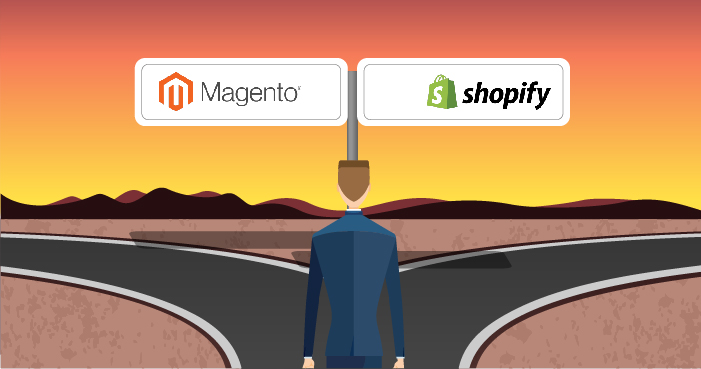 When you Hire CMS developer agencies, you need to check expertise in SEO. Without proper SEO tactics deployed, your e-commerce site will not get an expected number of visitors and prospective buyers and revenues will be hurt. So, picking the right eCommerce site builders with easy SEO deployment methods makes sense.
As a matter of fact, both Shopify and Magento offer near similar functionalities in SEO. The stores made in both tools are usually search-engine-friendly.
Magento's CMS and Shopify's editor have enough tools to let you customize SEO measures for the sites. In Magento's Marketplace and Shopify App Store you will get plenty of apps to further expand SEO features. You can check for SEO errors, check site speed, and do so much more. Magento offers more than 250 SEO apps but they are mostly pricey.
Magento vs. Shopify: expenditure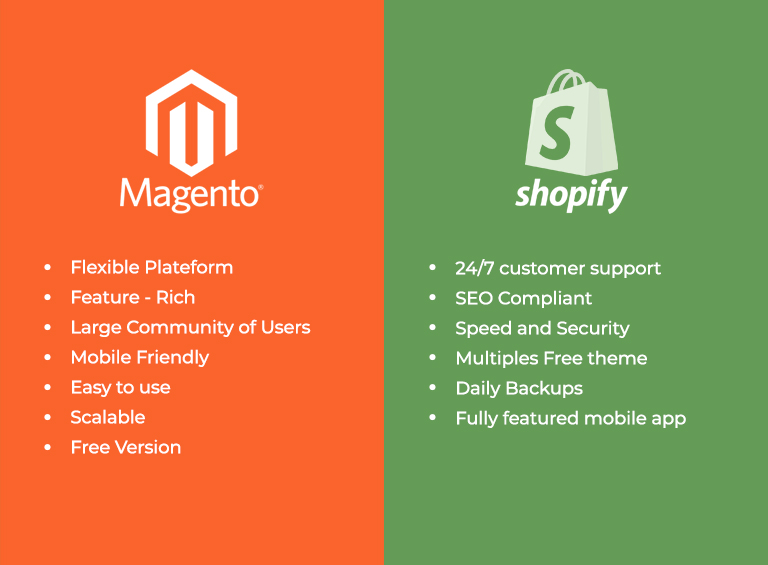 Of course, you cannot overlook the cost factor when searching for eCommerce development services or agencies. The main difference in terms of cost for Magento and Shopify is one of them is hosted and the other is free. Shopify being a hosted platforms covers all hosting issues including hosting costs. It works like a contract. This makes Shopify better equipped to deal with various types of online stores. Magento is self-hosted and so it is less comprehensive in nature. This requires added investment on your part.
With Shopify, the costs involved are mostly monthly, apart from a few initial costs. The pricing may seem steep but you get enough features and elements for what you pay. Every Shopify plan offers Free SSL certificate, 24/7 support, Unlimited storage, Fraud analysis. Higher priced plans add more features.
Magento makes you choose a hosting plan at the beginning. You also need to choose monthly bandwidth and careful analysis and planning are required. You need to buy a domain name from a company. Magento apps can be paid at times.
So, Shopify makes cost analysis and planning much more streamlined and simpler than Magento.
Conclusion
Before you look for the Hire CMS developer agencies analyze the pros and cons of both Magento and Shopify. Analyzing website needs, budget and business expansion plans is necessary in this regard. In the end, choose the e-commerce development solution which fits your needs perfectly.