If we are talking about the dating apps then tinder hits in our mind and tinder is one of the very popular in dating apps. If you want to create tinder alternative stay in touch with this blog. As per the most recent studies, Tinder rock the market over 57 million active users across the globe and in September 2019, Tinder reported in U.S. approx. 7.8 million active mobile users. Tinder is the most popular dating app in United States. if you're planning for tinder alternative or similar dating app like tinder. or want to meet new people or either you are more interested to make new connections then stay tuned with this blog.
Online dating apps rock the market with mobile applications and continue to evolve. In today's world, everyone has friends or their own personal life. Together with the increase in the number of Smartphone's, mobile dating apps have started to gain popularity, and this is the reason dating apps hits the market.
Couple of years back, when people were so shy and hesitate to speak with opposite gender. Now, tinder alternatives or online dating apps are gaining popularity to fill this gap, people can easily find the person according to their own choice. While dating apps like tinder allow falling in love with one who is waiting for the destination.
Top Dating Apps of 2022 That are Performing Good Despite Tough Competition From Tinder
OkCupid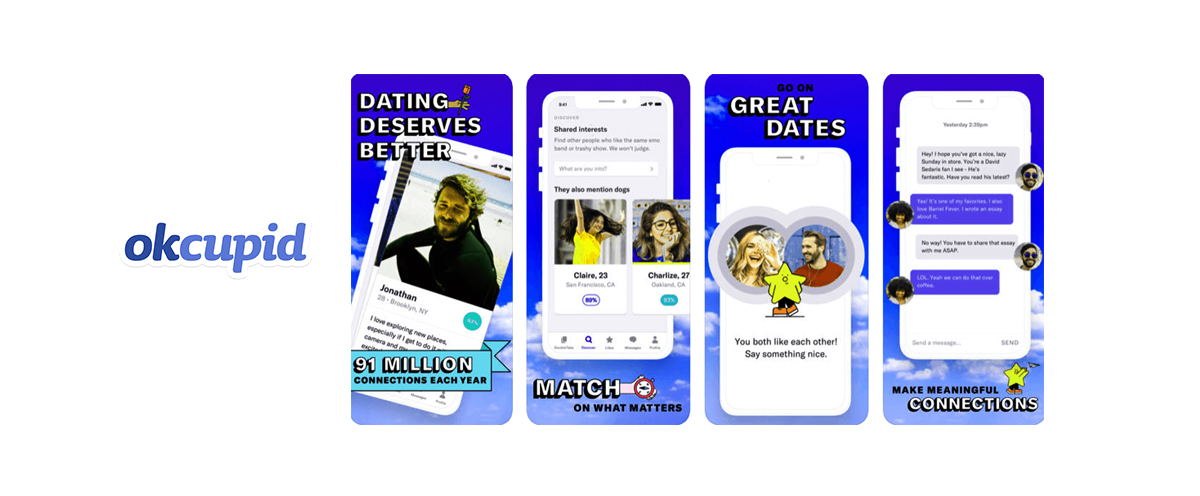 OkCupid is a USA based similar app like tinder and best for all those who are very interested to find their partner with a happy soul. If you are searching a truly heart partner & the one who has looks don't matter for you and believe a true partner according to your choice.
Features of the OkCupid dating app:
Match with the happy soul
Connecting through the chat system
Happn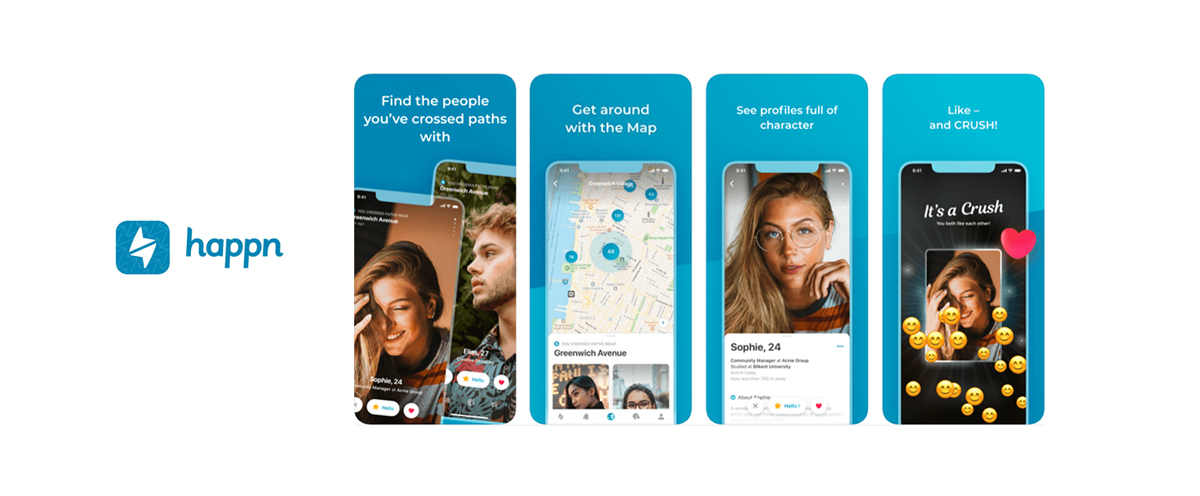 Happn happens to have a unique approach to relationships. Happn combines the power of social media and shows individuals that are around you. At Happn, their profile shows up on your timeline. Happn is quite like Tinder.
Features of the Happn dating app
Location facility
Here you like or comment get notified
Coffee Meets Bagel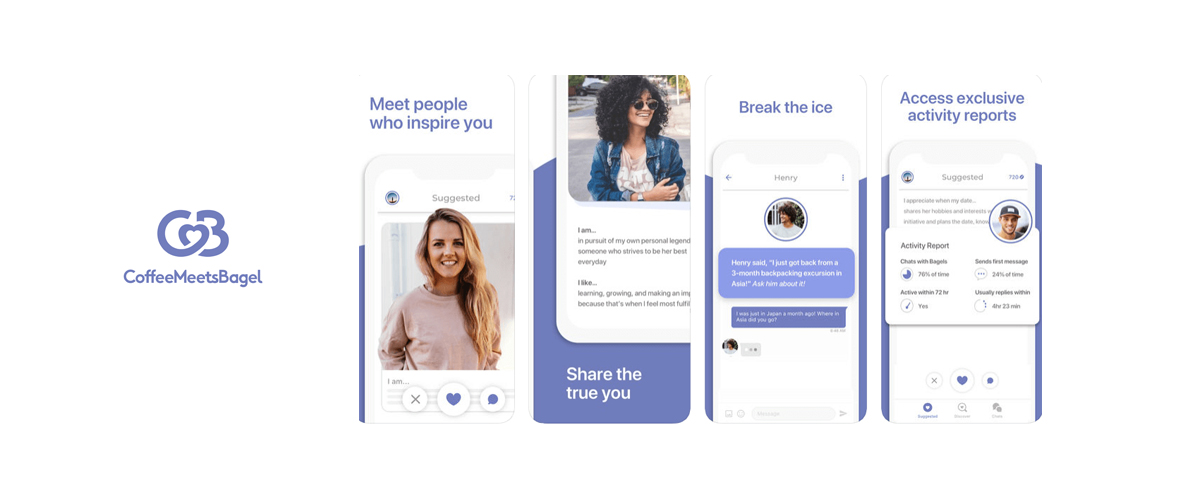 The best dating app for any girls will be the one who guys expressed interests towards the girls. So you are looking for dating alternative app than meet with this coffee meets bagel app this app will help you a lot to find a perfect guy in your life.
Features of the Coffee Meets Bagel dating app
Summaries activity report
Meet people that show interest in you
Bean collection
Browsing through additional profiles
Also read: Matrimonial App Development- Time, Cost, Features & Process
Skout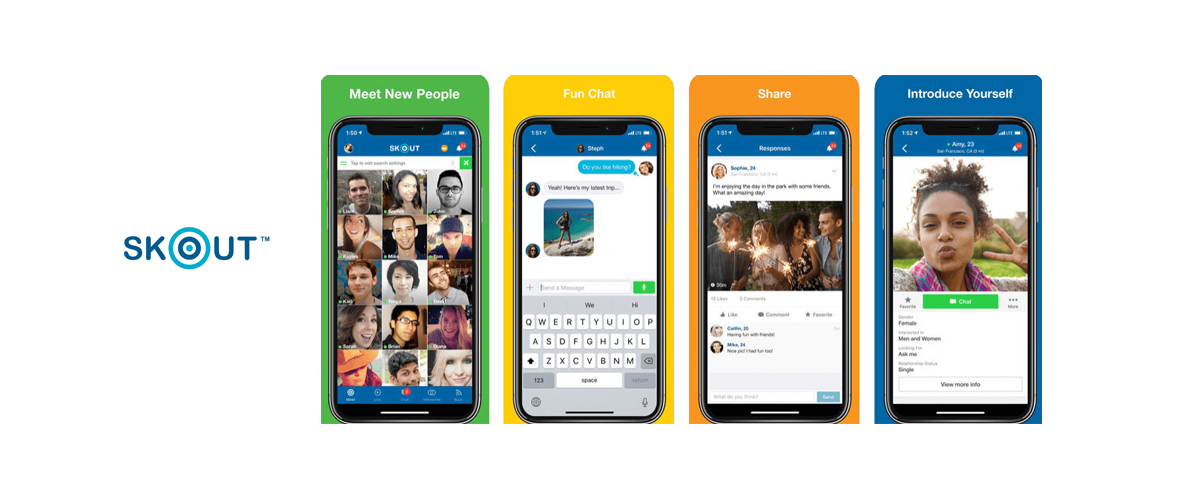 The Skout app focuses on friendship and dating. If you are looking for a good friend then this app will work for you. This is very genuine and popular dating app.
Features of the Skout dating app
View other's Profile easily
Meet people by preference and proximity
Boost profile using in-app attributes
Upgrades from neighboring users
Her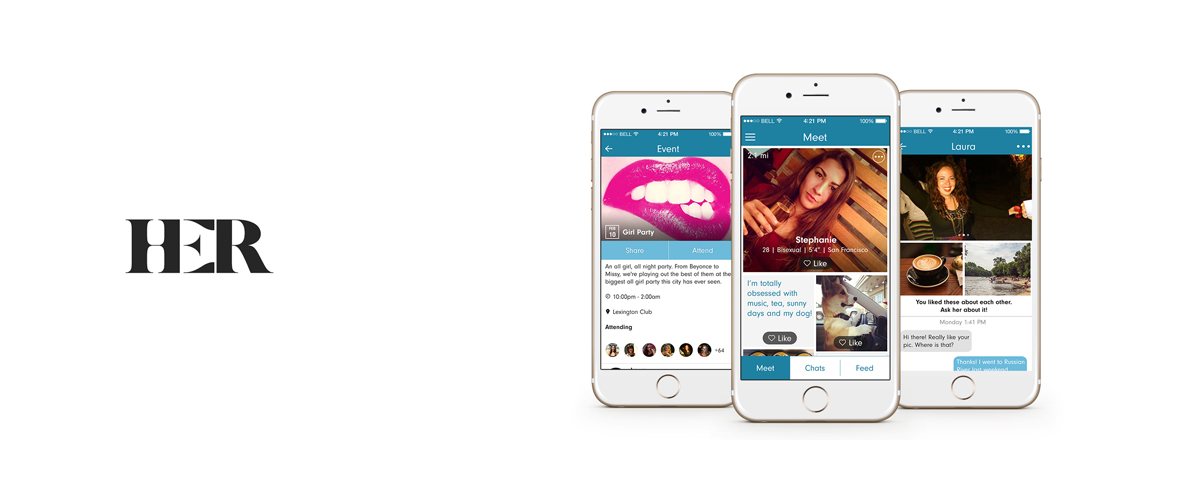 The online dating app observed and make for a new genre in the form of lesbian dating apps. Her is one of the famous dating apps that encourage girl-on-girl love. It is one of the top dating apps with more than 4 million consumers looking for perfect queer women.
Features of the Her dating app
Join the community to connect with more queen women
Verified accounts and simple sign-ups
Dating mode configurations
Hinge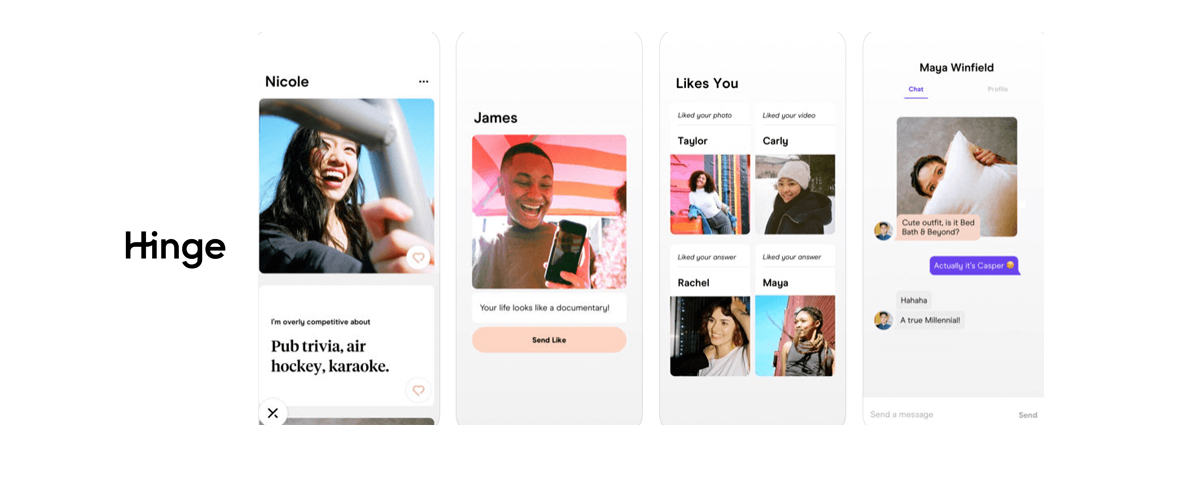 Features of the Hinge dating app
Join using a friend's link
Location-based program
Provide facility of Liking or commenting on someone's profile
Elite Singles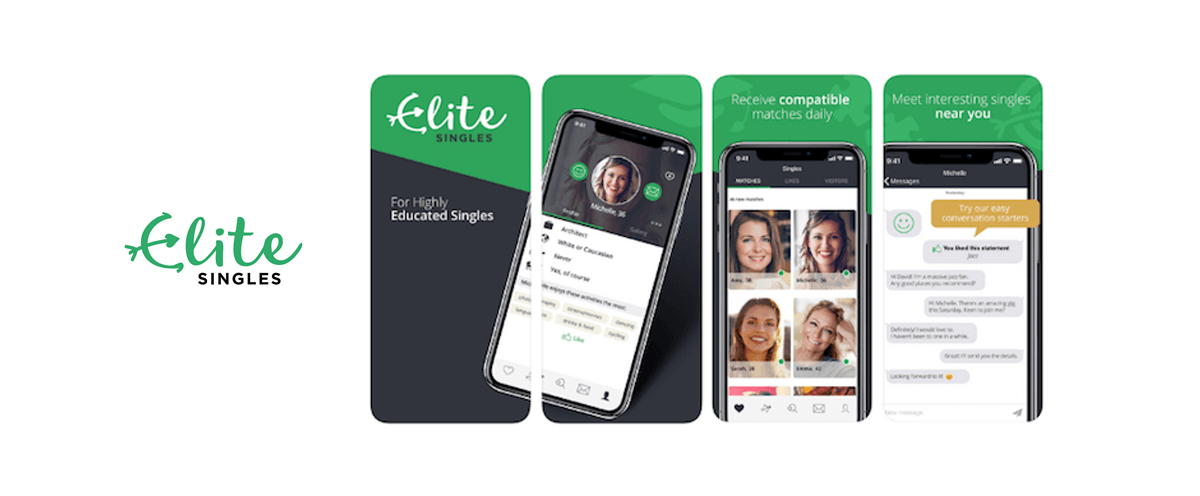 Elite Singles is for one who has a particular age group of 30-55 and who are highly educated. This Australia based dating platform is specially made for highly educated unmarried people seeking to get long term connections. If a person wants serious connections, this app is the best option.
Features of the Elite dating app
Icebreaking conversational questions
Meet singles near you
Upload Facebook photos right in the app
Get compatible games every day
Zoosk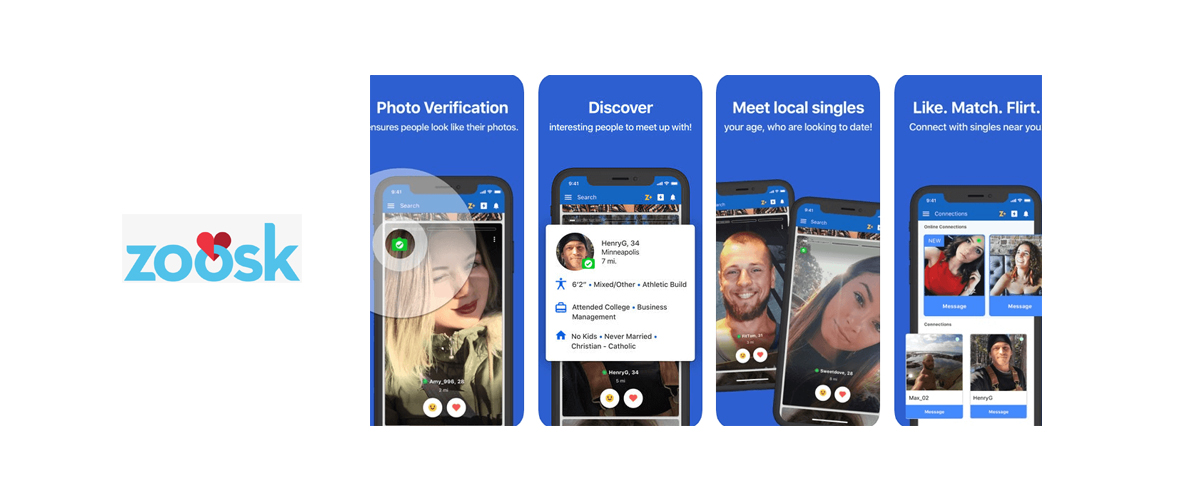 Zoosk is a USA-based app for discovering quality people for a relationship. It helps individuals fulfill their real love rather than flirts. The user interface of this app is so amazing. There are over 40 million happy women and men utilizing the Zoosk app globally.
Features of the Elite dating app
Photo verification
Advanced search filter
Mutual like and join
Meet nearby singles
"If you want to invest in dating apps or want to develop business in similar tinder app, stay connect with us. We'll help you to setup your dating app business. To know more about dating apps features, similar apps, development time, cost, market grwoth and everything, just scroll and read more."
How Dating Apps Like Tinder Work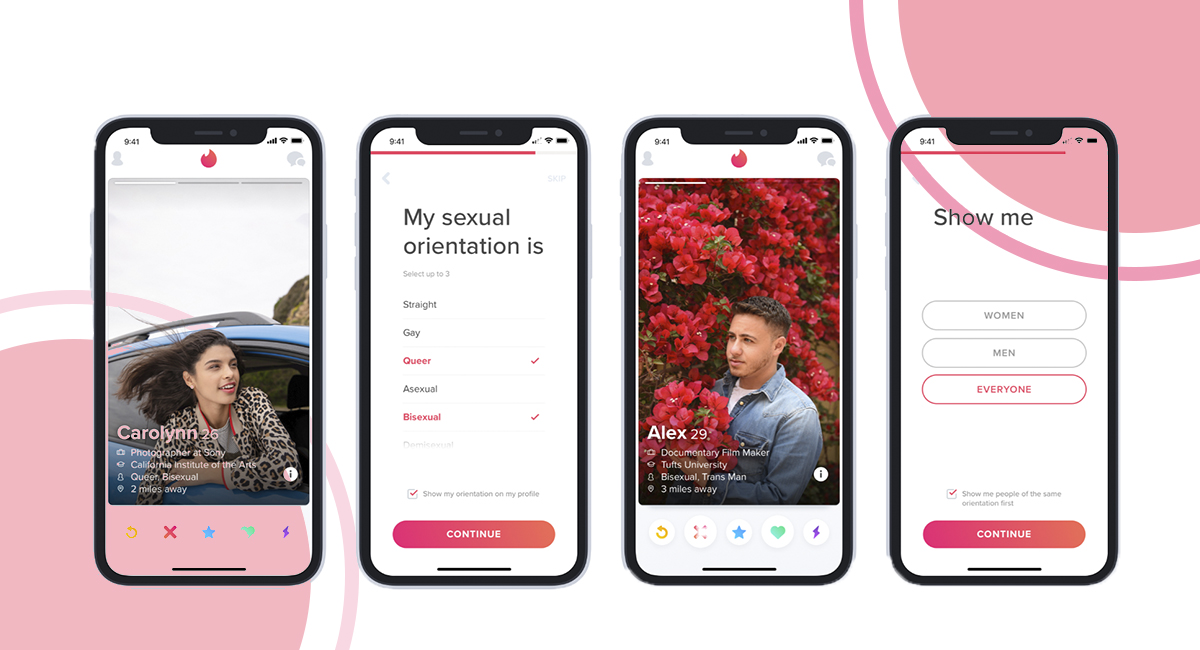 Tinder is a free dating app available for android and iOS smart phones. Tinder is based on geographic proximity and it is also a key feature, which makes it simple and quick to connect with individuals for both short- and long-term relationship.
This app analyzes user data and offers games based on geographical location, common interests, or shared friends. The functionality of a similar app like tinder involves social media integration components, talk, swipe, program payment, and geo-location. These are the fundamentals and must include these features in tinder alternative apps.
Also read: Healthcare Mobile App Development: Tips to Get Best Solution
How Tinder Alternative Apps Hit the Market & Popular
Tinder makes profits or not it depends on the user's subscription and the second thing also depends on which type of advertisements you use for the company. You have to register or take any premium plan to get some features unlocked this will be more beneficial to you.
If we take an example of girls when they are using any dating app, generally wait for the request from male candidates and if the users still need to see activities of the candidates & want to contribute then users need to pay some amount to extend the period of the specified time. In this way, every alternative dating apps to tinder earns more money and makes it more worth it.
US Tinder demographic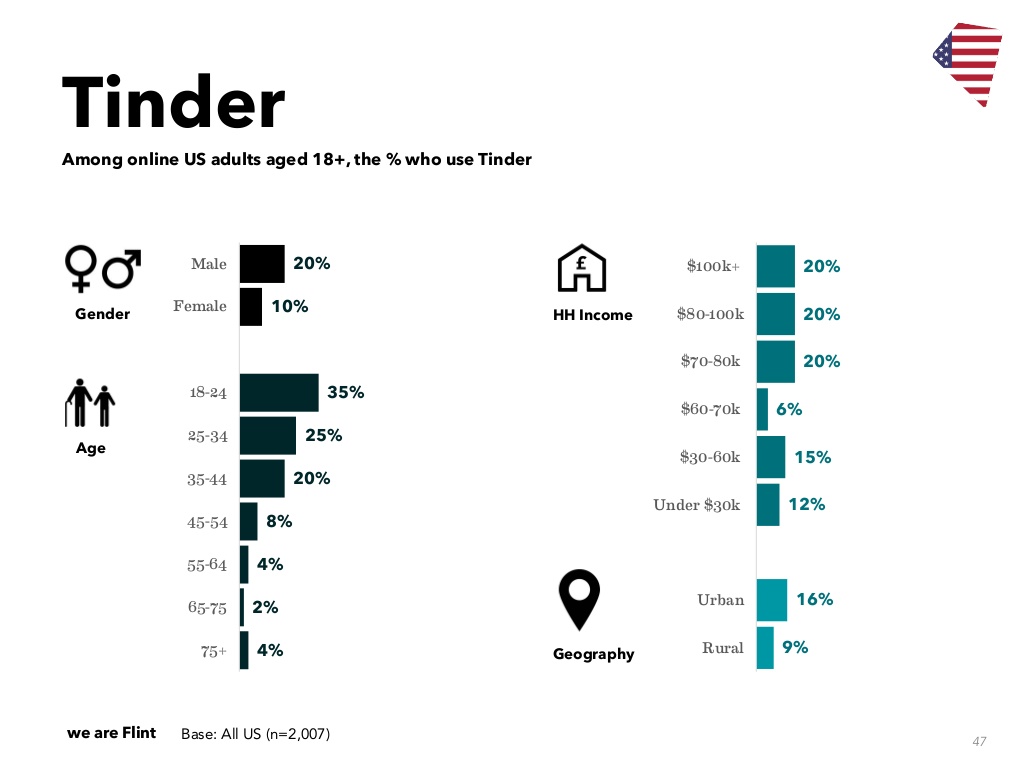 Source: BusinessofApps
UK Tinder demographic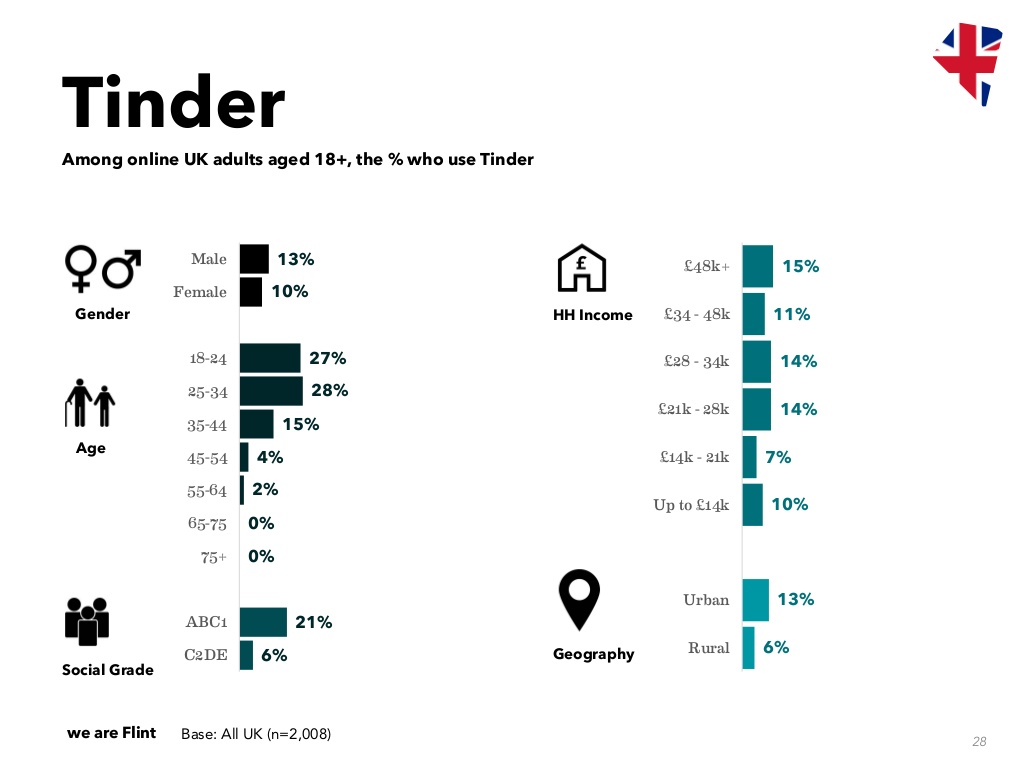 Source: BusinessofApps
Tinder is a social networking app where user can relocate the people according to their preferences and then can fix a date together. Tinder app is available for both iOS and android platforms.
Mobile app developer easily develop apps like tinder by using their innovative skills. The performance of a Tinder app involves social networking integration elements, talk, swipe, app payment, and geo-location. These are fundamental and must have characteristics in any relationship app also.
Types of Similar Dating Apps
From the many alternative tinder apps to tinder or similar dating app to tinder, we can might be devided into several major parts:
Geolocation
This is a very important feature and makes possible matches based on geographical proximity. Geolocation matters a lot in tinder or any dating app.

Matching algorithm
These algorithm-based dating apps are powered by offline fitting services which base on personal survey info. This is the way eHarmony finds matches for their customers.
Conventional apps
These apps are mobile versions of dating sites. OKCupid is a popular dating app and also a perfect example of this.
Niche dating apps target specific groups of individuals. The League is a prototype dating app that allows people can enroll themselves, favoring those with advanced levels and career-oriented young professionals. The ultimate goal of the League is that individuals tend to date people from their social circles.
Also read: Fitness Mobile App Development: Time, Cost, Features and Everything
Features of Similar Dating App Like Tinder
If you are planning to develop dating app like Tinder alternatives, you have to include these features into your dating app. Safety is one of the most important features because it is a place where may you will be facing the issue when developing an application. So, dating app must have these basic features.

User Profile
This function allows millions of people to check the partner's profile by using their titles and photos. Users can check, explore the profile and make sure information should be pure.
Chat Option
It is a must feature while when you are creating dating apps like tinder. If a person visits a profile then the next step will be the chat option so it is the best option for all those who want to communicate with each other.
Functional Action
The user can perform several unique and general functions so the dating apps look perfect like including geolocation, search distance, filters, security and many more.
Feedback System
Nowadays, this functionality must be present in all applications so a user can gain loyalty and, in this way, the user interacts more & more with each other without being fearful.
Added Feature
Tinder has a special features that if someone doesn't want to share like password, payment through the application then he/she can add as other additional features.
Spam Detector
Spam messages low the reputation of an app. A spam sensor can notify a user when a message has been sent to multiple different users at the same moment.
Also read: Fuel Delivery App Development: Time, Cost, Features & Everything
How Much Does It to Develop Similar App Like Tinder or Dating App Development
If you are planning to create dating apps like tinder then you should know everything about time & budget need for dating app development. Firstly, you need to hire iOS or android app developers. The similar dating app development cost or time depends on features.
The development cost of dating app comes under $25K to $30K for any iOS or android mobile application and time will take to develop upto 3 - 5 months. The prize might be low or higher. It is depend of it's features.
I hope you get a clear picture of the tinder alternative app development cost and time. If you are planning to get a dating app like Tinder then you can get the help of our award winning mobile app development company.